By Meredith Hodges
Long before the Founding Fathers drafted our constitution, America began as a religious nation under God, and the mule has his roots in religion just as does the country he has helped to build. The mule of today's ancestor is the donkey, mentioned in the Bible numerous times as an animal respected by God and blessed by Jesus Christ. The donkey was even chosen to bring Mary and Joseph to Bethlehem and, later, acted as the mount Jesus himself used for his ride into the city of Jerusalem.
Here is an ancient story, quoted directly from the Bible, illustrating the mule's wonderful sense of humor: "So Zadok the priest, and Nathan the prophet, and Benaiah the son of Jehoiada and the Cherethites, and the Pelethites, went down and caused Solomon to ride upon king David's mule, and brought him to Gihon." I Kings 1:38
"And Absolom met the servants of David. And Absolom rode upon a mule, and the mule went under the thick boughs of a great oak, and his head caught hold of the oak, and he was taken up between the Heavens and the earth, and the mule that was under him went away." II Samuel 18:9.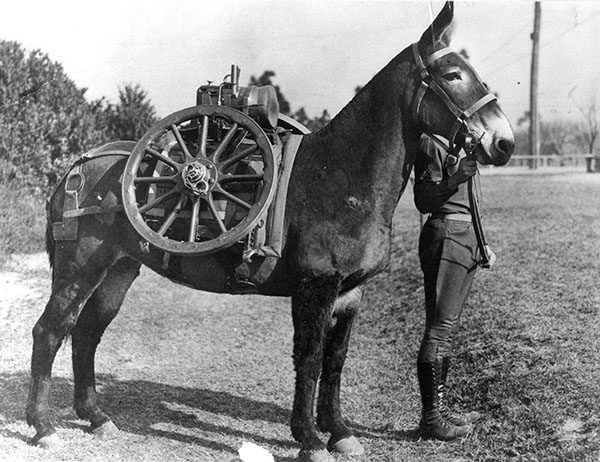 Mules are the true professionals of slapstick humor and professional psychotherapy! When you get into an altercation with a mule, you will seldom get hurt, but you will surely be set straight in a most humiliating way.
In the early days of what was to become the United States of America, mules and horses perpetuated the expansion of the colonists into the Western territories of America. Since these early times, the American mule has acted not only as a pack animal for miners and fur traders penetrating the West, but it has also played an important part in our country's defense, being able to cross terrain not accessible by any other means, and carrying and pulling heavier loads of weaponry than horses could even begin to carry.
When the fight for freedom from England's rule was launched with the American Revolution, donkeys and horses were used in varying capacities to help win the battle for our country's liberty.
Freedom was won as a result of the combined efforts of humans, animals and faith. One need only examine the humble traits and character of mules and donkeys to see that they indeed possessed the faith and the strong constitution to make some very important contributions to this country's independence.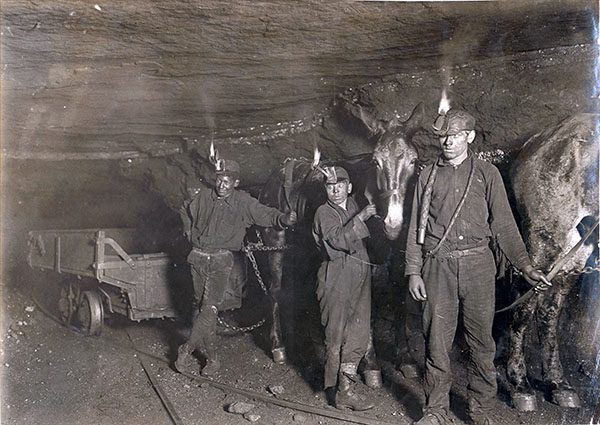 As they say, an army "marches on its stomach," so it was a natural for Americans to progress further and delve into agriculture. Because of the extraordinary ability of mules to work for longer periods of time in sometimes harsh and unrelenting climates, their surefootedness and resistance to parasites and disease and with their ability to work long hours, the mule became the gem of agriculture. He learned his job quickly and put his heart and soul into every task.
When American coal mining was booming, the mule was such a valuable member of the mining process, that a good mining mule was considered to actually be more valuable than a human miner. Mining has always been a dangerous business, and the mining mule's innate sense of self-preservation was well known. "Mules are very smart…They know what they can do and would never do anything they couldn't or would not want to do. Mules were known to pull at least three full mine cars full of coal. If you hooked up a fourth car they would balk at any commands and just stand there. No way would they pull the fourth car!" 1
"Mules are the living symbols of the historic and pioneer spirit of the West. Mules were the pack animals of Spanish padres and grizzled prospectors. These animals have a dominant place in frontier history. From 1883 to 1889, the 20-mule teams moved 20 million pounds of borax out of Death Valley, California, to Mojave—165 miles away—traveling 15 to 18 miles a day. The 20-mule teams, the dramatic solution of a transportation problem, soon became a world-famous symbol, the trademark first of the Pacific Borax Company and, today, of the many products made by U.S. Borax." 2 So began the mule's vital contributions to industry and the economy.
In 1976, under the direction of the North American Trail Ride Conference, the Bicentennial Wagon train became a notable event in American history. Commemorating the trek West that was made so long ago by brave and adventurous pioneers, the Bicentennial journey went from California east to Valley Forge, retracing the steps of these first U.S. settlers. The outriders brought back scrolls of signatures signed by enthusiastic citizens to reaffirm their belief in the principles upon which America was founded. State by state, wagons met up with the main train and joined the trek. No doubt, many of these Bicentennial wagons were pulled by our beloved mules. "Going through my deceased folks' stuff, I found an 'Official Souvenir Program' of the Bicentennial Wagon Train Pilgrimage. It's interesting reading about the program in 1995–'96, to have a Conestoga wagon or Prairie Schooner from each of the 50 states across the country on historic trails, ending up at Valley Forge on July third." 3
Although some Americans have become concerned about the impact donkeys may have on the environment and, in particular, on our state parks, there is no evidence that the burro will reproduce at a rate that will threaten the ecosystem, especially that of the Grand Canyon. In fact, it is possible that the burros have already been in the Grand Canyon for centuries. There is evidence that the erosion attributed to the burros is more often due primarily to other invasive forces, such as humans and the natural erosion that occurs from geological forces and the canyon's climate. There is also some concern that the donkeys pollute water holes, but the defecation of burros (and mules) has never actually been proven to pollute anything in their environment. Currently, there is an effort to prevent mules from being used in the Grand Canyon, but they are clearly the safest way to traverse and enjoy the beauty of this American natural wonder. Mules and donkeys learn their jobs well and cannot be dissuaded from their purpose of carrying inexperienced tourists to the bottom of the canyon and back up again—with a remarkable safety record. Their smaller hooves do little damage to the trails, and their handlers have the integrity to maintain the trails just as they maintain their precious mules. Cyclists, hikers and motorized vehicles in the parks have the potential to do much more irreparable damage to the environment than any mule or donkey. In truth, it is the human element, rather than mules and donkeys, which does most of the damage to our delicate ecosystem.
America's journey has been one of courage, determination and great faith. It has been defined by its sequential growth phases of religion, defense, freedom, agriculture, economics, industry and ecology. We have worked alongside mules and donkeys for centuries and have often taken their generous contributions for granted in the course of our fast-paced growth. But the mule and donkey are likely to remain with us as long as they can find a way to make their contributions to society.
Those of us who attend Bishop Mule Days every year and many Longears lovers across this country are very well-acquainted with the incredible assets of the mule, and look forward to singing his praises every year on October 26th, when Mule Appreciation Day rolls around. Let us never forget to thank our trusted equine companions for all they have done to make possible this great country of ours!
To learn more about Meredith Hodges and her comprehensive all-breed equine training program, visit LuckyThreeRanch.com or call 1-800-816-7566. Check out her children's website at JasperTheMule.com. Also, find Meredith on Facebook, YouTube and Twitter.
© 2012, 2016, 2019, 2022 Lucky Three Ranch, Inc. All Rights Reserved.
——-
1Mine Stories, The No. 9 Mine & Museum,Lansford, PA
2Mr. Longears, Volume 6, Number 21, Summer 1979
3ruralheritage.com email thread