Each year, I try to pick the hottest week in July to do the equine's yearly baths. The mules and horses have shed out their winter coats, except for a strip of hair on the mules' bellies, and the donkeys are getting closer to being completely shed out. This makes a difference when you are trying to get them dry after their baths. They all begin to grow their winter coats in September.
Their natural hair coats will insulate them from the heat and cold and will protect them from insects, so I do not advise clipping them unless you are showing. Even then, it is not advisable to clip the hair inside of the ears! I bath as many as four at a time and in smaller friendly groups like Wrangler and his "Lady Love," Chasity! I am polite, considerate and respectful, so it is always an enjoyable experience for all! I begin with the introduction to the hose on their front legs.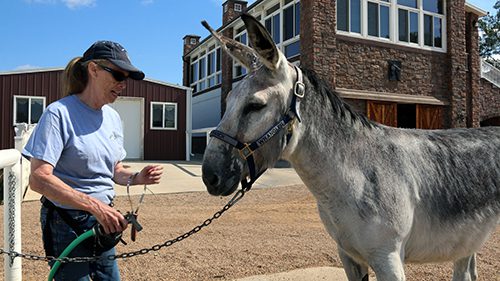 Wrangler and Chasity enjoy their yearly baths to get off the dirt that has built up during the year. I offer a drink to their lips and afterwards move to their foreheads, being careful not to get water in their eyes or ears. I spray the water gently into their mouths and we "water pick" the teeth! Playful antics like this teach them to always remain calm and keep things safe between us. This keeps interest to a maximum and intimidation to a minimum.
When they are approached in this manner, Chasity and Wrangler can enjoy the cool water on a hot day! Chasity knows I am being careful and doesn't pull away, then takes a sip from the hose.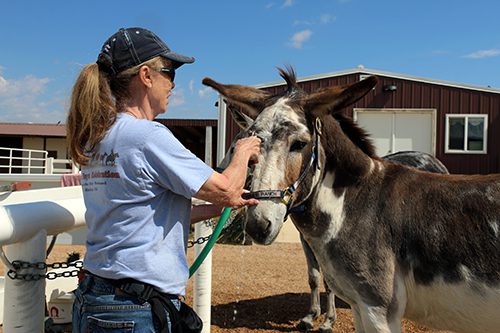 I reward Chasity with crimped oats from my fanny pack for being such a good girl. Then I rinse off the oats that were stuck to her whiskers as she gazes at the other equines in the pens nearby who are anxiously awaiting their turns.
Her attention returns to me and I work my way up her forehead to her forelock and ears. I make sure the spray is light and doesn't sting so she will keep her ears laid back for the rinsing. I would hate to get water in Chasity's ears, but if by accident I do, I just back off and allow her to shake her head to get the water out before I resume.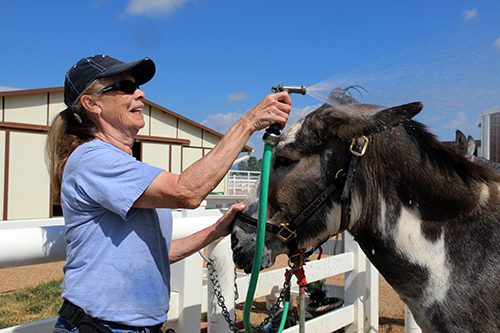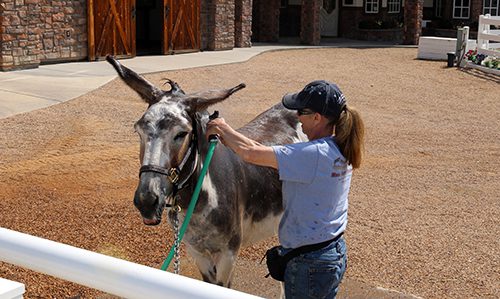 We use Tres Semme (Breakage Defense) shampoo and Aussie 3X Conditioner on the manes and tails only, and just water on their bodies to keep their hair coats from drying out. In the case of Chasity's white legs, I will use the shampoo and conditioner there, too. The result is a healthy and shiny hair coat year round.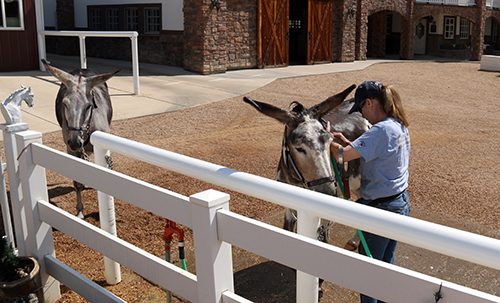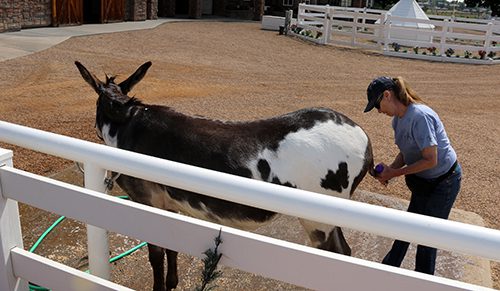 I spray the water over their bodies and then follow up with the serrated side of the shedding blade to scrape the dirt from their body. I keep going over each spot until the water runs clear. I pay special attention to the legs and any places that flies might have laid eggs. I will scrape these places with a stiff brush or with my fingernails and apply Neosporin to these spots, and any sores, after they are dry. I scrape off the excess water with the smooth side of the shedding blade. Then Chasity and Wrangler are put on the hot walker to dry.
When Wrangler and Chasity are dry, I sprinkle Johnson's Baby oil in the manes and tails and spray for flies with Farnam Tri-Tech 14. The baby oil will keep them from chewing on each other's manes and tails. Those who have sensitive skin around their eyes will receive fly masks. Chasity and Wrangler do not need them. When entering or leaving an area, we ALWAYS execute gates exactly the same way! That way, there is no confusion and chaos that could result in resistant behaviors.
Chasity and all my equines always know exactly what is expected and know exactly what they need to do.
Chasity will be rewarded with her favorite crimped oats for her cooperative behavior. Good manners, and being polite and respectful are paramount to getting your equine's full cooperation! Even if Chasity does go right out into her pen and roll afterwards, she always seems to enjoy having clean, healthy skin and hair. And, most of all, she enjoys her time with me and looks forward to the next time!