By Meredith Hodges
Do mules need to be shod? Those who are familiar with mules might be tempted to say, "No," but the answer is a little more complicated than you might think. Although the mule generally has a tougher and more durable foot than the horse, all mules do not have the same feet, nor do all mules apply the same kind of stress to those feet. Therefore, each individual animal has to be considered when answering the question, "To shoe or not to shoe?"
It is commonly known that, when it comes to horses and mules, light-colored hooves are softer and more likely to break down under stress than are the darker, black hooves. Even though the
black hoof is naturally harder than the light-colored hoof, if it does not contain sufficient moisture, it can become brittle and can chip away as destructively as can the lighter hoof. Whichever breed of equine you own and whatever the color of their feet, remember that good hoof care is essential for all domesticated
equines.
For better or worse, an equine inherits his hooves through his genes. If your mule has inherited good feet—black, oily-looking, and with good shape—then you are fortunate and hoof care and maintenance should be relatively simple. If he has inherited a softer or misshapen foot, you will need to discuss more specialized care with your farrier.
Climate and weather greatly affect the condition of your mule's feet. Damp weather and muddy footing will tend to soften the walls of any hoof, and perpetual exposure to mud and dampness can cause deterioration of his feet. With the light-colored hoof, which tends to soften more easily, this could spell disaster. It is wise, therefore, during damp weather or if you live in a damp climate, to provide a clean, dry place for your mule to stand. Conversely, extremely hot and dry weather can cause your mule's feet to become dry and brittle, and they may start to crack due to contraction and expansion of the hoof. For this type of dry weather or climate, you may want to overflow your water tanks regularly so your mule has a place to "cool his feet." If it is excessively dry, you may even need to manually lubricate your mule's hooves
as needed with one of the commercial products available. But before you use an artificial hoof lubricant, first check with your farrier to make sure that it is actually needed. Many people use hoof products too frequently, which can cause hooves to become too soft. When this begins to happen, you will see horizontal rings appear around the hoof wall, and sometimes, vertical lines. Try not to let the hoof get to this point by using lubricants sparingly, but if you see that these rings are beginning to appear, immediately discontinue use of the lubricant and allow the hoof to harden. Then check with your vet to make sure it is not a founder condition. It does not take much to adequately soften the hooves of an animal with rock-hard feet. During the really dry seasons, lubricant application once a week is usually sufficient.
Assuming that your mule has a normal set of dark, healthy hooves, he will probably not need to be shod, as long as he is used strictly for pleasure or only sporadically. However, if you are going to use your mule on excessively rocky or hard ground, you might want to look into getting shoes for him. Mules that repetitively participate in more stressful and demanding activities (such as parades, showing and endurance events) should be shod to protect their feet and to keep them healthy. Prevention of bruising or cracking and maintenance of good foot and leg posture is critical to the equine athlete.
The pack and pleasure mule that is not used much or is used on softer terrain and in places where he does not require shoes must still be trimmed for balance regularly to assure that his feet are evenly worn and that he is not putting undue stress on any joints, muscles or tendons. Failure to have your mule's hooves regularly trimmed in order to maintain their balance and shape can result in an imbalance in your mule's feet, which will then cause an imbalance throughout his entire body, inhibiting his performance. However, if trimming is done consistently, the risk of imbalance, accident or injury will be greatly reduced.
I believe that horses and mules, doing what they would naturally do alone—on terrain that is neither hard nor rocky—do not need to be shod. But mules that are asked to repetitively perform with a human on-board in varying surface situations should be fitted with the proper kind of shoes to help protect them from the additional weight and other demands that will be put upon their bodies. For example, my trail mules wear regular shoes on all four feet when they are being regularly used for trail riding and a variety of other activities, lessening the potential for injury. Then, when there is an occasional misstep on hard ground or rocks or when we trail-ride in the more challenging mountains, the shoes help to absorb some of the shock that would otherwise be absorbed by the hoof itself. It is my experience that young mules (and horses from two to four years of age) bear most of their weight on their front legs until their bodies are carefully and properly conditioned, and this is when you will see the most wear and tear on their feet. Because of this, my young mules that are just beginning saddle training wear regular shoes on the fronts only until their bodies are balanced and their activities clearly defined. Our broodstock, youngsters (under three years of age) and equines that are not used under
demanding conditions can go barefooted year-round, but they all still get regular trims every six to eight weeks.
All my other stock is shod for the specific purpose for which they are used: The Reining mules wear slider
plates during the competition season, and the jumpers are fitted with either regular shoes, a tap and die shoe with studs or a borium shoe for non-skid, depending upon the terrain they will be negotiating.  If I were to ask one of my mules to race, I would fit him with the lighter-weight racing plates. Each equine athlete is given a set of shoes particularly designed for the best performance in his event, just as is the case with the human athlete. In the winter, if my mules have the need to wear shoes, I add rim pads to their shoes to help prevent "snowballing."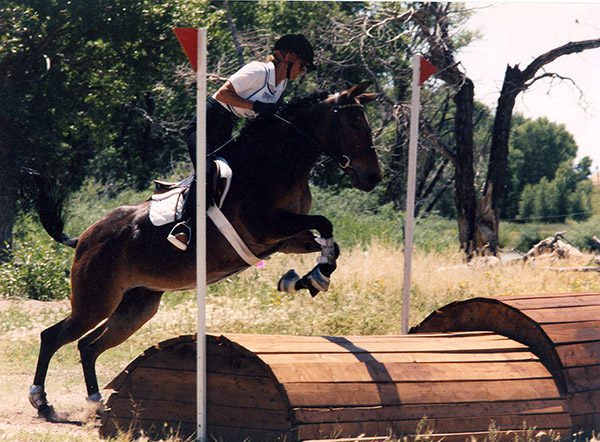 Granted, there are a lot of mules that may not need to be shod, but there are also many that do need shoes, so each individual mule's feet must be evaluated on a case-by-case basis. Because of this fact, the generalizations that "mules don't need to be shod" and "all equines should go barefoot" are not always correct. You must take into consideration how your particular mule's genetics affect his hooves, what he will be used for and how harsh the demands put on him will be on his feet. These important factors will determine whether or not he needs shoes, and if he does need shoes, what kind of shoes will best suit him. And don't forget to check your mule's shoes on a regular basis to make sure that all is well and that his shoes are staying on tight, but most of all, that he is comfortable and happy.
To learn more about Meredith Hodges and her comprehensive all-breed equine training program, visit LuckyThreeRanch.com or call 1-800-816-7566. Check out her children's website at JasperTheMule.com. Also, find Meredith on Facebook, YouTube and Twitter.
© 2014, 2016, 2019, 2021, 2022 Lucky Three Ranch, Inc. All Rights Reserved.