MULE CROSSING: My Favorite Christmas Tradition
By Meredith Hodges
My favorite holiday of the year has always been Christmas! The sights, sounds and smells of Christmas transport me to a magical place for the whole month of December, and the excitement and joy of yesterday still ring true today. I cannot think of a more deserving holiday than one that celebrates the birth of Jesus Christ and promotes so much hope and serenity throughout the world, if only for a day. Christmas reminds us all that the spirit of sharing and giving is timeless and takes only a willing attitude and a little bit of creativity.
While I was growing up, Christmas in my family was filled with numerous traditions. When we were twelve days out from Christmas, we
watched a 1955 film called On The Twelfth Day of Christmas. As you might guess, it was based on the old English song, "The Twelve Days of Christmas." Every year, the film
brought wild bursts of laughter, as we watched a proper Edwardian lady's townhouse in England become filled to overflowing with gifts from her suitor. Not only did she get the gift designated for each day, but also the same gifts from prior days plus the new one. By Christmas, her little townhouse was filled with 12 partridges in pear trees, 22 turtle doves, 30 French hens, 36 calling birds, 25 gold rings,  30 geese a laying, 28 swans a swimming, 32 maids a milking, 27 ladies dancing, 30 Lords a leaping, 22 Pipers piping and 12 drummers drumming! Laughter filled our house daily from that day forward, all the way up to Christmas. Of course, as children, we were also reminded of the "naughty and nice" list.
To my siblings and me, Santa Clause was the personification of "sharing and giving" and it was important for us to meet the man who inspired so much warmth and affection. Like so many little children, the tradition of sitting on Santa's lap and telling him what we wanted for Christmas HAD to be observed. Then, after our visit with Santa, we would spend the next few days shopping for the perfect gifts to give to those we loved. I remember that my parents, brothers, sisters and I were very conscientious about contributing to the Salvation
Army volunteers who dotted the department stores with their little red pots, filled with donations for those less fortunate. We children bought some of our gifts, but a lot were created from scratch from things we found around the house. The presents we made always seemed to mean the most.
Christmas baking for days on end with my Grandma is a favorite memory. We got to bake great gifts for many friends and family members (and we all knew there would be time to exercise and take off the weight…LATER!). We children were wide-eyed and filled with wonder as we passed the evenings listening to our favorite Christmas carols and our elders' stories of Christmases past. And we absolutely knew that Santa really could drive eight tiny reindeer across the sky, with Rudolph lighting the way with his red nose, bringing presents to little children all over the world. All of these experiences bonded our entire family together.
As a family, we always enjoyed going to a large, rural live Christmas tree lot just a few miles away, where we searched for and cut down of our very own special Christmas tree. Right before Christmas Eve, we put the tree up and decorated it with lots of garlands, popcorn strands and ornaments, many of which represented our family's "Christmases past." The Christmas decorations that were everywhere brought smiles to our faces and made us dance with joy, while Christmas bells rang out to remind us of the good in everyone.
On Christmas Eve, surrounded by close friends and family, my mother accompanied us on the piano as we sang Christmas carols. Another Christmas Eve tradition was our very favorite meal of hamburgers and French fries—a quick meal for my mom to fix and food we kids all loved. For dessert, Mom made chocolate and lemon meringue pies. Dessert was always delicious, but we children were anxious to get to the business of opening the presents we gave to each other later in the evening. We knew that our presents from Santa would not be there until Christmas morning, so we set out milk and sugar cookies for Santa and his reindeer before we went to sleep, so that he would know how much we appreciated his time and effort, and that we found it amazing that he could give gifts to every child, all in one night.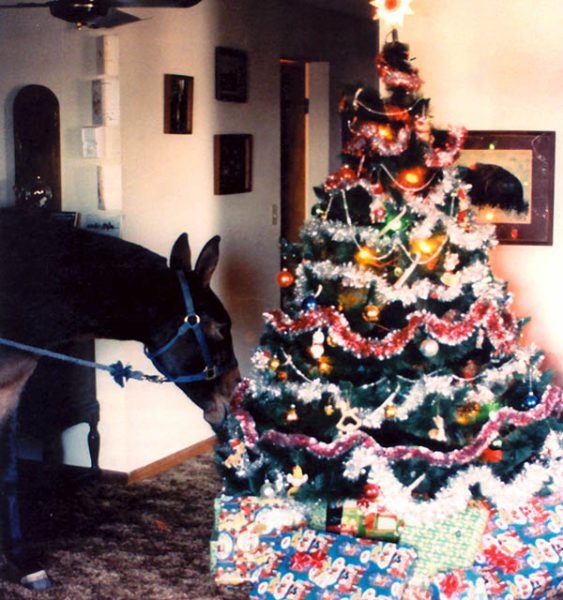 We kids always awoke extremely early on Christmas Day, bouncing down the stairs to see what Santa had left us. The cookies and milk were gone and the presents from Santa were under the tree, but we were not allowed to touch them until our parents and grandparents got up. That wait was excruciating, but it was oh so much fun when the adults finally got up! After opening presents, everyone had a light breakfast, because the early afternoon would bring our traditional Christmas dinner with friends and family. My mother made the most amazing spread of perfectly roasted turkey and stuffing, mashed potatoes and gravy, an incredible salad filled with everything you can think of from the garden, sweet potatoes and a lovely cranberry sauce. The meal was always topped off by my grandmother's unique and decadent chocolate roll, a light chocolate cake with real whipped cream and homemade chocolate sauce on top.
Now, as an adult, my Christmases are a wonderful combination of the traditions I experienced as a child and my own new traditions, which means always including my beloved mules, donkeys and horses. In fact, back when I lived in my original farmhouse at Lucky Three Ranch, the old floors were sturdier than those in my present home, so the mules were actually allowed to help with the decorating of the Christmas tree!
My equines have also been involved in many Christmas parades throughout the years. We would always decorate our surrey (pulled by Mae Bea C.T.) and our Meadowbrook cart (pulled by Little Jack Horner) with the most elaborate decorations! It was so much fun to hear and see the crowds of people along the parade routes waving and cheering in appreciation of our efforts. On Christmas Eve, a group of us would often go Christmas caroling throughout the neighborhood in our mule- and donkey-drawn vehicles.
Of all the Christmas traditions I treasure, my favorite is the tradition that arose when Lucky Three Ranch was born and my mules, horses and donkeys became an integral part of each holiday season. My favorite tradition now is the time spent sharing a warm hug with each of my equines and giving them an extra measure of oats on that very special day that we call Christmas!
To learn more about Meredith Hodges and her comprehensive all-breed equine training program, visit LuckyThreeRanch.com or call 1-800-816-7566. Check out her children's website at JasperTheMule.com. Also, find Meredith on Facebook, YouTube and Twitter.
© 2014, 2018 Lucky Three Ranch, Inc. All Rights Reserved.