By Meredith Hodges
Little Jack Horner , 13 HH Sire-Supreme of the Lucky Three Ranch in Loveland, Colorado, was the last jack born at the famed Windy Valley Ranch in Healdsburg, California owned by my mother, Joyce Doty. He was foaled June 11, 1980, by the renowned Windy Valley Adam (14.2 HH) and out of Windy Valley Maude (15 HH). His ancestry can be traced back to the original breeding stock of George Washington's farm at Mount Vernon, Virginia. 
In 1984 and 1985, Little Jack Horner captured second place in the Bishop Mule Days World Show Halter class for Standard Jacks. His impeccable show record consists of first and second place standings at Halter in his home state of Colorado, and in 1986, he placed first at Halter in the American Donkey and Mule Society Registered Jacks class at the A.D.M.S. Nationals in Dallas, Texas. 
In 1984, he made his debut in performance at the Colorado Classic Horse Show, placing first in Donkey Driving and Donkey Pleasure.
His willing disposition held him in good stead, placing him first in Donkey Pleasure and Donkey Driving at Bishop Mule Days in 1989. Little Jack Horner (by his own enthusiastic request via running the fence) was trained in Dressage and Jumping along with his numerous offspring mules. He reached Second Level Dressage over three years and jumped four feet in exhibition at Bishop Mule Days in 1991 where he received a Specialty Award for his efforts. At Bishop Mule Days in 1993, he placed first in Donkey Pleasure, Donkey Pole Bending and Donkey Keyhole.
Although Dressage proved difficult (as it would be for any donkey), it helped to set the stage for his incredible athletic ability to jump. He soared over fences to 4'6" without a rider and worked up to 4' with the rider on board. In keeping with traditional Dressage, Little Jack Horner worked on a Pas de Deux in Jumping with another Colorado Standard Jack, Blue Zebulon owned by Fran & Larry Howe of the Bitterroot Mule Company. Those who know the difficulty of working jacks together at all will appreciate their unique dispositions and good manners! Little Jack Horner proved himself to be not only a well-conformed breeding jack, but also a true athlete! He was inducted into the Bishop Mule Days Hall of Fame in May of 2014. 
As a breeding jack, Little Jack Horner produced some of the finest saddle mules in the world. Consistently, his genetic makeup was responsible for extremely attractive heads, refined straight legs and good angles in the hip and shoulder of his offspring mules and donkeys. In addition,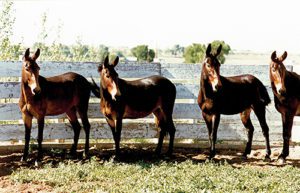 these mules and donkeys reflected a smooth flowing topline, with depth of girth and a good length of neck for overall balance and beauty. Little Jack Horner's mule and donkey offspring generally grew to the mare's (or jennet's) height or 2 inches taller despite L.J.'s own smaller size.
Lucky Three Firestorm never lost a Halter class and was an all-around English Champion Arabian mule.
It didn't seem to matter with what breed of mare or jennet he was bred. His superior qualities shone through in his offspring, giving the mules an appearance more like really nice looking horses (and donkeys!), only with longer ears! 
Not only did Little Jack Horner seem to improve on the characteristics of the mares with which he was bred, but also with the jennets as well. At Lucky Three Ranch, we endeavored to produce a Mammoth Donkey with these same refined characteristics as Mammoth's typically have a lot of thick bone in the joints and in their faces which I wished to refine. Little Jack Horner sired two jennets, Lucky Three Pantera and Lucky Three Serendipity , who indeed retained his refinement within a much larger frame. Pantera , as a two-year-old gray jennet, stood at 14.3 hands and Serendipity as a yearling, stood 13 hands, the very same height as her sire. Pantera matured to 15.2 hands and Serendipity matured to 14 hands. When we bred the daughters back to Blue Zebulon from the Bitterroot Mule Company, the offspring jacks did indeed retain Little Jack Horner's refinement with no unsightly boniness in the heads and joints. His offspring were most often taller than both the mare and sire . Little Jack Horner proved time and time again that the jack is indeed responsible for the shape and thickness of bone, and not necessarily for the overall height of the offspring. 
Be it donkey or mule, Little Jack Horner's offspring always placed at the top of the Halter classes in the early shows and in the top five when they began competing in performance classes. 
In January of 1989 at the National Western Stock Show in Denver, Colorado, Little Jack Horner and nine of his offspring, both mules and donkeys, made a clean sweep at the show and won everything in every class in which they were entered. 
Appaloosa mule, Lucky Three Ciji never lost a Halter class, placed in the top five in the Western Performance divisions at multiple shows across the country and was a Side Saddle Champion, and Reserve Champion the following year, against horses in the International Side Saddle Organization. 
Appaloosa mule, Lucky Three Eclipse won the Bishop Mule Days Champion Warm-Up Hunter class in 2000. At the Lucky Three Ranch in 2017, we still have multiple Little Jack Horner offspring from various horse breeds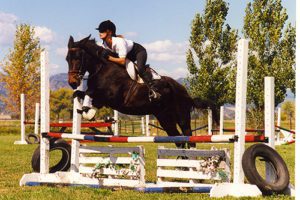 (Appaloosa, American Quarter Horse, Arabian, Thoroughbred and Paint) including one Warm Blood mule bred from a Trakehner mare that I acquired for the expressed purpose of doing Dressage due their their extraordinary movement. Little Jack Horner's offspring here at the ranch are all healthy and are still being used for ranch work, even though most of them are well over twenty-five years of age, and some are thirty years and over.
When I said good night to Little Jack Horner one chilly fall evening on October 5, 2014, I noticed that he was unusually calm and serene. He stood motionless with a colorful rainbow arched over his pen showering him in a surrealistic light as the sun began to set behind the Rocky Mountains that he loved . Little Jack Horner passed
away quietly that night at the age of 34 years, but his legacy remains.
He set the bar exceptionally high for Longears everywhere and because he did, the interest in mules and donkeys has increased exponentially over the past 40 years. The old myths about donkeys and mules being stubborn and hard to work with are being laid to rest because of his efforts. What he taught me will go down in history to become my legacy as well. His story and that of his offspring needed to be told, so I documented everything I learned from them to pass on to future generations. I was very blessed to be the steward of such an extraordinary individual and to be able to go forward as the keeper of his children. He was a very special donkey for a very special time!
Little Jack Horner has left quite a legacy! It does my heart good to see how the quality of mule and donkeys has improved exponentially over the years with foundation sires such as Little Jack Horner and…
  Black Bart , bred by Sybil Sewell from the famed Windy Ridge Farm in Canada and owned by Don and Irma Mode of Oregon. Mules, once bred from culled mares, are now being bred from the best! Through more careful donkey selection, they have also improved substantially in conformation and have thereby produced incredible breeding jacks and jennets for the future!

To learn more about Meredith Hodges and her comprehensive all-breed equine training program, visit LuckyThreeRanch.com or call 1-800-816-7566. Check out her children's website at JasperTheMule.com. Also, find Meredith on Facebook, YouTube and Twitter.
© 1988, 2016, 2021 Lucky Three Ranch, Inc.  All Rights Reserved