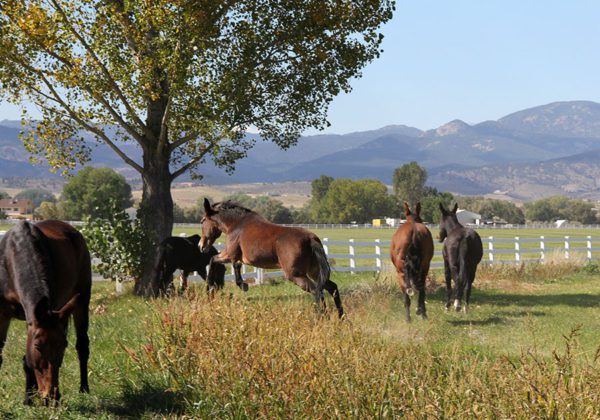 By Meredith Hodges
Across the United States and around the world, as mules are given more and more opportunities to perform in many diverse situations, they are exhibiting their exceptional beauty, athletic ability, endurance and intelligence. There are definite physical and psychological reasons for these outstanding abilities. It has been proven that the mule not only inherits the mare's beauty, but is also more athletic than the mare out of which he came. The mule is an exceptional hybrid not only because he inherits these qualities from his dam, the mare, but he also inherits the best qualities from his sire, the jack who is responsible for his muscle structure, thickness of bone, strength and intelligence.
The muscle structure of a mule is noticeably different than that of a horse. His body is covered with masses of long, smooth muscle whereas the horse has more differentiated bulk muscle masses.
The most apparent example of this difference is seen in the chest of the mule. The horse's chest has two distinct muscle groups, which creates a very distinctive line of separation in the middle of his chest. However, the mule's chest is composed of one wide muscle mass that resembles a turkey's breast, which greatly enhances the mobility of the front quarters. Another example is found in the mule's hindquarters, where the long, wide and smooth muscles enable the mule to kick forward, backwards and sideways—he can even scratch the top of his head with a hind foot if he wants to! Mules are also quite capable of climbing under, over and through most kinds of fencing. Restraints that are used with horses often do not work with mules because of their astounding ability to free themselves from annoying circumstances with their strong, quick and agile movements. Because the hindquarters of the horse possess bulkier muscle masses, the horse does not have this incredible range of motion. The difference in muscular structure is similar to that of a ballet dancer versus that of a weight lifter—the ballet dancer's longer, smoother muscles are more conducive to elasticity and agility.
In addition to this physical structure, which allows him more diverse range of movement, the mule also inherits from his sire (the donkey jack) the strength to tolerate prolonged and strenuous use of his muscles. One need only try to budge an unwilling donkey to realize his incredible strength! Donkeys traditionally possess an unbelievable vigor, and this vigor is passed on to the mule, adding to his superiority over the horse in strength and endurance. The donkey jack also contributes to the superior, tough hooves of the mule and a unique resistance to parasites and disease. Throughout their long history, the donkey's natural ability to survive and thrive in habitats both desolate and unyielding guarantees that donkeys and their mule offspring are more sure-footed than other equines and masters of self-preservation.
Donkeys have long been referred to as "stubborn," but this is a false and unjust perception. It is not stubbornness that causes an overloaded donkey to stop dead in his tracks to rest his body, but rather common sense and a strong desire for self-preservation. After all, would a sensible human being deliberately pack more than he could comfortably carry, and then continue a hike until he drops from heat and exhaustion? No. Would his refusal to do so be considered as being "stubborn?" Certainly not—it's just common sense. The same common sense should be applied when understanding a mule or donkey's behavior—and this holds true in any potentially dangerous situation a donkey may face. For example, when crossing a body of water, the donkey does not possess a human's acute visual depth perception. Therefore, when he refuses to step into water that seems perfectly safe to us, it is because his depth perception is telling him to use caution and to take his time in evaluating the situation before he proceeds. His behavior is determined by the way he is asked to perform a task and by his concern for his welfare and safety.
As a rule, donkeys are equipped with the innate intelligence to sense that humans are not always concerned with what is really best for them, yet they are still willing to gives us the opportunity to convince them otherwise. Donkeys also have a natural social attraction to humans and, when treated with patience, kindness and understanding, they learn to trust and obey. On the other hand, if they are treated with pain and abuse, they are not likely to comply and can become very dangerous to handle. Mules and donkeys have an honest way of responding to our demands, so if your mule or donkey is not complying with your request, you need to review the clarity of how you are communicating your desire and adjust your approach accordingly. The intelligence of the donkey is no accident.
When a male donkey, with his traits of superior intelligence, strength and muscle structure is bred to a female horse with a calm disposition, good conformation and athletic ability, the result is an exceptional and incredibly beautiful animal—the MULE!
October 26th has been popularly designated as National Mule Appreciation Day, but anyone who's ever been lucky enough to nuzzle a muzzle knows that these magnificent, gentle, bright, honest, upbeat, funny, patient and loyal friends need our appreciation and guardianship not just once a year but every day. Let's spread the word whenever we can mules and donkeys are truly amazing!
To learn more about Meredith Hodges and her comprehensive all-breed equine training program, visit LuckyThreeRanch.com or call 1-800-816-7566. Check out her children's website at JasperTheMule.com. Also, find Meredith on Facebook, YouTube and Twitter.
© 1985, 2013, 2016, 2019, 2021 Lucky Three Ranch, Inc. All Rights Reserved.