By Meredith Hodges
There has been a lot of discussion since the early nineties around using donkeys for small livestock protection and predator control. Donkeys can certainly be a formidable opponent for cats and dogs and other smaller animals. One needs to be careful about who the donkey is pastured with since it is in their nature to pursue and sometimes kill animals that are smaller and weaker than them. This is true in all donkeys, although some individual females tend to be more maternal and are not apt to go after smaller livestock. The males will always be more aggressive than the females and do not make good guardians for smaller livestock.
The other thing to consider is whether or not they have been raised with the livestock they are expected to guard. When raised with the other livestock, they will feel more a part of that "family" and are less likely to do them harm. A donkey that is going to be expected to guard livestock, but was not raised with them, should be carefully introduced to them "over the fence" for several weeks. Then if all seems to go well, you can introduce them in the same pen and watch for any signs of aggression. If there are signs of aggression after a few weeks of being separated, then they probably will never really get along. You must remember that a donkey is NOT a predator, nor a prey animal that will necessarily get along with other livestock. Donkeys prefer to be in a herd with other donkeys. They do not like being alone either. Donkeys have a strong sense of "family" and prefer to be with their own kind. When forced to be with other species, they will blend, but grudgingly.
There are three basic sizes of donkeys: Miniatures, Standard Donkeys and Mammoths. Our American donkeys are further identified by their height when being described rather than specific breeds. This is because they are so interbred from being turned loose during the time of the Spanish explorers. There are no real purebred donkeys in America other than the descendants of the original Andalusian donkeys that were bred from George Washington's stock at Mt. Vernon. One must go to Europe to see the original BREEDS of donkeys. American donkeys are identified as: Miniature Donkeys (36" & under), Small Standard Donkeys (36.01" to 42"), Standard Donkeys (42.01" to 48"), Large Standard Donkeys (48.01" to 56") and Mammoth Donkeys (Males 56" & over; Females 54" & over).
Miniature donkeys are not suitable guardians for livestock at all. They are too small and can fall victim to predators themselves. They simply cannot defend themselves. Standard donkey jennets are the most sought after for predator control, however, keep in mind that they are PREY animals and can fall victim to predators that are fairly large, or predators that run in packs. Mammoth donkeys are simply too slow to react. They lack the quickness and athleticism that it takes to combat a predator. Donkeys will never be able to guard against such predators as bears and mountain lions.
Good ranch dogs that are bred for guarding sheep and other livestock are a much better choice for guardianship. They are quick, clever and always on the alert. Their barking can alert the farmer as well. They can even move the livestock to a safer location on their own and will often chase off a predator pretty easily with their confusing way of attacking.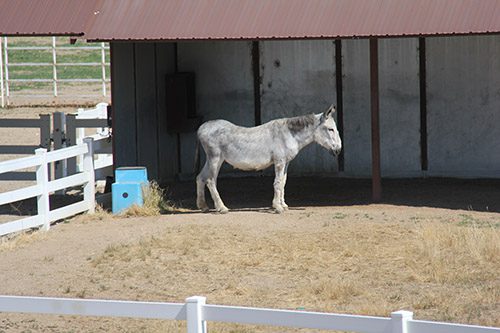 As with all livestock, donkeys need to be provided with adequate shelter from the elements, whether heat or cold, must be provided trace mineral salt blocks and clean, fresh water. Their time on pasture will need to be monitored for optimum health which will often clash with the grazing needs of sheep, goats and other smaller livestock. Donkeys are desert animals and really easy keepers. It is not uncommon when they colic or founder on too much, or too rich, grass. They cannot be on pasture 24/7.
Donkeys will need regular trims and must therefore, be reasonably trained. They will require vaccinations twice a year and regular worming. If they are not trained to accept these things, most veterinarians and farriers
will be averse to handling them until they are. It takes time and patience to gain the trust of your donkey before you can actually consider him trained.
I have found it better to be smart about livestock control and not make it so easy for the predators. As I said, guard dogs bred for herd management are a much better choice. One should NEVER use mules as a guardian as they WILL be dangerous to smaller livestock and other smaller or weaker animals, even older mules! However, I have discovered that when my mules are pastured next to the smaller animals, predators give them a wide berth and thus, skirt the pens where the smaller animals are kept.
Since miniature donkeys and mules are always at risk, I add another element of safety for them by lining their pens with metal grating over the stock panels. Then, everyone is also brought in every night and turned out for a limited amount of time during the day. This gives me the opportunity to monitor their diet, check for injuries twice a day and keep them safe overnight. All my equines are taught to come in from turnout upon request. They know there is always a crimped oats reward awaiting them.
Wooden barns and wire fences can be easily torn down by larger predators. So over the years, I slowly replaced all of my wood barns and wire fences with metal barns, steel panels and vinyl fencing with hot wires on the top. I also run hotwires on the bottom of the vinyl fencing in areas where animals are likely to come through by climbing underneath. The way my barns and pens are laid out, the mule and large donkey pens surround the miniatures' housing accommodations. It is not uncommon to see large "cats," bears, coyotes and other predators in the foothills of Colorado where I live. It is even getting worse as more developments are built in the mountains and drive these predators off the mountains in the wintertime.
In summary, I do not recommend using donkeys as guardian animals. We need to remember that they are PREY animals themselves and can be grossly injured in any altercations with a predator. I think there are better choices for livestock guard animals and setting up the environment in which your livestock (donkeys included) is kept. These two considerations will promote the health and welfare of your livestock, and cost you a whole lot less in the long run!
To learn more about Meredith Hodges and her comprehensive all-breed equine training program, visit LuckyThreeRanch.com or call 1-800-816-7566. Check out her children's website at JasperTheMule.com. Also, find Meredith on Facebook, YouTube and Twitter.
© 2022 Lucky Three Ranch, Inc. All Rights Reserved.