MULE CROSSING: Choosing the Right Jack
By Meredith Hodges
When choosing a jack to breed to your mares and jennets, there are many important factors to consider. Conformation is the most obvious, but size, type, disposition and genetics are equally significant. As a direct result of the donkey's evolution our choices in jacks are considerably limited these days. In the days when donkeys were widely used as beasts of burden, conformational soundness was an important consideration in their ability to do physical work. Today, the donkey is not as widely used in this manner, becoming more of an owner's pleasure animal. In some cases, he is simply another pet. As a result, not much care has been taken to preserve his conformational integrity, thus limiting the availability of true breeding stock.
Although the conformation of the ideal jack can only be approximated, you should always try to choose a jack that is as close to the ideal as possible for your breeding programs. (Perpetuating undesirable conformation traits will only compound future breeding problems.) The first conformational consideration is the jack's overall balance and proportion. His torso should be well connected to the front and rear quarters, with plenty of width and depth from heart girth to the flank, which allows for maximum efficiency of the heart and lungs. The topline from the withers to the tail should be relatively straight, with only a gentle slope from the withers to the croup, and neither excessively long nor short-backed. A longish back is acceptable, provided there is not a lot of distance between the last rib and the point of the hip, as this causes weakness through the loins. The unusually short-backed jack does not have adequate lateral  and vertical flexibility in his movement. A rigidly straight back is discouraged, as is a back that sags too drastically in the middle (except in the case of an aged animal).
Proportionately, the jack should not be too narrow in the chest, through the rib cage and in the rear quarters—nor should he be too wide in these areas. These faults in proportion can interfere with his action, causing him to be "pin-toed" (splay-footed) or "pigeon-toed" (toed-in). The pin-toed jack will brush his knees and fetlocks together in deep footing, causing him to be a slow mover, or he may even cross his legs over one another, increasing the possibility of a fall.
The closest approximation to a 45-degree angle in the hips and shoulders is preferred, with an adequate balance of muscle and sinew in all four quarters. One of the most common faults in donkeys today is straight and slight shoulders and hips. The withers and croup should be even across the topline, and the jack with withers slightly higher than the croup is preferred over the opposite, as this could set
the animal's body weight too far on the forehand, making turns and stops more difficult. It could also increase the possibility of falling. The croup should be smooth and round over the rump, with a tail set neither too high nor too low.
The feet and legs of the jack are the foundation of his conformation. They should be straight and true, with flat bone and adequate angles at the shoulders, hips, stifles, and hock and fetlock joints. The foot should be trimmed and shaped to compliment the angles in his joints to maintain the good conformation that should be present in the four quarters of the animal. For example, on a jack with good shoulders, the slope of the pasterns should be parallel to the slope of the shoulders. When dropping a plumb line on the front legs, which should be neither too far forward nor too far underneath him, the plumb line should fall from the point of the withers to the ground, directly at the back of the front legs. When dropping a plumb line on the hind legs, it should fall from the base of the tail to the point of the hock, and straight down the back of the cannon bone to the ground.
As far as a donkey's hoofs are concerned, the expression, "No foot, no donkey" is literally true. Faults such as buck-kneed, calf-kneed, tied-in at the knee, round bone, short straight pasterns, coon-footed, too-long cannon, sickle hocks, splay-footed, knock-kneed, bowlegged, pigeon-toed, broken forward or backward feet, or too straight through the stifle and hock are all serious faults and should be avoided when breeding. Being slightly cow-hocked behind can be overlooked, as this usually increases maneuverability. The hoof itself should not reflect a ribbed appearance — it should be smooth and inclined to look sleek and oily. Even on the donkey, the hooves should not be contracted, but well-sprung (although less sprung than a mule or horse), and supported with a well-extended, healthy frog. Donkeys have a multi-layered hoof wall that will shed off in the event of mild or even severe trauma to the coronet or hoof wall, so many donkeys exhibit a "peeling" or "scabbing" of the hoof wall. A jack with this damage to the hoof should be inspected carefully to determine the severity of the problem and the extent of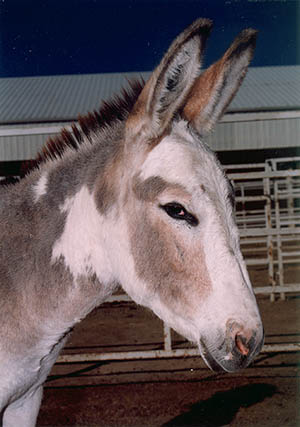 possible weakness in the hoof itself. If it is a cosmetic problem, it can often be managed successfully by adding one ounce a day of Mazola corn oil to the diet. If it is a genetic problem, a jack with hoof problems should be avoided when breeding and should probably be castrated.
The head and neck of the ideal jack should be attractive and set-in correctly, giving an overall balanced look to the animal. He should have good length to the ears, neither too far forward nor too far back, so the poll is clearly apparent. His eyes should be set so they give him a maximum field of vision forward, backward and peripherally. The eyes should not be set too high nor too low, which would offset the overall balance of the head. He should have adequate width and fine enough bone in the head, to allow for plenty of space for the brain and internal organs of the scull cavity. The length of his head should compliment the balance of his body and taper to a smaller and delicate muzzle. His jaw should be straight and aligned, showing neither a parrot mouth (under bite), nor be undershot (over bite, or buck toothed). This is critical for feeding and nutrition. The slightly dished-face, straight-faced or Roman-nosed jack should not be ruled out, provided the other criteria are met. The neck should be set in so that it flows easily into the withers and has adequate length for the ability to bend and maintain balance. He should have neither a U-neck nor an excessively crested neck. It should not be too wide, or too narrow, and should tie into the throatlatch in a trim and flexible way.
The basic conformation for the breeding jack should be the same regardless of size, although there are specific considerations with regard to type and use. The jack generally contributes more to the thickness of bone in his offspring, but not necessarily to their height. Therefore, when breeding for saddle mules and donkeys, the more refined-boned Standard or Large Standard jacks are preferred. On the other hand, when breeding for a draft mule or donkey, you would want to preserve more thickness of bone and use a stockier jack, such as a Large Standard or Mammoth. Use the same guidelines when breeding for miniatures; stocky begets stocky and refined begets refined. When breeding for saddle mules, you may want to keep the refinement, so you would use a Standard or Large Standard jack to breed to a saddle horse mare. However, if you wish to have a pack mule that is not overly tall, you might then want to breed a Mammoth jack to a saddle horse mare.
The genetic pool is a very important consideration when breeding. A particular jack may be a beautiful specimen, but, regardless of how lovely and balanced he may be, he may possess genes that produce offspring with many conformation faults. Since donkeys have been so inbred, this can happen more frequently than you might imagine. When choosing a jack to breed to your mares and jennets, it is wise, if possible, to take a look at some of his offspring from different mares and jennets, so you can better assess his stronger traits and determine which traits appear to be pre-potent. If this is not possible, your alternative is to breed him with only the best mare or jennet you own, in order to increase the odds for positive traits to come through in the offspring. Sometimes you can try to compliment the mare with the jack, such as a long-backed mare with a short-backed jack to get a medium-backed mule, but this doesn't always work. A reputable jack owner should have records to show how and what his jack has produced and be able to attest to the consistency of his jack's production. Granted, in the past this was virtually impossible, but today we have the American Donkey & Mule Society registry (and other Longears registries), and many conscientious breeders who realize the importance of recording their breeding
information, thereby giving us all a better understanding of Longears production. So, don't be afraid to ask the breeder whatever questions you may have.
Disposition is of the utmost importance when choosing a jack. However, there is a difference between the jack's natural instincts, his personality and his acquired personal attitudes, so you should learn to distinguish between a natural instinct, a distinctive personality trait and behavior that was the result of improper handling. I have found most donkeys to be quite cooperative and affectionate when patiently and fairly treated, but some can also be more obstinate about things than others. Remember, in addition to the inherited traits of the jack, it is the mare, or jennet, from which the offspring learns most of his behaviors while he is growing up. So learn to make educated choices concerning your breeding stock and, in order to maintain the integrity of the breed, use only jacks with the best conformation for breeding.
To learn more about Meredith Hodges and her comprehensive all-breed equine training program, visit LuckyThreeRanch.com or call 1-800-816-7566. Check out her children's website at JasperTheMule.com. Also, find Meredith on Facebook, YouTube and Twitter.
© 1986, 1991, 2012, 2016, 2020, 2021, 2022 Lucky Three Ranch, Inc. All Rights Reserved.
——–
Photo Captions:
1) North Africa 1943 (Library of Congress)
2) Sire-Supreme Little Jack Horner and Meredith Hodges
3) Lucky Three Excalibur
4) Lucky Three Blue Baron
5) Standard Jack, Colorado D.J.
6) Foundation Sire Windy Valley Adam
7) Don Mode driving Foundation Sire Black Bart