By Meredith Hodges
Lucky Three Sundowner was foaled at my mother's Windy Valley Ranch in Healdsburg, California in June of 1980. Two weeks later he and his dam, Candy Etta, an AQHA registered mare, were shipped to the Lucky Three Ranch in Loveland, Colorado, where we continued the superior mule breeding and training program that my mother had started. Sunny was a tall, gangly little bay mule foal with an affectionate and willing attitude.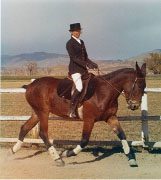 His show career began at halter and progressed to Western Pleasure and Reining by the time he was three years old. He won the World Championship in Reining at Bishop Mule Days as a four year old in 1984. Although he did very well in these events, he still seemed tense and nervous. For the next two years, I decided to focus on more relaxing events for him in Western Pleasure, Trail and English Pleasure. People were not easily accepting mules in equine events that were reserved for horses and ponies. Mules were universally considered stubborn, uncooperative and only suitable for the activities of farming, packing and pulling heavy loads. I suspected that this was not true and set out to prove it by schooling my mules in every discipline possible. Sunny had won the World Championship in Reining. I believed that schooling in Dressage could only help him in other judged disciplines and I set out to prove it.
During our beginnings in Colorado, there were small mule shows and some schooling horse shows that we could attend to test our skills. However, most people really didn't believe mules could do all the different events that horses could do and did not want us around. A picture of Colonel Alois Podhajsky hung over my bed since I was small and I have always been in awe of the supreme levels of horsemanship that Dressage horses could attain. My dream was to be able to dance with Sunny in Dressage, but without anyone to help us, how could we ever achieve that level?
In 1986, fellow mule lover Sally McClean and I attended the United States Dressage Federation Convention and asked that mules be accepted into Dressage schooling shows. We were met with resistance, but there were some who were empathetic to our plight and they agreed that we should be allowed to compete at the lower levels to be able to test our skills and be part of the Dressage community. Sunny and I began Dressage lessons with local United States Dressage Federation instructor/trainer, Melinda Weatherford in Fort Collins, Colorado. Since neither Sunny, nor I, were previously schooled in Dressage and because he was a mule, we were faced with a much harder journey than we ever imagined. Lindy certainly had her work cut out for her teaching the two of us!
With acceptance by the U.S.D.F. (United States Dressage Federation), I felt it was important that our World Mule Show in Bishop, California, offered classes in Dressage. There were now a few others who were starting their mules in Dressage and they would need a place to show their progress against their own kind. The Bishop Mule Days Committee agreed and Dressage was included as a part of this truly world-class mule show! With the addition of Dressage, Bishop Mule Days became a 5-day show. Today, Bishop boasts a full week of over 180 different mule and donkey events with over 800 entries each year. Dressage classes grew rapidly with increased interest! People were beginning to realize how much Dressage could influence their Longears' performance in other classes. Even the donkey classes began to improve and more events were offered for them as well. My own Little Jack Horner was working at Second Level Dressage, which was unheard of for a donkey!
During Sunny's first Training Level Dressage test in 1988, he got frustrated and ran off with me! Mules will sometimes do that! He scored 5's and 6's. The judge's comment was, "This could be a nice mover if you can get his brain-by teaching him shoulder-in and leg yielding…" Unfortunately, we were eliminated. In 1988, he made his second debut at Training Level Dressage at Bishop Mule Days. He had much improved scores of 6 and 7. The comments, were, "Very pleasing ride, lovely mule, need to work on halts." The progress Sunny made in just a month was phenomenal!
Sunny really enjoyed the predictable exercise routine and was soon much more relaxed and submissive although, we still had an occasional runaway during practice. It took me awhile to figure out just why Sunny was running off with me. During the Reining training as a three year old, Sunnyhad been forced to continue to gallop after missing his lead changes. From that time on, he would take off every time he thought he made a mistake, even when I didn't think he had! He thought that was the right thing to do, so I patiently just rode out the runaways on a loose rein and kept asking him verbally to "Whoa." Each time, the runaways got shorter.
I knew that it was important to make sure his foundation work was stable and consistent, so we spent 1 ½ years schooling at Training Level Dressage. I made sure that he was only schooled every other day, with a day of rest in between. This seemed to help him to relax and settle, but his rhythm and cadence were still irregular at times. Then I thought maybe riding to music might help both of us. So, I sat down in the evenings, watched his training videos and picked music that would fit his natural rhythm at all three gaits. I even wore my Top Hat for our dress rehearsals to help me to set the mood. This staging during practice sessions made a dramatic change in his attitude… and mine!
Suddenly, we both experienced the harmony that we had only heard about that could take place between rider and horse, or in our case, rider and mule! It took a bit longer than expected, but spending that extra time at Training Level really improved his forward motion with strong engagement of his hind quarters. This, in turn, enhanced the lengthening and shortening of his strides within the working and extended gaits. We were ready to ask our coach if we could proceed to the next level. We began work on Leg Yields and attempted a bit of Shoulder-in.
We continued our weekly lessons with Lindy and progressed to First Level Dressage. We learned to sustain good balance, rhythm and cadence at all three working gaits and to lengthen these gaits with alacrity and grace. People at the farm where we took lessons began to stop and watch us in awe! They had never seen such a thing! In May of 1989, he showed at Bishop Mule Days again with scores of 6 and 7. The comments, "Nice moving mule. Good impulsion, but unsteady at times. Good overall." There were 10 entries that year and Sunny placed first! We were definitely making progress and people were beginning to notice!
Later in the summer of 1989, Sunny and I began to work at Second Level Dressage and entered some local schooling shows against horses to measure our progress. He did very well and was rapidly becoming the "Dressage Spokesperson" for mules! In 1990, he took first in the Bishop Mule Days Second Level Dressage Class. He was honored by Bishop Mule Days when asked to do a special demonstration for their Sunday afternoon performance. Sunny wowed the crowd with his sensitivity, agility and graceful performance!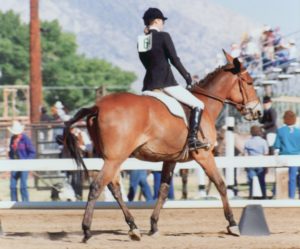 By May of 1991, Sunny was finally beginning to work at Third Level Dressage. Bishop had no Third Level Dressage class. So, they allowed Sunny to compete at Second Level Dressage again that year against four other mules and Dolly Barton who was rapidly becoming a Dressage champion herself – a mule bred by Bonnie Shields, the Tennessee Mule Artist!
Dolly placed first and Sunny placed second. Again, he scored 6's and 7's and the comments read, "Very nice ride! Needs more bending through turns and circles and scores will be higher." Since both mules would be moving up another level by the next year, I went back to the Bishop Mule Days Committee and requested a Third Level Dressage class for 1992. They were so impressed with Lucky Three Sundowner and Dolly Barton that they agreed.
At Bishop Mule Days 1992, Sunny placed first against Dolly Barton in the Third Level Dressage class with scores of 6 and 7. I don't think he liked being beat by a girl the year before! By 1993, Sunny was working at Fourth Level Dressage. It was at this time that I attempted to change his bridle, from the Eggbutt Snaffle Flash bridle, to a Weymouth Bridle with the curb action Weymouth and Bradoon. He reacted violently to the additional restriction from the Deluxe Weymouth Bridle. He was always compliant and responsive in his Eggbutt Snaffle Bridle, so I opted to go forward in the same bridle to keep him relaxed and happy with his work. He then competed a second year at Bishop Mule Days at Third Level Dressage, where he easily won being the only mule in the class. He had won respect from the horse community and had clearly surpassed his peers!
Quietly at home, with only a few onlookers, Sunny and I danced together to The Emperor's Waltz by Johann Strauss with Canter Pirouettes, Half Passes, Passage and Piaffe. OUR DREAM TO DANCE TOGETHER HAD FINALLY COME TRUE! Lucky Three Sundowner passed away in October of 2015 at the age of 35 years, but his legacy remains. Dispelling all the old rumors about mules and donkeys, the memories we made together were priceless and paved the way for many more Longears athletes to "strut their stuff" in the equine industry of today! It took 18 years for mules to finally be accepted in the United States Dressage Federation Dressage Division in 2004, but nothing pleases me more than to see Longears successfully competing in the U.S.D.F. Dressage Finals against horses in Lexington, Kentucky! Long live our beloved Longears!
To learn more about Meredith Hodges and her comprehensive all-breed equine training program, visit LuckyThreeRanch.com or call 1-800-816-7566. Check out her children's website at JasperTheMule.com. Also, find Meredith on Facebook, YouTube and Twitter.
© 2007, 2016, 2019, 2021, 2022 Lucky Three Ranch, Inc.  All Rights Reserved.