By Meredith Hodges
Hauling long distances needn't be a problem with your Longears, if you use a little common sense and consideration. Their natural durability and good sense make them basically easier to haul than horses. When hauling for more than four or five hours, there are a few things to consider.
First, you should be sure that the trailer in which they are to ride affords safety and comfort. Before you leave, you should check over your trailer thoroughly. Make sure the hitch is secure and in good repair, and that there are no weakened welds anywhere. Check your trailer's tires, bearings, axels and brakes for maximum performance, and make sure all the lights are in working order. Take the trailer mats out and check the floor boards for rot and other weaknesses, and replace any boards that are even questionable.
Using bedding such as shavings or straw in the trailer may afford a little extra comfort, and can encourage urination on the trip, but it isn't always the best thing to do. The wind can cause the bedding to fly around inside the trailer, causing irritation to your animal's eyes, ears and respiratory tract, particularly if you use shavings. If you wish to use bedding, straw is the better choice. In addition to the straw bedding, choose thicker trailer mats (rather than those that are thin) for your trailer. Thicker mats allow for more absorption of trailer vibration, as well as dispersing the moisture from urination. The trailer you use should give each animal ample space in which to stand. If your mules and donkeys are crowded in too tightly, they will be tense and anxious throughout the trip and will tire easily. This can result in battles between animals, increasing the potential for injury.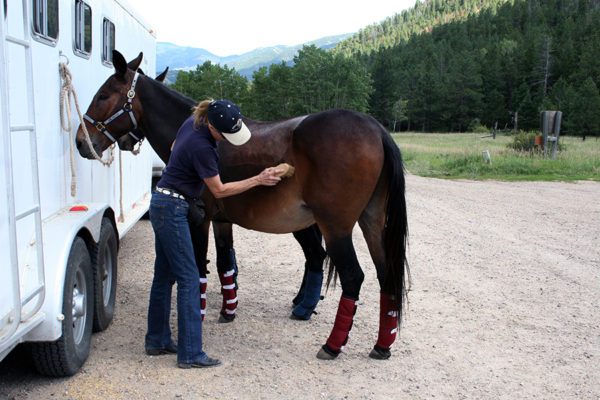 Mules and donkeys, like horses, should be "dressed" for their trip. For their overall comfort during long trips, halters should be fleeced, at least over the noseband, to protect from excessive rubbing that can result from being tied. Shipping wraps for their legs are also advisable to prevent injuries from a loss of balance, misstep or kick from another animal in the trailer. Depending on the weather and the kind of trailer you have (either a stock trailer or enclosed trailer) you can use sheets or blankets to protect the rest of your animal's body.
Donkeys tend to sit back on whatever is behind them while they ride, so they should always wear an oversized sheet or blanket that drops down behind the rump to prevent chafing. If they are not protected in this way, they can develop terrible raw spots on their tails and hindquarters. Using a tail wrap on mules and donkeys is rarely successful, as these tend to slide off (even if they are taped). If they are put on too tightly, they can cut off the circulation in the tail and cause problems.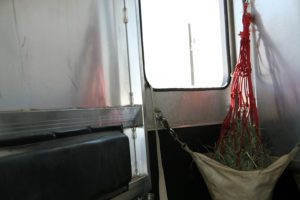 When loading your mules and donkeys, pay special attention to each individual's needs. Animals that lean one way or the other generally do better in a slant load trailer rather than in an in-line trailer, but if you must use an in-line trailer, make sure that the animal that leans has a solid wall or partition on the side to which he leans. You always want to put animals next to each other that get along well, so if you must load a leaner on the wrong side, be sure to put him next to an animal that is able to tolerate his leaning without retaliating if there are no partitions. If you have an open stock trailer, another alternative is to load your animals into the trailer and tie them facing backwards. Many equines actually prefer to ride facing backwards because they find it easier to balance. Note: This alternative is not advisable in a partitioned in-line or slant-load trailer.
Once on the road, try to keep your equines' routine as close to their "at home" routine as possible. Keeping grass hay in front of them will help to alleviate some of the stress of the trip, and will encourage them to relax and accept the situation. Feeds such as grain and alfalfa hay should be avoided, since these highly mobilize the intestines and can cause contractions that can lead to colic, particularly if your animals are not drinking enough water along the way. They should at least be offered some water (whether they drink it or not) at every stop you make along the way and ideally, once every two to three hours. Note: Water that your mules and donkeys are not used to may smell or taste strange to them and can be flavored with something they like. For instance, my donkey jack, Little Jack Horner, has a preference for iced tea to flavor unappetizing water on the road. Lightly flavoring your equines' water may encourage them to continue to eat and drink throughout the trip, and will help keep them happy and healthy.
If your trailer is large and has good suspension, your mules and donkeys can ride for as long as twelve to fourteen hours without too much discomfort, provided that you make frequent fifteen-to-twenty-minute stops every two to three hours along the journey. This should not interrupt your travel schedule, as you will already be stopping for gas along the way. If your animals are riding in a smaller trailer with more vibration, it is advisable to stop, unload and walk your animals every four to six hours, in order to give them time to stretch, relax and rest their legs. If you have a difficult animal, loading him last is often easiest, since he won't want to be left behind and will be more likely to follow the other animals into the trailer. This can be inconvenient if you have any animals that are difficult to load because of the extra time involved, but it is always a good opportunity to train them to get in and out of the trailer simply by repetition. By the end of a long trip, they will be loading and unloading much more easily. Just make sure that, if you have equines that are difficult to load, you have allotted yourself enough travel time to include this kind of training.
Long before you actually go anywhere, get your animals used to being handled inside the trailer. When unloading, always make them stand and wait. I usually remove my animals' shipping wraps before I let them come out of the trailer, but if they are packed in pretty tightly, I just remove the leg wraps I can reach. The removal of leg wraps before unloading adds purpose to your Longears' waiting time (which they quickly come to understand). Frequently offering water at stops gets your animals used to you moving about the trailer while they are loaded. Most equines realize that all of this is for their benefit and you should find them mostly cooperative and appreciative.
There are times when weather can change drastically and depending on what the weather and temperatures are doing, your animals may need sheets or blankets either put on or removed. When you teach your animals to stand quietly while you climb around inside the trailer ahead of time, putting on leg wraps or taking them off should help them feel more relaxed and accepting of the whole situation.
When loading or unloading your animals, you must always be very careful not to move too quickly or abruptly, which could possibly startle them and even get you trapped. But if you do have an emergency to attend to en route and your animals have been trained in the manner described above, you should be able to get to the animal in trouble with minimal problems. It sometimes takes a little more patience to get horses to stand quietly in the trailer. Once they realize that you are truly concerned with their best interests, mules and donkeys (intelligent creatures that they are), will usually be very cooperative and your long hauls can become relaxing and enjoyable road trips.
To learn more about Meredith Hodges and her comprehensive all-breed equine training program, visit LuckyThreeRanch.com or call 1-800-816-7566. Check out her children's website at JasperTheMule.com. Also, find Meredith on Facebook, YouTube and Twitter.
© 2000, 2003, 2014, 2016, 2017, 2019, 2021, 2022 Lucky Three Ranch, Inc. All Rights Reserved.