When Chasity first arrived, we needed to keep her in quarantine, away from the other animals for a minimum of two weeks. Over the past 41 years, we altered our facility to an all-steel facility. Reduced maintenance costs enabled us to proceed converting from wood and wire to steel until we completed the process. This has greatly reduced the overall maintenance costs for the entire ranch, enabling us to purchase steel panels for the barn runs. It was easy to quarantine Chasity safely and still allow her company (at a distance, of course!) and an introduction to her future stable mate, Wrangler. About every five years, we do have to spray paint the panels to keep them looking new, but this is a small price to pay for a happy donkey!
Once out of quarantine, Chasity and Wrangler were stabled next to each other. All of our runs are bedded with four inches of pea gravel. This promotes good drainage and keeps things from getting muddy. This, in turn, provides a hard surface for good hoof health and will not chip their feet because of its rounded shape. Each of our donkeys is given a soccer ball for play in the smaller areas. The ground surface is also soft and comfortable enough for them to lie down without causing shoe boils or sores. They learn to come by calling them to the end of the runs and rewarding with oats.
The mini donkeys' pens are the same way, as is the road around the sandy dressage arena where they can also be turned out in the larger dirt area when it is not in use. They really enjoy a good roll in the sand.
Donkeys are desert animals and can easily become obese when exposed to green pastures. I only take my donkeys out to pasture to play with me.
My 60' x 180' indoor arena is lined with steel panels. I have a 45' Round Pen at one end with obstacles inside the side gates around the south end. The enclosed area makes for good obstacle training with minimal distractions. Round Pen work and turnout in the open area during bad weather is completely safe and NON-DESTRUCTIVE!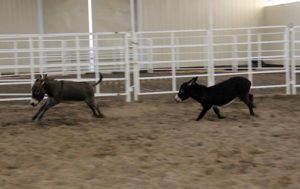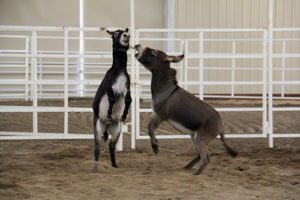 At first, Chasity would not come to me at the stall door, but after being chased once into the stall to be haltered, she soon gave in easily. I always halter in exactly the same way, in the same place. They love routine.
The oats reward assures that she will repeat the behavior. After only one lesson, she now comes to me every time to be haltered. For clean, dry stalls, we bore a 2' wide x 4' deep hole in the center, fill it with 1 ½" rock, cover it with four inches of pea gravel and put rubber mats on top. The pea gravel is held in with 2" x 6" boards bordered by angle iron.
Since we had no animals in the north stalls, we took down the panels and made a large turnout area bedded in four inches of pea gravel for Wrangler and Chasity. It was plenty large enough to romp and play…and not get muddy!
When I am out and about the barn, I reinforce Wrangler and Chasity's will, as well as all the others, to come to me for their oats reward. We keep bulk rock, pea gravel and structural fill in bays behind the indoor arena.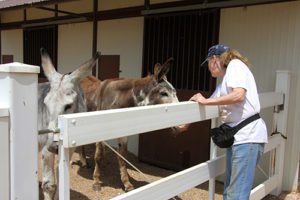 When the equines are in turnout, we replenish the pea gravel as needed with the Skidsteer.
Wrangler and Chasity, our miniature donkeys Augie & Spuds, miniature mule Francis and miniature horse Mirage also have alternate access to a very large 2 ½ acre dirt pen…Large Standard donkeys one day, miniatures the next.
When it is dry, they can take turns on alternate days in the larger area to stretch their legs and buck to their hearts desire. They do not seem to miss being in the pasture with this kind of management and they really do stay very healthy. We have no incidence of colic, founder, abscesses, skin irritations, rashes or obesity.
Wrangler, Chasity, Augie and Spuds are TRULY HAPPY DONKEYS!