After having a week off, Chasity returned to her lessons happy, refreshed and ready to go to work. I decided to go back to the Hourglass Pattern and do more leading exercises followed by lunging on the lunge line and ground driving in the open arena. She had two weeks of lessons in the Round Pen and I was curious to see how she would do on the single line, and then the drive lines, with lots of space around her. This can often be a whole new challenge! She seemed very relaxed as she fell into the familiar leading pattern.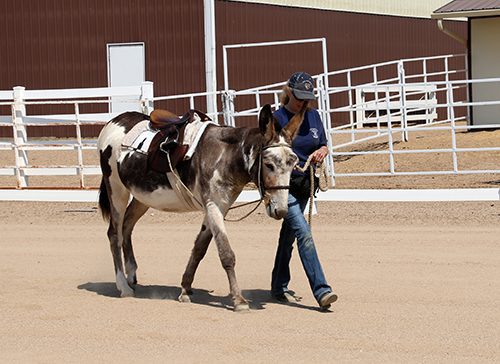 As we negotiated the Hourglass Pattern, she easily matched me step for step, even over the ground rails. I asked her for a downward stretch and she was completely cooperative with that as well. The exercises she has been doing for the past four months have really changed her body shape and her strength. The thick crest on her neck is greatly reduced and is no longer hard, but soft and pliable to the touch. It won't be long before it is completely gone. She is moving symmetrically, is much more agile and is in great athletic condition!
She was in good posture and stepped over the dressage arena fence gracefully without losing her balance at all as we went to retrieve the lunge line. She then stepped over it again as we re-entered the arena to begin lunging on the lunge line.
I started her on a short line to give her clear directions about what Iwanted. I made sure to give a short squeeze/ release on the lunge line each time her outside leg came forward into suspension like I had during Round Pen lessons. This caused her outside front leg to come toward me and keep her on the arc of the circle around me without getting into a pulling match. Pulling this way would not interfere with her balance and cause her to bolt.
As she circled, with each rotation, I let out the line a little bit more. I continued with the squeeze/release cue in sync with the outside front leg coming into suspension. Then before she got bored, I asked her to "Whoa."
I gave Chasity her oats reward and waited for her to finish chewing before I retied the lunge line so we could go in the opposite direction. I tied the lunge line to the snaffle bit on the side I pull from and then left enough excess to go under her chin and snap to the ring on the other side. This keeps the bit from sliding through her mouth.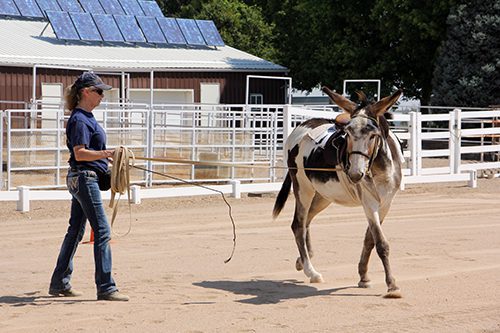 Again, I started her on a short line and let it out as she was compliant and stayed on the circle around me, always giving the squeeze/release cues in sync with that outside front leg. The I asked for a "Whoa" and a stretch down for her reward.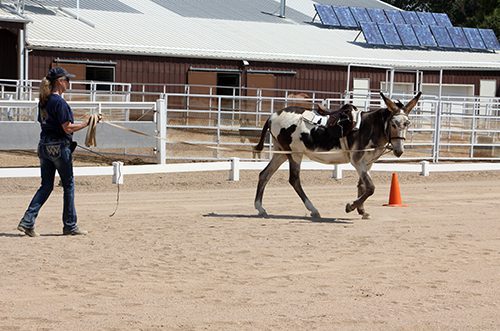 Chasity waited patiently as I put on the drive lines, always sporting a relaxed and happy face! We began ground driving at a pretty good clip. She was enjoying the open space! I stayed in sync with her back legs, but I was having to take very big steps to keep up with her!
Then as sometimes happens…she bolted. I knew she wasn't really scared. She just felt GOOD! So rather than engage in a pulling match, I just let go. She took off, first at a very fast trot, then a lope….
…and finally she went into a full-fledged gallop! She stayed strong in her new-found good equine posture throughout! She galloped to the fence and made a nice 90-degree angle turn into a trot tracking right! She was clearly enjoying herself while I just waited on the sidelines for this moment to pass.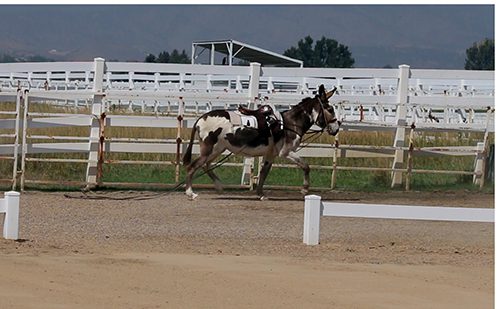 It was clear to me that she needed to just run and have a good time for a little bit. I watched as she traveled around the perimeter of the dressage arena. I was impressed with her improved way of going. She carried her head a bit high and was not as flexed at the poll as I would have liked, but what more could I have expected considering the short time she had been worked in the "Elbow Pull." Enhanced grace would come later!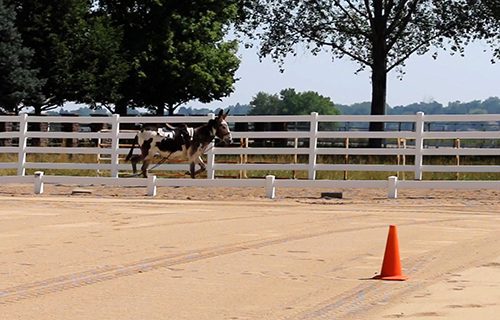 I was impressed with her form as she jumped over the dressage arena fence! As she executed THAT move, there was more flexion over her entire top line. This was a great improvement to the sway back she had when she first got here! She evntually slowed down and began to make her way toward me.
Since she  had obviously decided to go back to work, I walked toward her and gave her a reward for returning to me!
I gathered the drive lines and instead of walking behind her, I kept them short and walked beside her for more control. I did not want another runaway! She did give a half-hearted pull, but when she discovered that I had more control, she decided to comply as I concurrently led/ground drove her back into the Hourglass Pattern
I proceeded this way over the ground rails and then toward the next corner cone. As I did, I gradually made my way more toward the hind qaurters while making sure I still had her attention. She was a little strong in the bridle, but did as I asked. We did have to circle the cone to keep this control.
As she came around the cone, she got more tractable and straightened out so I could ground drive her from her hip. We were definitely making progress!
We turned around the next cone and headed back toward the ground rails in the center of the Hourglass Pattern. At the point where we would nromally halt and square up when leading, when ground driving, we halt and  normally do a rein back instead. This time, however, I would be content with the halt. I made a mental note that next time, I would use an assistant at her head with a lead rope to help her to be totally successful in the ground driving before we went solo again. I would hate to perpetuate any bad habits. One occurence like this is acceptable, but to allow it to continue would be a major mistake! Longears learn EXACTLY what you teach them!