Roll is feeling much better and has not exhibited any lameness in a couple of days. I have been concerned about the muscle atrophy that he has experienced since he had the White Line Disease and the lameness that has prevented him from exercising much at all for almost a year. When he walked up to the Tack Barn work station, I noticed that although he was not lame, he was dragging his toes in front. I groomed him with the vacuum cleaner (circulation therapy) and then put on his bridle, surcingle and "Elbow Pull" and started for the indoor arena.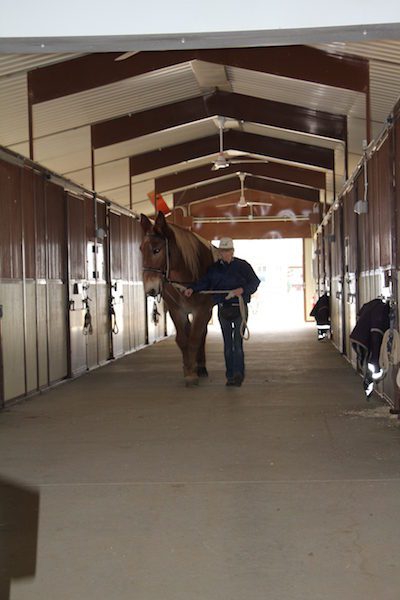 The "Elbow Pull" influence never fails to astonish me! Immediately, Roll was picking up his front feet and walking correctly through the alleyway of the barn and into the arena.
The workout went well, walking as he did in the beginning in 2010 in the hourglass pattern on the lead rope with strategic squared stops at every change of direction (with a reward of oats, of course!).
We traveled over the 1-inch ground rails at the center cones gate. Roll did not miss a step! It doesn't take much to tune them up when you have laid a foundation of core strength and good posture!
We were a little awkward and off balance in this first lesson after being off for so long, but a few more leading lessons and he will be able to advance to ground driving again…maybe even riding later if we can keep him sound at 26 years old.
I left on his wrap for the duration of the exercise, but took it off after his workout. When returning to his pen, he was no longer dragging his toes in front. When core strength and balance is present, good posture and bulk muscle can be revived relatively quickly.