'Tis the Season – Day 11 Jennings
This is an update from All About Equine Rescue.
All About Equine Animal Rescue, Inc.
It's that time of year we share with you the work we've all been doing throughout the year. We missed last year while we were in the middle of our Big Move, so we have some catching up to do. The stories you'll read this month are your donations, volunteering, likes, shares, and other support at work. We hope you enjoy!
JENNINGS
Jennings is a 2005 mustang that came to AAE in July 2020 from a distressed mustang sanctuary situation due to a family health crisis. After 20 years of serving mustangs, the sanctuary was unable to adequately meet the needs of the horses. Jennings had a rapidly growing mass on his sheath. It was a suspect squamous cell carcinoma. Jennings has little skin pigment, and the pink skin in and around his eyes was also very agitated, likely from the sun. His weight was on the thin side, as well. When picked up, he was a friendly guy, handled easily, and loaded willingly onto the trailer.
Once at AAE, Jennings was seen by Dr. Stolba. Jennings mass was removed shortly after, and he recovered well. Biopsy results indicated the mass was a metastatic melanoma. Fortunately, the biopsy showed clean margins with no vascular invasion. We were on a guarded prognosis for 90-days, and at re-exam, no additional regrowth was observed, and no additional regrowths have been identified since. Due to Jenning's lack of pigment, he is prone to recurrence or growths in other areas, and he needs ongoing monitoring. We're about two and one-half years out, and no reoccurrence.
Jennings is a very sweet and very social guy, really a character with a big personality. He loves to be with humans, and is always looking to interact. In general, he's easy-going, quiet, soft, and respectful. He's good with the farrier, enjoys grooming and attention; however, he lacks confidence and needs slow introductions to new things to reassure him.
Jennings is low-level in the herd, and is easily pushed off food; however, he's very active and playful with several of the other geldings and one old mare. At times, he can be protective of his food and/or a his buddy. He finds confidence in another horse, typically a mare, and bonds tightly. Separation anxiety can be an issue.
We were told Jennings was ridden in the past, but it had been several years. He was evaluated under saddle, and spent a short time in training. His lack of confidence was more pronounced. He was anxious and unsettled, so the focus became building his confidence. Jennings has improved, but needs more consistency with an experienced rider to bring him along slowly and with a quiet, calm approach. He is not suitable for a beginner/novice rider. A restart would be advised. Start fresh, reinforce a strong foundation, work slow and build cofidence, and you'll create an incredible bond with this sweet guy.
Jennings is current with dental and hoof care, vaccines, and deworming, and he has a microchip. Due to his areas of unpigmented skin, and history with the growth on his sheath, he is more prone to potential skin growths. A fly mask with UV protection covering his eyes and nose is helpful, too, but he dislikes fly masks and escapes them routinely. We use sunscreen for added protection. Close monitoring will help nip things in the bud should anything appear.
If you'd like to make a year end donation in honor of Jennings to support AAE's ongoing operations into 2023, you can click the donate button to give a gift that counts.
Thank you for your support helping horses each and every day!
Your donations, volunteering, adopting, and social media shares & likes allow us to make this work possible!
In addition to our typical year end fundraising, you have another way to support AAE and horses-in-need, it's a jewelry auction. Is there a better time than the holidays to give a special gift?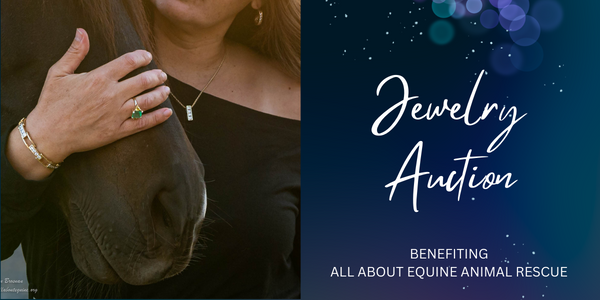 With enormous thanks to our very generous donor, we received an exquisite five piece jewelry donation to boost our fundraising efforts this year. These are beautiful and blingy pieces, and they are sure to make for some extra special holiday gifts.
We are hosting an online auction to benefit the horses. Bidding is open now and continues until December 15, 2022 at 5:00pm!
You can preview the auction here.
Please share with your family, friends, co-workers, and anyone that loves jewelry. Help us spread the word, and let's get that bidding going!!