By Meredith Hodges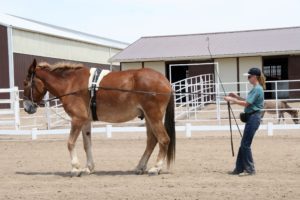 Many common horse training techniques used today work well on either horses or mules. However, being creative and using less technique with a more logical approach to training works better with donkeys. In the case of the "rein back," the problems are universal. Some equines seem to "rein back" more easily than others. Similarities exist within the equine species regarding personality types, but there are also differences in environmental behavior during training. Horses that are resistant to backing either shake their heads violently from side to side or rear up and try to throw themselves over backwards. Resistant mules try to walk sideways or forward, and resistant donkeys are either stone statues or terrific "leaners." All of these tendencies are an expression of discomfort in the equine and can pose serious problems for the trainer.
In order to get the best results, before teaching an equine to "rein back" you must understand the animal's body mechanics and his mental attitude. The "rein back" is a reverse, two-beat, diagonal gait. When executing a straight "rein back," the equine is unable to see what is directly behind him, but he can see peripherally on both sides. Because of the way the eyes are set in their head, mules can actually see all four feet when facing straight forward where a horse cannot. The depth perception of an equine is questionable at best, but when an equine must "rein back," his vision is even more impaired because he can't see directly behind him. This causes him to become tense because the equine must trust the trainer not to back his precious little rear into anything that might hurt him! If the trainer has been even a little abusive in the past, the equine will not be able to trust and will become resistant. On the other hand, if the animal has been brought along well and is being asked to "rein back" on the long lines, he may simply not want to "back over" the trainer. This could be perceived as disobedience when it is only consideration for the trainer.
In order to execute a straight and smooth "rein back," the equine must be able to lower his head, round his back and step back and underneath himself easily with the power initiated from his hindquarters. If the rider has not prepared his equine for the "rein back" by allowing the animal to take one step forward first and round under his seat, the animal will be resistant. This is why one step forward before executing a "rein back" is essential. Otherwise, the equine may raise his head and hollow his back, making it very difficult, at best, to perform the "rein back." If you have trouble visualizing this, get on your hands and knees and try it yourself to see how it feels, first with a hollowed back and then with an arched back.
Before you begin to "rein back," take that extra couple of seconds to relax and prepare your animal. First, let him take one step forward. Then, alternately, squeeze your reins and ask him to lower his head a little (not too much at first). Keep your legs snugly hugging his barrel, and lift your seat ever so slightly by leaning forward just a little. Check over your shoulder to be sure that he won't back into anything. Then, with corresponding rein and leg cues, squeeze and release alternately from side to side: first, right rein, right leg; then, left rein, left leg. By pulling first on one side and then the other, you actually allow him to see more directly behind, thus eliminating much of the apprehension that he feels when he cannot see. Pretend that you are pushing him backward with your legs, directly after giving a gentle tug on the corresponding rein. In the beginning, be satisfied with one or two steps, and don't forget to praise him.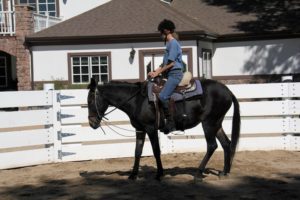 Do this exercise in a two-beat fashion, with the squeeze/release action on the rein coming only a split second sooner than the corresponding leg. This prevents the hindquarters from resisting, and it is here where most resistance in backing originates. If you pull both reins at the same time, the hindquarters are not affected and this may cause considerable resistance. Animals that learn to "rein back" correctly will eventually learn to "rein back" on a mere tug of the reins and a shift of your body weight, but that is not the way to begin. Speed comes much later.
Horses and mules learn to "rein back" more easily than donkeys. As far as donkeys are concerned, why go backward when you can turn around to go forward? Because donkeys have a natural agility, this is not such a far-out way for them to think. However, if a donkey tried to turn around on a narrow trail with a rider aboard, his balance could be severely affected. Chances are, the donkey would make it, but the rider might not. The donkey needs to learn to "rein back" on command, because safety is of the utmost importance.
The simplest way to encourage your donkey to "rein back" is to ride or drive him into a three-sided tie stall, or anywhere that he has no way to escape but backward. Ask him to "rein back" with the cues outlined, and praise him for each step backward. If you are ground driving, just alternate long line pressure while you step backwards in unison with his back legs. Keep your squeeze/release action on the long lines minimal—pulling on your donkey's mouth too much will only defeat your purpose. If your donkey is hitched to a vehicle, make sure that the weight of the cart or carriage that he has to push is not too heavy for him to manage. Adjust the breeching tightly enough so that your donkey can lean into it with his rear, and be sure that it is not so low that it will inhibit the motion of his upper hind legs.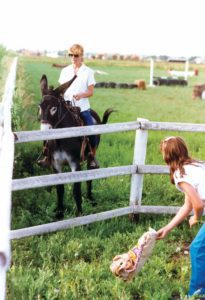 If you have checked all of these factors and your donkey still will not back out of the stall, ask someone to act as your assistant, and have them wave a fearful object (such as a brightly colored scarf or plastic bag) low and in front of your donkey. He should dip his head to focus on the object (arching his back) and begin to "rein back," apply the proper squeeze/release cues and after a few steps, reward him. You have set up a situation in which you can predict that his reaction will be the correct one. Once he has done this a few times, he should begin to make the connection between your cues and his action. Always keep your cues gentle, but clear. Be prepared to immediately praise those first one or two steps, and don't ask for too many steps too soon. Just as an animal is conditioned to perform any other maneuver, his body must also be conditioned to "rein back." Doing a "rein back" without conditioning the muscles that will be used can cause injury. Taking it slowly and cautiously diminishes the chance for resistance. Work up your speed in the "rein back" only after your equine is backing straight and easily. When he has had time off, be sure to take the time to recondition those muscles before again asking for speed.
I can't count the hours that I have spent sitting on-board my donkey, waiting for a foot to move, giving the cue to just one side over and over again. Patience is the key to success with any animal, but with donkeys, it's a necessity. Be patient and deliberate with your training. Don't get upset, and don't try to be forceful. Remember, he has to move sometime. Even donkeys get bored standing in one place for too long!
To learn more about Meredith Hodges and her comprehensive all-breed equine training program, visit LuckyThreeRanch.com or call 1-800-816-7566. Check out her children's website at JasperTheMule.com. Also, find Meredith on Facebook, YouTube and Twitter.
© 2014, 2016, 2017, 2022 Lucky Three Ranch, Inc. All Rights Reserved.
This article is an excerpt from the book, Training Mules and Donkeys by Meredith Hodges, 2014