After being off last week, Roll was more than happy to come with me today. The air was brisk with a bit of a breeze and Roll was even a little snorty walking up to the work station. We spent a good amount of time with the Goody hairbrush getting the undercoat loose and I then went over him with the shedding blade to get the excess on top. He was still shedding hair all over, so I decided to go ahead with the vacuum cleaner. The vacuum cleaner serves a dual purpose: it pulls the remaining loose hairs from his coat while stimulating the capillaries to come to the surface of the skin. This increased circulation makes for an extremely soft and healthy coat. He still has a lot left to shed, but his hair now feels silky to the touch. I then put Roll in his surcingle, Eggbutt Snaffle bridle and "Elbow Pull" for his core muscle, postural leading lessons.
Roll practically pulled me down the alleyway to the dressage arena, but was very well behaved when we stopped to give Augie and Spuds a treat of oats. Roll was okay with sharing as long as I gave him more oats, too!
Roll and I then walked to the gate and he went through beautifully as always.
We marched along the pens and gave treats to all the mules who would be his audience.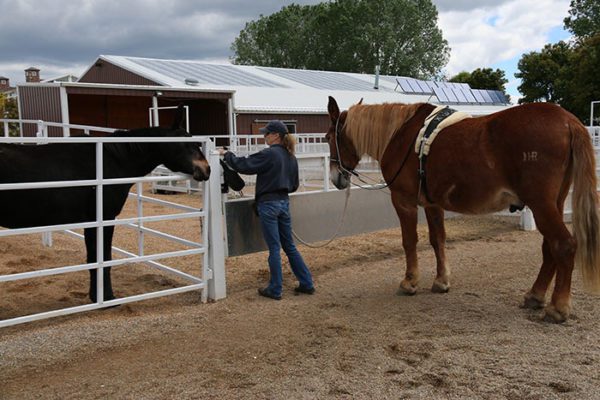 Roll launched into the hourglass pattern on the lead rope with a lot of energy and enthusiasm. He squared up easily, but was still reluctant to put all the appropriate weight on his right hind foot.
He kept an upright balance through the turns and was markedly better in balance over the ground rails.
He even trotted a bit along side of the pens once I got out in front of him, but when I asked him to trot back to the gate, he was too tired! The chiropractor had come out to see him last week and said that he was locked up in his right hip, so it may be he needs another chiropractic visit this week as well.
At any rate, I was pleased with his progress and even though he missed his lesson last week, he still did better than in prior weeks. The hind feet were no longer twisting after his trim on May 19th.
It may very well be that he can graduate to the round pen soon for bulk muscle building. His core is solid now and after his workout, he was much tighter in the abs and filled in nicely over his topline.
Roll is carrying just a little more weight than I would like to see, but he did look less obese after his lesson and when we begin the bulk muscle building, it should disappear rapidly as the fat evolves into muscle. At twenty-six, Roll is doing so much better than I ever would have expected given his questionable history.