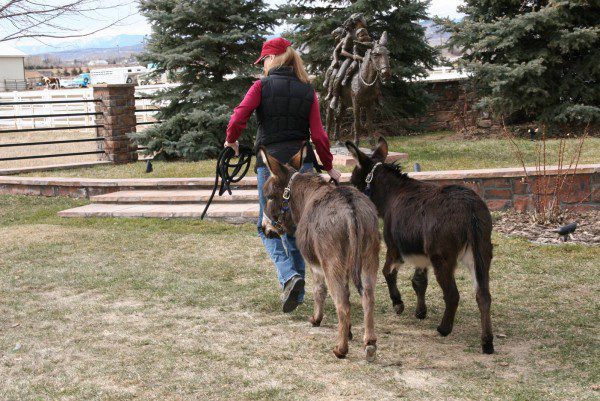 "Hey Spuds, where are we going today? What's that over there?"
"Oh, it's just the barrels. I remember ground driving through these!"
"This is my favorite part of the lessons, Augie!"
"What the heck does she want now, Augie?"
"Okay, I get it now Augie!" That was easy!"
"Now what is she up to? I have to work by myself?!"
"Spuds, I just can't back between the barrels. I can't see where I'm going!"
"I'll show you how, Augie! Forward around the barrels? No sweat!"
"Back around the barrels in a figure eight?! Easy as pie!"
"And the reward is always just heavenly!"
"Oh good…something I CAN do!"
"Wheee! Now this IS fun!"
"I'm not too sure about these steps, Augie!
"But jumping sure IS fun! I am so glad she made us pay attention to good posture during training!"
"It was another great adventure, eh Spuds?!"
"Yup, it sure was!"
To learn more about Meredith Hodges and her comprehensive all-breed equine training program, visit LuckyThreeRanch.com or call 1-800-816-7566. Check out her children's website at JasperTheMule.com. Also, find Meredith on Facebook, YouTube and Twitter.
© 2016, 2017, 2021, 2023 Lucky Three Ranch, Inc. All Rights Reserved.