By Meredith Hodges
Now that you have spent many months teaching your mule to drive and he is doing so well, you have decided that it might be fun to show him in harness. So, what are that kinds of things that a judge looks for in a driving class of mules? Well, it's basically the same as it is with horses.
The first and foremost consideration for a judge is your mule's manners. His manners will exhibit just how safe your mule is for driving. As with people, a judge can get an overall impression from the expression on your mule's face! An attentive and pleasant expression is definitely preferred. The expression on his face will reflect his overall comfort within a situation. If he is comfortable, he responds to minimal aids calmly, confidently, yet promptly. He should reinback easily upon request, and stand quietly at the halt with all four legs squared. His ears will be relaxed, but attentively turned to the driver most of the time. Ears that are rapidly in motion indicate anxiety and distraction.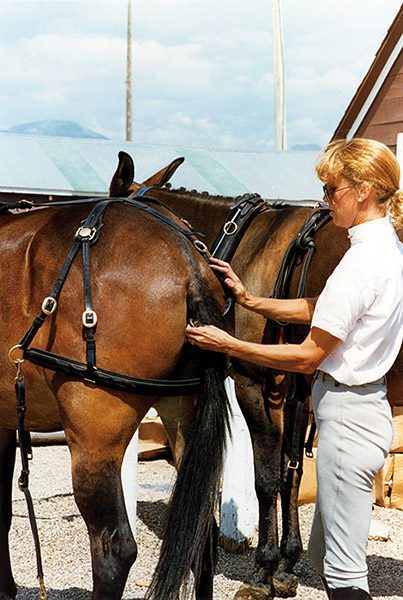 A major contributing factor in your mule's overall manners is his conditioning. If your mule has been brought along with a carefully planned exercise program, his muscle growth and strength will increase with little or no stress, as it should in most athletes. The mule that is conditioned in this way will have the strength to pull while maintaining a smooth, steady and effortless gait. He is comfortable in his work. Properly conditioned mules will not exhibit the tenseness that comes from overexertion, a tenseness that can inhibit his entire performance.
How can you tell if your mule is well-conditioned? Touching his body with your fingers at the neck, shoulders, barrel, loins, stifles and rump can tell you a lot. These muscles should be hard and not mushy to the touch. Standing behind your mule, you should begin to see considerable gaskin development. A driving class lasts approximately 20 to 30 minutes. If you condition your mule at the medium trot for 20 minutes straight, without any sweating or breathing hard, he should be able to handle the class with no problem. Another helpful hint is to condition him on uneven ground. Then, when he performs on the flat ground, it will seem a lot easier to him. Remember to condition slowly to avoid overexertion, muscle soreness or injury. If you condition your mule beyond what is expected in the class, you won't have to worry about him being fit for class! And, as long as he is so well conditioned, be sure he is well-groomed as well.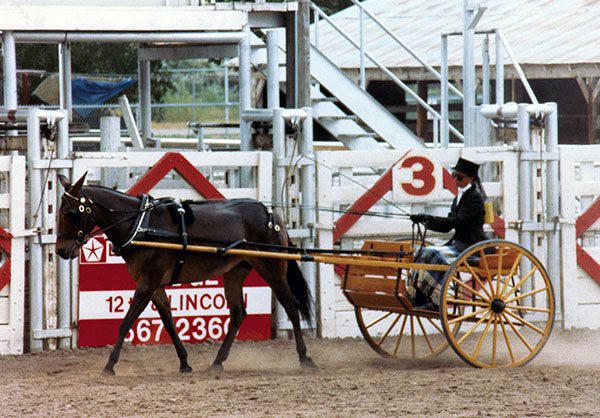 Your mule's way of going is another important consideration for the judge. In the driving class, your mule will be asked for the walk, collected trot, working trot and the reinback. The walk should be "regular and unconstrained, energetic, but calm with even and determined steps with distinctively marked four equally spaced beats." In the collected trot, "the neck is raised, thus enabling the shoulders to move with greater ease in all directions, the hocks well-engaged and maintaining energetic impulsion not withstanding the slower movement." The mule's steps are shorter, but are lighter and more mobile. The working trot is a pace between the collected and extended trots. The mule "goes forward freely and straight, engaging the hind legs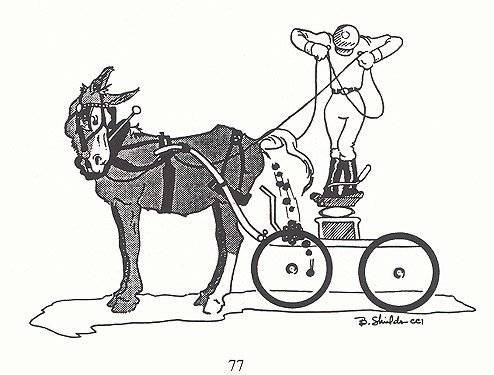 with good hock action, on a taut, but light rein, the position being balanced and unconstrained. The steps are
even as possible and the hind feet touch the ground in the foot prints of the fore feet." The reinback is "a kind of walk backwards. The legs being raised and set down simultaneously by diagonal pairs, the hind legs remaining well in line and the legs being well raised." The mule that is conditioned slowly with special attention given to core strength, straightness, balance and bend will begin to carry himself in good equine posture and exhibit these true gaits naturally after a period of practice time.
The next consideration is the appropriateness of the animal to the vehicle he is pulling. A smaller mule should never be used to pull a large wagon, nor should the larger draft mule be used to pull a pony cart! Select a vehicle that pulls easily for your mule and one that is proportionate to his size. The overall picture should be balanced and harmonious. Fifty percent of your total class score will include your mule's manners, his conditioning, his way of going and the appropriateness of the general turnout.
Twenty percent of your total score is judged on you, the whip or teamster. Your hands should be held at waist level, about three inches in front of your body and about 10 inches apart. "A rein passes between the forefinger and middle finger of each hand and is held secure with pressure from the thumb; the whip is held in the right hand." You should always sit in good posture and the use of your aids should be almost imperceptible. An expert Reinsman rarely exceeds a 12″ imaginary box around his hands. Your dress should be appropriate to the vehicle in which you ride.
For instance, a formal coach would require a more formal dress than would a two-wheel country cart. Dress must be conservative for the times. Western dress is permitted where appropriate. Hat, gloves, coat, tie, and a lap apron are required. A whip must be held in hand at all times! Always look where you are going, check the judge for instructions periodically and pay attention to spacing in the arena! The remaining considerations for a judge are the vehicle and the harness with each carrying 15% of your total score. The vehicle should be in good repair, appropriate size and style for your mule, and should fit him properly through the shafts and tugs. The harness should fit him as well as possible and should be adjusted correctly, especially the breeching so it can do its job in the reinback.
Often, it is difficult to find horse harnesses that will fit the lighter and smaller mules or donkeys properly, but you can approximate the size you need (i.e. pony, cob, horse, draft) and then make the necessary adjustments, or
have a professional harness-maker help you. Your mule should be fastened snugly to the vehicle. Be sure that your collar or breast collar fits your mule properly as this can create soreness and make for a very unhappy mule! Adjust the breeching snugly enough to make your "brakes" effective! One of the most common mistakes made by beginning drivers is adjusting the breeching too loose. This makes it difficult for your mule to either slow down or back straight and evenly, and the resulting slack will make his transitions look abrupt and awkward!
There is a lot to consider as a driving judge, but judges are also human beings, and basically the judge is going to select those mules for placement in the class that HE would most like to drive. If you follow the guidelines that I have described, your Longears will be one of the judge's favorites!
To learn more about Meredith Hodges and her comprehensive all-breed equine training program, visit LuckyThreeRanch.com or call 1-800-816-7566. Check out her children's website at JasperTheMule.com. Also, find Meredith on Facebook, YouTube and Twitter.
© 1991, 2016, 2019, 2021, 2023 Lucky Three Ranch, Inc.  All Rights Reserved.