The following is from Save Your Ass Long Ear Rescue:

Happy Mud Season!
It is officially false spring in New England! While we are itching for warmth what we are getting is snow and ferocious winds. Soon the sun will be shining and the daffodils will be peeping out of the ground. The donkeys have already started to enjoy more daylight hours by playing 'dead donkeys' in the pastures. We are just as excited for longer, warmer days ahead of us. Ears the latest news..
New Kids in Town
The month of March seems to be flying by and spring can't come fast enough for us and all the animals at the rescue. We have been soaking up all of the warm days as have the animals, who frequently have been playing dead while napping out in the middle of the fields.
We have some new faces to introduce as we've had an influx of owner surrenders again the last month almost close to what happened this past fall. We believe this is due to the price increase of gas, feed, shavings and hay that are most likely going to continue to skyrocket.
Due to this we can not take in anymore animals until a few more go to their new homes, we are expecting to have more room mid to late April if all goes as planned with adoptions.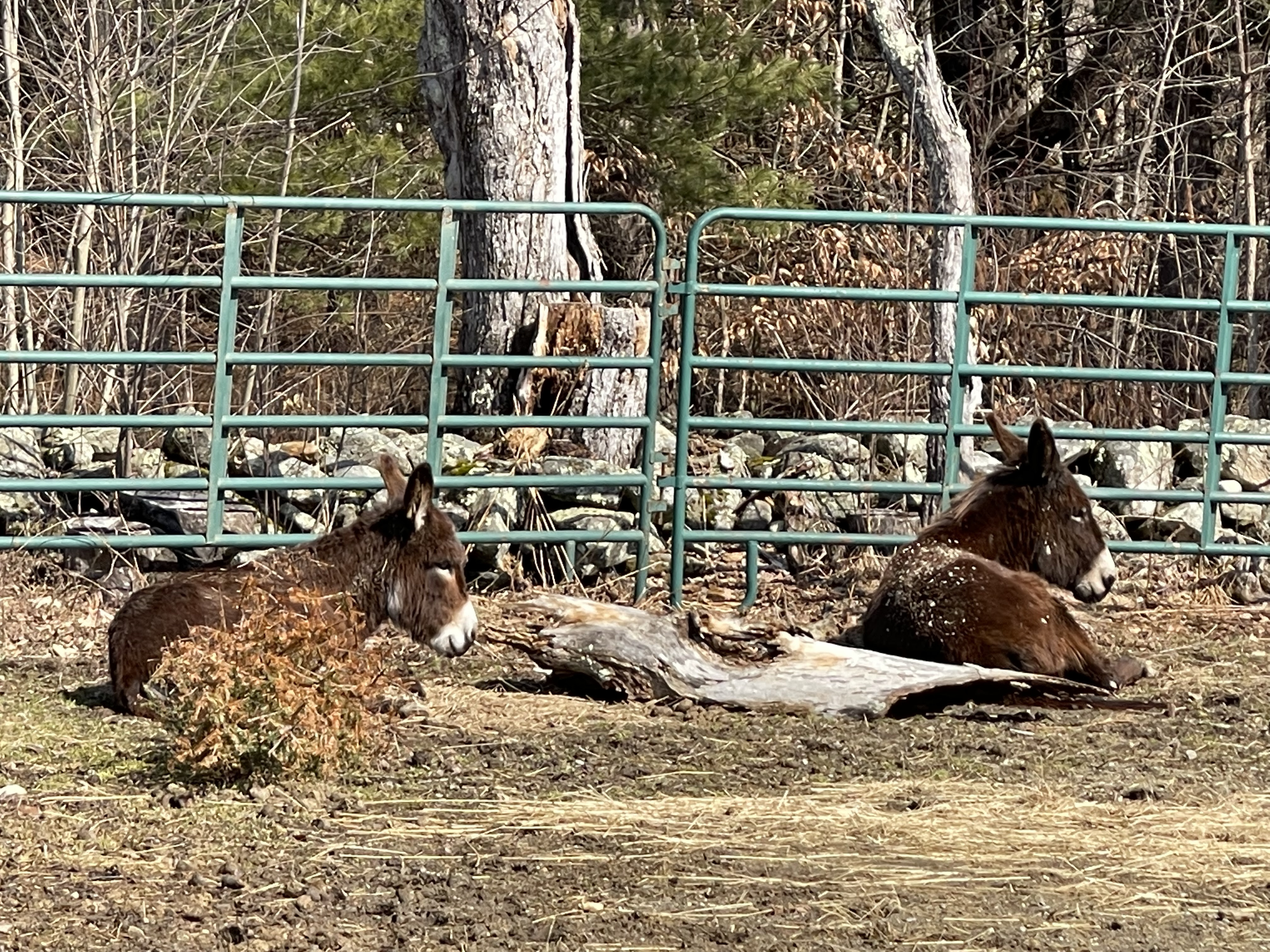 Violetta and Dusty
Violetta is a new owner surender who is with us due to no fault of her own or her owners. She was and still is so dearly loved. Our long time resident, Dusty who has been with us for almost a year now has bonded with Violetta and they are now inseparable! This is fantastic news as they've both already been adopted and will be going to their new home together in Rhode Island Mid April.
Some of you may remember the infected access Dusty had surgery on last fall when she was returned to the rescue. She has fully recovered and has received a clean bill of health from our vet. Dusty and Violetta have a long life ahead of them and are going to have a great life with their new family.
NuNu is another donkey who has been with us close to a year now due to some issues she was having with her feet and her body condition. She is now on the up and up and is a much happier, healthier donkey! Since NuNu has been here she had not bonded with any other single donkeys, until this month when we picked up a plucky 3 year old fellow named Martin. Martin and NuNu bonded almost immediately, greeting one another with enthusiastic and long brays. They have been inseparable since. Marty and NuNu are now a bonded pair and will not be separated. They both enjoy sunbathing in the sand, playing and chasing one another in the paddock and sharing their breakfast. What is not to love about these two?
Both Marty and NuNu are the only two animals we currently do not have any current adoption applications. If you are interested please shoot us an email.
Announcements
Spring Fundraising Online Auction
April 3rd – 10th
We are having our annual online auction this year though Facebook, to see updates and the rules to the auction please like and follow the auction page by clicking the button below.
This is one of our biggest fundraisers and helps pay for everyones spring shots, vaccinations, dentals and deworming programs!
Every year we have tons of fantastic items donated. This year we have an array of especially interesting donkey collectable items, even we have never seen before!
So join in the fun, get competitive and get ready to bid for a good cause!
Open House
Mark your calendars! For the first time since 2018 we are finally having another open house! We are very excited to announce that our open house will be held on June 25th 2022! We are beyond excited to see everyone in person again