3-26-20
Augie and Spuds have been very patient with me for the past year when I did not have time to do anything but grooming once a week and turnout. They were so thrilled to be able to go on another ADVENTURE! Today, we are going to inspect a new project, the false-front town of ASSPEN!
We thought this would be a really nice way to spruce up the big, brown boring wall behind the Lucky Three Eclipse statue and make things even more interesting for our tours! Going through the construction zone gives them a chance to practice their good manners and earn their rewards! Although, Spuds is in the lead out of the barn, he prefers it when Augie leads over and through obstacles.
Whatever works best… it's always negotiable!
"Hey, Augie! What's this?!"
"I don't know, Spuds. It looks very interesting though."
Augie surveys the situation, "Hmmm…a new obstacle course, maybe?!"
"I'm not sure about this, Augie!"
"It's really easy, Spuds…and kind of fun!"
"Hey, Boys! Welcome to ASSPEN Town!"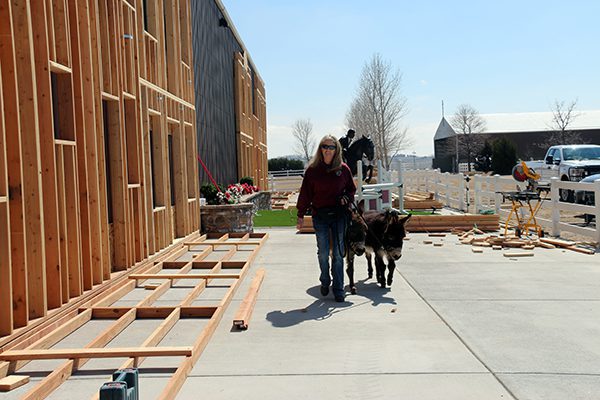 "Here's the Burro Bank, the ASSPEN Sheriff's Office & Jail, the Chaney Church
and the Okie Dokey Undertaker"
"And concrete, Augie!"
"This must be the boardwalk sidewalk, eh Augie?!"
"Yup, but no boards yet! It would be easier with boards!"
"This is the best part, Spuds!"
"You bet! It's good to be good!"
"And here's the Half-Ass General Store, L.J.'s Barber Shop and the Crazy Ass Saloon!"
"It's a little tight going between the boards and the fence, eh, Augie?!"
"No sweat, Spuds! Just pay attention to where you are going!"
"Did she build all this just for US, Augie?!"
"No, Spuds, I think it is for the people that come for tours, but we get to check it out first."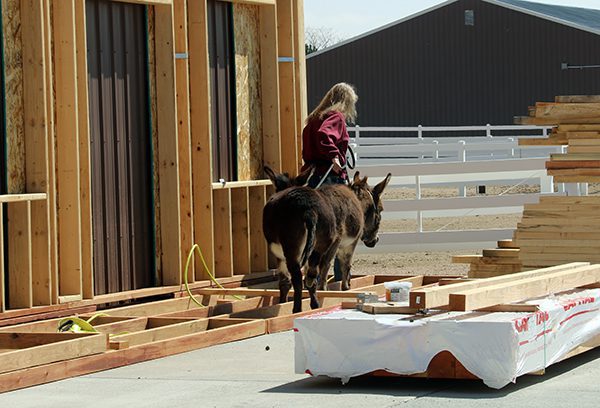 "Well, it sure makes for a fun obstacle course, Augie!"
"It sure does and it's great to be able to get out for a walk!"
"Now we have to pose for the camera, Spuds! Try to look nice!"
"Do I really have to?!!!
"Thanks, Mom! That was fun!!!"
"Yeah, Augie, I like the oats and the 'snuggles' afterwards best!"
"I always like our BIG adventures, Spuds!"
"Me, too, Augie!