You're Invited to our Quarterly Meeting on 7/14; Prime Time!
This following is from All About Equine Rescue.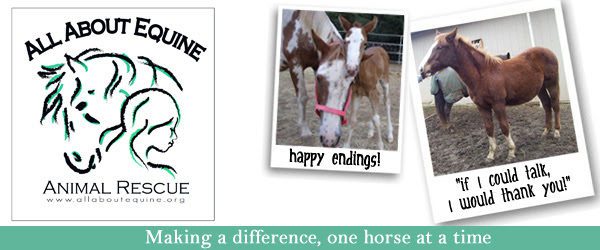 You Are Invited!!!!
All About Equine Animal Rescue's
Quarterly All Volunteer Meeting
Saturday, July 14, 2018 
6:00pm
El Dorado Hills Fire Department
(1050 Wilson Blvd, El Dorado Hills, California 95762)
AAE's Quarterly All Volunteer Meeting is an opportunity for all volunteers to come together for an update on current happenings, upcoming events, and updated volunteer needs.
It's also a good time for anyone interested in getting involved to learn more about AAE. Bring family or bring anyone interested in volunteering or otherwise supporting our cause.
This is a "potluck" style meeting. Please bring an appetizer or dessert to share at 6:00 pm. The meeting will begin at 6:30 pm.
We look forward to seeing you!!
Remember Amigo?!
We are so happy with the progress he has made!
Your support gives horses like Amigo a second chance!
Thank you for your continuing support!
Your shopping makes a difference!
Amazon donates to All About Equine Animal Rescue, Inc. when you shop 
Prime
Day
 deals at 
smile.amazon.com
.
Did you know…the 
AmazonSmile
 Foundation will donate 0.5% of the price of eligible purchases to the charitable organizations selected by customers? They sure do!
Please shop with 
AmazonSmile
 and choose All About Equine Animal Rescue, Inc.
Submit a Review Today!
Great NonProfits – Top Rated Awards
If you love our work, then tell the world! Stories about us from people like you will help us make an even bigger impact in our community in the future.
GreatNonprofits is the #1 source of nonprofit stories and feedback, and it honors highly regarded nonprofits each year with their Top-Rated List.
Won't you help us raise visibility for our work by posting a brief story of your experience with us? All content will be visible to potential donors and volunteers.
It's easy and only takes 3 minutes!
Click
here
to get started!
Help Us Reach Top-Rated for the 4th year in a row!!!
VOLUNTEERS NEEDED NOW!!
Do you have four hours a week to give to support horses in need?
AAE's 2018-19 Calendars are Here!
These are high quality, 16-month calendars that feature AAE horses, volunteers, and even a few adopters. The calendars can be purchased at All About Equine Used Tack Store for $20. We also have a few available at the barn. Purchasing one is a great way to show your support for AAE.
Alternatively, order via the following link:
(Please note in "special instructions" that you are purchasing a calendar, and
if you need us to mail yours, kindly add $3 for shipping.)
Daily Horse Care, especially pm shifts
Used Tack Store Support, all areas
Barn/Facility Maintenance
Foster Homes, Long-Term Foster/Sanctuary Homes
Capital Campaign Support
Board Members
Fundraising/Events
Grants – Writing and Research
Volunteer, Project, and Activity Coordinators
Outreach Activities
Youth Programs
Therapy Programs
Veteran Programs
Special Projects
Admin Support
Marketing
Graphics
Social Media
Bloggers
Photographers
Media and/or Photo Librarian
More, more, more


Interested in volunteering or volunteering in other areas?
Email volunteer@allaboutequine.org
Employers Match Donations, Does Yours?
Hey volunteers!
Did you know YOU could earn grant money for AAE from your employer just by volunteering?
Many Employers offer money when their employees volunteer. Here are a few examples:
Intel provides a $10 grant to a nonprofit per every volunteer hour by an employee, and matches funds dollar for dollar up to $5,000 per employee or retiree.
Microsoft provides a $17 grant to a nonprofit per every hour volunteered by an employee.
Apple provides a $25 grant to a nonprofit per every volunteer hour by an employee, and matches funds dollar for dollar up to $10,000 per employee.
Verizon provides a $750 grant to a nonprofit when an employee volunteers for 50+ hours.
State Farm provides a $500 grant nonprofit when an employee volunteers for+ 40 hours.
Others top 20 matching gift and/or volunteer grant companies include
Starbucks 
CarMax
Home Depot 
JP Morgan
Chevron
Soros Fund Management 
BP (British Petroleum)
Gap Corporation
State Street Corporation 
ExxonMobil
Johnson & Johnson
Boeing
Disney
Google
Merck
Aetna
Dell
Outerwall (CoinStar and RedBox) 
ConocoPhillips
RealNetworks
Time Warner and subsidiaries
AllState
and more
Check with your employer.  You could help purchase our next load of hay!