clipping
Body clipping in a natural order with respect for your equine's patience will help the process go much more easily.
Today was the perfect day for a summer bath. Roll is feeling well and his left hind  foot has nearly grown out from his bout with White Line Disease. During the duration  his White Line Disease that began in January, he has not spent one lame day.
Every time I clip Roll's bridle path, it is an exercise in frustration, but he exhibits great patience with me as I stretch the skin and clip over the deep scars between his ears. Someone must have taken the idea about "hitting a mule with a two-by-four" quite literally.
The mule that used to hide behind his partner Rock, trusts me completely and even enjoys the cool water on his face on a hot day!
He knows his good behavior will always elicit an appropriate reward!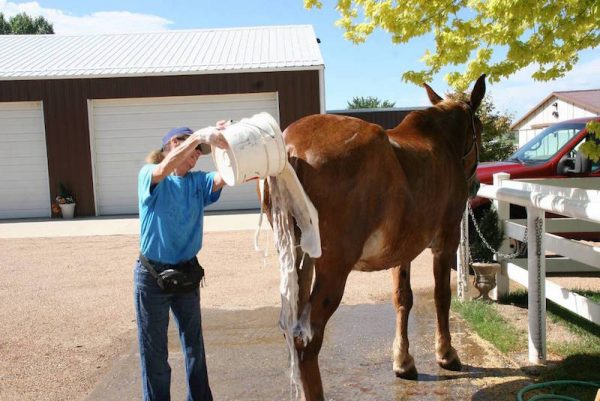 Roll likes his Wonder Blue Shampoo and doesn't even mind a bucket of soapy water in the rear! He knows it makes his tail REALLY PRETTY and remarkably swishable!
Ours is a relationship of many negotiations. One of our regular deals is "He eats oats from the fanny pack and I spray!"
In the summer, one needs to be aware of the eggs that the flies lay in specific spots on each of the mules. They LOVE Roll's lower legs! A Shedding blade and a Bot Block are about the only things that will remove the sticky eggs.
Using a regular hairbrush, I use Wonder Blue Shampoo to bring out the buttery whiteness in Roll's mane and tail. In this photo, you can see how well the left hind has healed so far.
Cleanliness is next to Godliness as my grandmother used to say! Thank you, My Friend, for a lovely day together!