By Meredith Hodges
The contributions being made by mules and donkeys today are more numerous than they have ever been before and we should give thanks that we still have these Longears touching our lives and making them full!
When the age of automation arrived, many mules, donkeys, and horses were put out of work. Mechanical alternatives were taking their places in the fields, in the coal mines, along the canals and even in the mountains. Horses made a somewhat smooth conversion of use to modern day recreation, but it was not as easy for the mules and donkeys. The history of mules and donkeys was never that well documented. Literally thousands of books have been written revering the horse for his contribution to the building of great societies and cultures. However, a lot of the things attributed to the horse were actually done by mules and donkeys! It does not surprise me that by 1966, mules and donkeys were on the decline. Their uses were no longer critical to development and growth of society.
In 1967, concerned Paul and Betsy Hutchins founded the American Donkey & Mule Society, designed to spark the fires of interest in these longeared animals. The A.D.M.S. quarterly journal continues to remind the American public of all the extraordinary things that had been accomplished in history by donkeys and mules. They plowed the fields, pulled the covered wagons and worked in the coal mines. They pulled barges on  the canals and packed munitions for the military. They built the Rose Bowl in Pasadena, California. Wild Bill Cody rode a mule named Mouse that put General Custer's fancy Thoroughbred to shame over long distances and rough terrain. The crowned heads of Europe rode mules as a statement of class and Jesus rode into Jerusalem on the back of a small and humble donkey! Although the horse was revered and given the credit, mules and donkeys were always right there, too – strong, steady and humble!
Thanks to Paul and Betsy Hutchins, we have been reminded of Longears' great legacy and there are those, including myself, who would find a way to appreciate their efforts and would help to make donkeys and mules an important part of modern-day society.
The American Donkey & Mule Society today offers a wide variety of programs that include Longears of all sizes, breeds, types and uses. The A.D.M.S. journal is still published quarterly and is growing with the industry, keeping folks abreast of new and innovative uses for the Longears of the future. It serves as a record of accomplishment. The A.D.M.S. registry ensures a more traceable ancestry than has ever before been possible. Many different A.D.M.S. award programs insure that outstanding individuals are recognized for their diverse accomplishments, and books and literature have been compiled and made available to anyone who wants to know more about these unusual animals. A.D.M.S. has inspired the formation of local clubs and groups that share in this interest and the result is evident in art, jewelry and other Longears products and events. The A.D.M.S. has given our children an alternative in equestrian sport that is interesting, challenging and unique in spirit.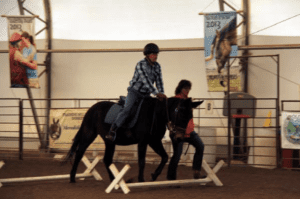 Mules and donkeys are becoming the equine of choice in many areas today. The California Sierra Nevada Pack Stations are populated with mules trained to take tourists on pack trips through the scenic mountain areas. The only equines safe enough to carry tourists down the steep rocky trails at the Grand Canyon and at Molokai are mules! Hunters are using mules as riding and pack animals due to their incredible strength, endurance and intelligent nature. They can handle rougher terrain and adverse weather conditions better than can the horse. Donkeys are finding new uses in guarding sheep from unwanted predators. Mules and donkeys are used in handicapped riding and driving programs, and molly mules are being used for embryo transplant. Third world countries are being educated in the care and feeding of their donkeys and mules to enhance economic growth. Mules and donkeys have even become viable 4-H projects for young people who enjoy the challenge. We are finding that there are actually very few things these longeared equines can't do!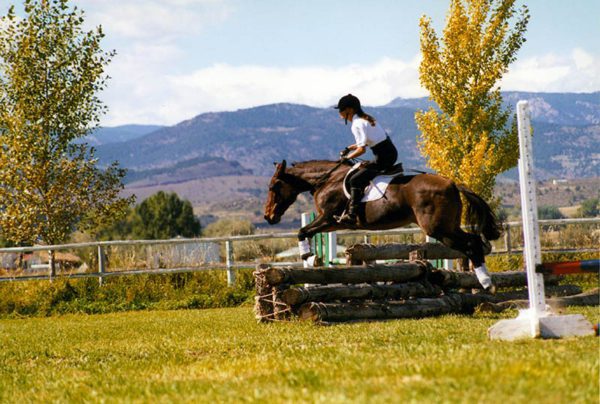 Skeptic that I am I have always attempted to find the limitations of these incredible individuals. Here at the Lucky Three Ranch, we continually challenge our mules and donkeys with new and innovative tasks. They have continually met these challenges with success! With each new success, our mules and donkeys have brought many new and wonderful friends into our lives, making life full and very rewarding. To this day, I am still amazed when an animal has met his challenge and accomplished what I have asked. I suppose part of me would still like to believe that if they could have done all these things, then they would have already been done. But I can see now that that isn't necessarily so. Need has a lot to do with it. No one ever NEEDED an upper level Dressage mule before! But I did!
Lucky Three Sundowner worked at Third Level Dressage after winning the World Championship in Reining at Bishop Mule Days in 1984. He exhibited play patterns that evolved from his training that would undoubtedly contribute to his success as he moved into Fourth level Dressage. His crazy play patterns looked very much like the Spanish Riding School of Vienna's, "Airs Above the Ground!" Lucky Three Mae Bea C.T. clearly showed that you can do a variety of things well on a mule – whether it was against horses or other mules and with, or without the bridle!
Mules give new meaning to the word VERSATILE! That is not to mention that they can be a loyal friend and companion as well when trained correctly. Then there was Little Jack Horner who defied all the laws of "Donkeyhood!" He was accomplished in Western Performance classes including Reining and Gymkhana, Driving and Obstacle Driving, Second Level Dressage and he jumped in formal hunter style over four feet in exhibition at Bishop Mule Days and got a Specialty Award for his effort. He was the sire of some of the most athletic mules in the world today.
Since we have yet to find any serious limitations in these Longears' ability, at the Lucky Three Ranch we concerned ourselves with documenting these three unique successes. Training Mules and Donkeys: A Logical Approach to Longears is a book documenting the training techniques we have used that led to the ultimate success of our mules and donkeys. It will was first released in May 1993 and was revised in 2013. As far as I know, it is the only book of its kind with training from foal to adulthood and has subsequently been supported by more books, DVDs and television shows and our extensive and comprehensive website at www.luckythreeranch.com. The intent is always to help mule and donkey enthusiasts to get the best from their animals and to avoid the common pitfalls that would sour an otherwise stimulating and rewarding experience with Longears. It just goes to show that MULES CAN DO, AND DONKEYS, TOO! Seeing IS believing and dreams really CAN come true!
To learn more about Meredith Hodges and her comprehensive all-breed equine training program, visit LuckyThreeRanch.com or call 1-800-816-7566. Check out her children's website at JasperTheMule.com. Also, find Meredith on Facebook, YouTube and Twitter.
© 1991, 2016, 2021 Lucky Three Ranch, Inc. All Rights Reserved.