Let's Start the Year with New Beginnings – Adopt!
The following is from All About Equine Animal Rescue: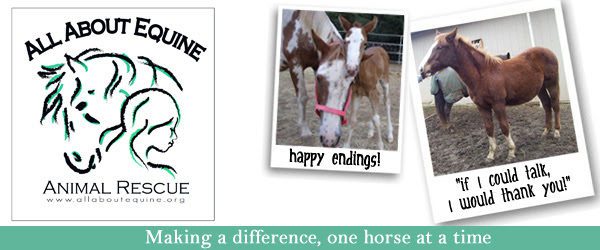 Happy New Year!!  
 2017 was a very special year, and we are glad we got to share it with you.
We hope you enjoyed the stories and thank you for your continuing support during
 the Deck the Stalls campaign.  Although we haven't reached our goal, we are in a much better position to get ready for another year of horse rescue.
In 2017, AAE started the year with 35 horses in our care.  We took in 36 horses, and we adopted 33.  That's an intake to adoption ratio of about 92 percent!!  Intakes were due to a variety of reasons including two orphan foals (Rascal and Cowboy), Blue – the mustang with the large mass on its leg, an abandoned horse with a rope around it's neck, a neglected and emaciated horse, several senior horses in need, and many wild horses and burros in need.  Sadly but compassionately, we helped four of our horses cross the Rainbow Bridge due to severe colic and pain/quality of life issues.
With 2017 in the books we are now focusing on the great stories we will be creating in 2018.  Our goal is for each of these adoptable horses to find permanent homes this year!
Click on each horse's name for more information.
AAE's 2018-19 Calendars are Here!
They are $20 and can be purchased at All About Equine Used Tack Store, or at the barn.
Alternatively, Order via the following link:
(Please note in "special instructions" that you are purchasing a calendar and if you need us to mail yours, kindly add $3 for shipping.)
Save The Date!!
Our 5th Annual Boots and Bling Event is on May 5, 2018.
Tickets are available now, get them while they last!
Buy Tickets Here


Event sponsorship options are available or you can donate items for the event's silent and live auctions?
For more information contact dani@allaboutequine.org
Daily Horse Care, especially pm shifts
Used Tack Store Support, all areas
Barn/Facility Maintenance
Foster Homes, Long-Term Foster/Sanctuary Homes
Capital Campaign Support
Board Members
Fundraising/Events
Grants – Writing and Research
Volunteer, Project, and Activity Coordinators
Outreach Activities
Youth Programs
Therapy Programs
Veteran Programs
Special Projects
Admin Support
Marketing
Graphics
Social Media
Bloggers
Photographers
Media and/or Photo Librarian
More, more, more


Interested in volunteering or volunteering in other areas?
Email volunteer@allaboutequine.org
Submit a Review Today!
Great NonProfits – Top Rated Awards

Thanks to YOUR input in 2017, AAE is once again a Top-Rate nonprofit!
If you love our work, then tell the world! Stories about us from people like you will help us make an even bigger impact in our community in the future.
GreatNonprofits is the #1 source of nonprofit stories and feedback, and it honors highly regarded nonprofits each year with their Top-Rated List.
Won't you help us raise visibility for our work by posting a brief story of your experience with us? All content will be visible to potential donors and volunteers.
It's easy and only takes 3 minutes!
Click here to get started!
Employers Match Donations, Does Yours?
Hey volunteers!
Did you know YOU could earn grant money for AAE from your employer just by volunteering?
Many Employers offer money when their employees volunteer. Here are a few examples:
Intel provides a $10 grant to a nonprofit per every volunteer hour by an employee, and matches funds dollar for dollar up to $5,000 per employee or retiree.
Microsoft provides a $17 grant to a nonprofit per every hour volunteered by an employee.
Apple provides a $25 grant to a nonprofit per every volunteer hour by an employee, and matches funds dollar for dollar up to $10,000 per employee.
Verizon provides a $750 grant to a nonprofit when an employee volunteers for 50+ hours.
State Farm provides a $500 grant nonprofit when an employee volunteers for+ 40 hours.
Others top 20 matching gift and/or volunteer grant companies include
Starbucks 
CarMax
Home Depot 
JP Morgan
Chevron
Soros Fund Management 
BP (British Petroleum)
Gap Corporation
State Street Corporation 
ExxonMobil
Johnson & Johnson
Boeing
Disney
Google
Merck
Aetna
Dell
Outerwall (CoinStar and RedBox) 
ConocoPhillips
RealNetworks
Time Warner and subsidiaries
AllState
and more
Check with your employer.  You could help purchase our next load of hay!