Do you have a Forever Home?
The following is from All About Equine Animal Rescue: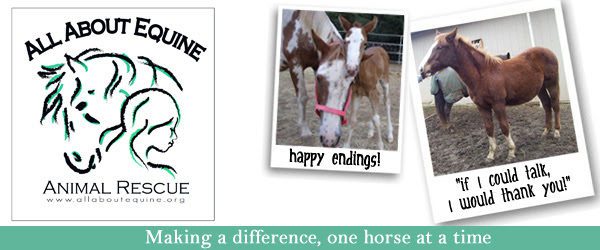 'Tis the Season, time to join AAE every day this month as we share stories straight from the barn to show how your support has helped horses in 2018.   This year was very special, and there are so many stories to be thankful for!
As we count down to 2019, please help us prepare for another year of helping horses.  Your donations will assure we have ample funding for veterinary care to
help horses in need as we move into a new year.
We want to thank everyone for their love and support!
We hope you enjoy these stories as much as we do!
Have a great holiday season!
It's AAE story-time!  Horses of 2018: 
Gentry and Foley
AAE welcomed Gentry, a pretty young mare, and Foley, her little "red" colt from the DreamCatcher Wild Horse and Burro Sanctuary in September 2017. AAE has been supporting the DreamCatcher Wild Horse and Burro Sanctuary's recovery and herd reduction efforts since April 2017. DreamCatcher has been in a recovery period after the long illness and passing of their Executive Director, Barbara Clarke in November of 2016.
What a cute "little" pair they were.  Gentry was an attentive mom, but also a kid herself.  When they arrived, young Foley seemed a bit lethargic and small for his age, but mom was small, too. They were vet checked shortly after arrival, and no issues found.
After a few weeks at AAE, Foley's energy level increased, and he was finally running and bucking through his paddock, like baby boys do.  That being said, he was still a super calm, easy-going gentleman for such a young squirt.  Gentry had only recently been introduced to humans when she arrived, so she was a bit shy and unsure about the new humans that were caring for her.
She learned quickly that humans were not so scary, and she knew they were the ones with the good stuff.  She always waited patiently at feeding time. Thankfully, she learned good manners early on.  Her dental exam indicated she was only about 2-1/2 years old.  A baby with a baby, but she was such a good mama.
It was easy to see Gentry and Foley quickly become lovely young horses.  Gentry found her forever home in January 2018, and she is on a path to becoming a wonderful lil' riding partner.
Of course, there was trouble in paradise!  At the vet exam, we discovered Foley had an undescended testicle (crypt orchid), and it wasn't going to be a simple process to make him an adoptable gelding.  He had to have a more complicated surgery in the hospital in sterile conditions in case his little "gem" was up in his abdomen.  We decided to wait a few months to see if gravity would take it's course and encourage the little gem to drop.  Unfortunately, no such luck.  Foley was castrated in the hospital, and he has been waiting for his forever home since he recovered.
This little guy is one of the nicest, sweetest, respectful most of the time little gents, and we can't believe he is STILL here.  Any experienced horse peeps out there looking for a super fun, straight forward little project pony will not be disappointed!  He is handsome and well built to boot.  He stands about 13.0 hh.
Foley halters and leads easily, he enjoys grooming and attention, he is good with his hooves, and he stands fairly quietly for the farrier.  Foley is a handsome, level-headed youngster, and he is a very social, "meet you at the gate" kind of guy.  He is a quick learner that is eager to please and a quick learner. Foley stands about 13.0 hh, and he will likely mature to a pony-sized, 13.2 to 14.0hh. Mom was about 14.0 hh.  Foley is ready for his new home.  He is an uncomplicated guy with a clean slate.
Might you be his Christmas gift of a forever home??  
Foley is up to date w/vaccines, deworming, and hoof care.  His DNA show results included Turkoman, Mangalarga Marchador and Icelandic Horse, and he has a microchip in place.
Foley needs a sponsor.
For more information on sponsoring a horse
click here
!
29 days until 2019, YOUR donation means more horses can be helped!  Donate Today!
ALASKA CRUISE RAFFLE
Win a 10 Day Cruise for 2 to Alaska
(or $5000 credit toward another available itinerary)
Raffle Limited to 200 Tickets! 
$100 each
***$5,000 value***
Daily Horse Care, especially pm shifts needed now
(Daily 8a-12p or 3p-6p)
Used Tack Store Support, all areas needed now
(Fri – Mon, 12-4p, other days possible)
More opportunities:
Barn/Facility Maintenance
Foster Homes, Long-Term Foster/Sanctuary Homes
Capital Campaign Support
Board Members
Fundraising/Events
Grants – Writing and Research
Volunteer, Project, and Activity Coordinators
Outreach Activities
Youth Programs
Therapy Programs
Veteran Programs
Special Projects
Admin Support
Marketing
Graphics
Social Media
Bloggers
Photographers
Media and/or Photo Librarian
More, more, more
Interested in volunteering or volunteering in other areas?
Employers Match Donations, Does Yours?
Hey volunteers!
Did you know YOU could earn grant money for AAE from your employer just by volunteering?
Many Employers offer money when their employees volunteer.  Here are a few examples:
Intel

provides a $10 grant to a nonprofit per every volunteer hour by an employee, and matches funds dollar for dollar up to $5,000 per employee or retiree.

Microsoft provides a $17 grant to a nonprofit per every hour volunteered by an employee.

Apple provides a $25 grant to a nonprofit per every volunteer hour by an employee, and matches funds dollar for dollar up to $10,000 per employee.

Verizon provides a $750 grant to a nonprofit when an employee volunteers for 50+ hours.

State Farm provides a $500 grant nonprofit when an employee volunteers for+ 40 hours.
Others top 20 matching gift and/or volunteer grant companies include
Starbucks 
CarMax
Home Depot 
JP Morgan
Chevron
Soros Fund Management 
BP (British Petroleum)
Gap Corporation
State Street Corporation 
ExxonMobil
Johnson & Johnson
Boeing
Disney
Google
Merck
Aetna
Dell
Outerwall (CoinStar and RedBox) 
ConocoPhillips
RealNetworks
Time Warner and subsidiaries
AllState
and more
Check with your employer.  You could help purchase our next load of hay!