You Gave Sandi a Second Chance!
The following is from All About Equine Animal Rescue: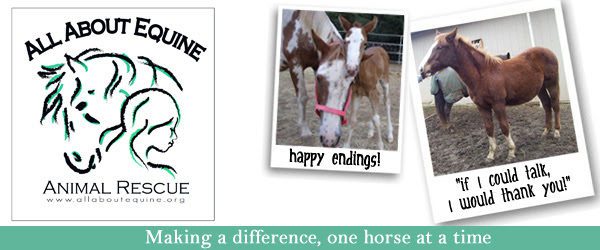 'Tis the Season, time to join AAE every day this month as we share stories straight from the barn to show how your support has helped horses in 2018.   This year was very special, and there are so many stories to be thankful for!
As we count down to 2019, please help us prepare for another year of helping horses.  Your donations will assure we have ample funding for veterinary care to
help horses in need as we move into a new year.
We want to thank everyone for their love and support!
We hope you enjoy these stories as much as we do!
Have a great holiday season!
It's AAE story-time!  Horses of 2018: 
Sandi
Sandi came to AAE on January 7, 2018, after her family was experiencing a family health and financial crisis.  Sandi was a 5 year old Arabian mare that had some training but was considered a green horse.
We picked Sandi up from her boarding facility in the midst of winter stormy weather.  The facility owner said she had been moved to the round pen because she ran right through electric fencing, "very hot" electric fencing.  Sadly, we found this very cute, but skinny lil' mare enduring the winter elements with no shelter, no wind break, and no food.  We can't help but wonder if she was in the round pen because her owner was months behind in rent, or maybe she braved the "hot" fence because she was cold and needed food. Sandi loaded quietly, but she didn't travel well.  She danced around in the trailer the entire ride to AAE, and graceful she was not.
Once at AAE, she had a difficult time settling into a paddock, alone.  She paced the fence lines creating ditches along her path, but with a little time and some rearranging, she calmed some and focused on food. Thankfully, her vet check went well fairly well.  Besides her lack of weight, she had a few melanomas under/around her tail, not uncommon for white (gray) horses.  Fortunately, none were creating any issues that required removal.  Sandi's teeth were floated.  She had two large wolf teeth; no wonder her prior owner said she was unmanageable with a bit in her mouth.  Her hooves were trimmed and maintained, and she was dewormed and brought up to date with vaccines.
She made steady progress and began looking so beautiful.  She was a bit naughty for the farrier.  She needed some extra work with handling her hind hooves, and she needed a bit of confidence.  Sandi tended to rely on another horse for confidence, and she got very stressed and reactive when no other horse was around.  We worked on building her confidence before we asked much more of her.  Before long, she had gained weight, her coat grew in, and she looked like a princess horse.  Her confidence grew, and her stress diminished.  Next thing we knew, she started to glow.
Her forever person came to meet her and fell in love.  Sandi was adopted, and she is now a trail horse and partner to her best friend.
Sandi had a second chance because of you!
ALASKA CRUISE RAFFLE
Win a 10 Day Cruise for 2 to Alaska
(or $5000 credit toward another available itinerary)
Raffle Limited to 200 Tickets! 
$100 each
***$5,000 value***
Daily Horse Care, especially pm shifts needed now
(Daily 8a-12p or 3p-6p)
Used Tack Store Support, all areas needed now
(Fri – Mon, 12-4p, other days possible)
More opportunities:
Barn/Facility Maintenance
Foster Homes, Long-Term Foster/Sanctuary Homes
Capital Campaign Support
Board Members
Fundraising/Events
Grants – Writing and Research
Volunteer, Project, and Activity Coordinators
Outreach Activities
Youth Programs
Therapy Programs
Veteran Programs
Special Projects
Admin Support
Marketing
Graphics
Social Media
Bloggers
Photographers
Media and/or Photo Librarian
More, more, more
Interested in volunteering or volunteering in other areas?
Employers Match Donations, Does Yours?
Hey volunteers!
Did you know YOU could earn grant money for AAE from your employer just by volunteering?
Many Employers offer money when their employees volunteer.  Here are a few examples:
Intel

provides a $10 grant to a nonprofit per every volunteer hour by an employee, and matches funds dollar for dollar up to $5,000 per employee or retiree.

Microsoft provides a $17 grant to a nonprofit per every hour volunteered by an employee.

Apple provides a $25 grant to a nonprofit per every volunteer hour by an employee, and matches funds dollar for dollar up to $10,000 per employee.

Verizon provides a $750 grant to a nonprofit when an employee volunteers for 50+ hours.

State Farm provides a $500 grant nonprofit when an employee volunteers for+ 40 hours.
Others top 20 matching gift and/or volunteer grant companies include
Starbucks 
CarMax
Home Depot 
JP Morgan
Chevron
Soros Fund Management 
BP (British Petroleum)
Gap Corporation
State Street Corporation 
ExxonMobil
Johnson & Johnson
Boeing
Disney
Google
Merck
Aetna
Dell
Outerwall (CoinStar and RedBox) 
ConocoPhillips
RealNetworks
Time Warner and subsidiaries
AllState
and more
Check with your employer.  You could help purchase our next load of hay!