The following is from All About Equine Animal Rescue:
As we count down to 2021, join us every day this month as we share stories from the barn that show how your support has helped horses in 2020.
With the uncertainties and challenges of this year, we truly appreciate your generosity and support.
CHESNEY, CLARE, and CURLY
Meet the three C's, Chesney, Clare, and Curly, recent intakes that came to AAE the end of November 2020, like others before them, from a distressed mustang sanctuary situation due to a family health crisis and financial distress. After 20 years of serving mustangs, the sanctuary was unable to adequately meet the needs of their horses.Upon arrival, these three were quarantined together, and they have had their hooves trimmed, dental floats, vaccines, deworming, and they got microchips. Two still have hind hooves to trim because they were naughty and need a bit more work!
CHESNEY
Chesney is a 14-ish mustang mare that was on the thin side needing hoof and dental care. She was very timid, but with lots of try. At pickup, she haltered with a slow, patient approach, and she loaded relatively easy.
Chesney lacks confidence, but she tries hard to understand. She allows her front hooves to be handled without sedation, but she needed sedation for her trim (fronts only). She wasn't so confident with her hinds, so we'll be working on that.
CLARE
Clare is a 15-ish Mustang mare. She is sweet (most of the time) and was relatively easy to halter. She loaded without issue, until trying to shift her inside trailer. She's naughty around her hind end and will kick.
Clare was thin and in need of hoof and dental care. She also has a chronic fungal issue on her hinds. She is sweet and social, but can be evasive when haltering. She comes around with patience and persistence.
CURLY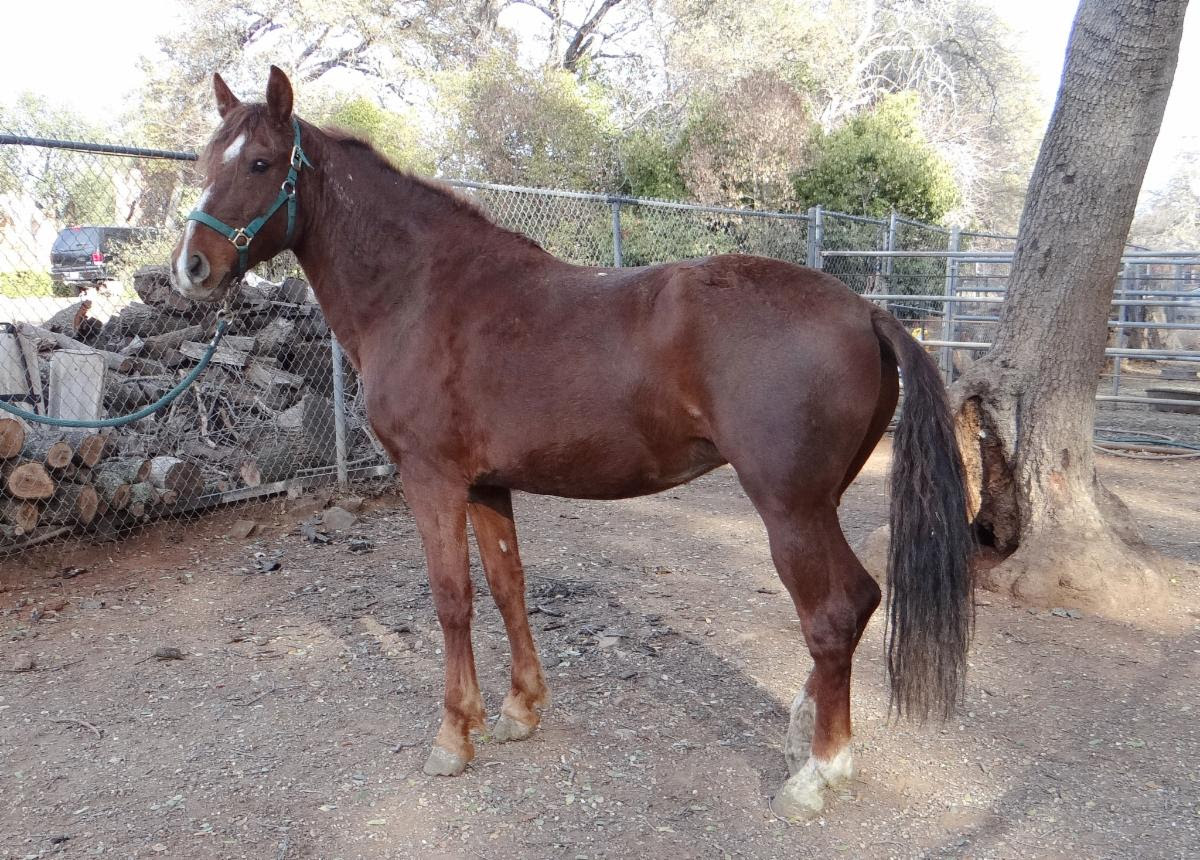 Curly is about a 14-year old Curly Mustang. She is halterable, friendly, and easy going. She was easy to approach and loaded without issue.
Curly needed hoof and dental care. She was trimmed without issue (and no sedation necessary). She's cute, personable, and seems uncomplicated.
We're spending some time getting to know these three girls, but they should be available for adoption soon. Thus far, none have any obvious limitations, but we've only just begun to explore. We're focusing on basic handling with Chesney and Clare, with priority on their hind hooves. Curly seems to have a great start, and we'll likely introduce a saddle soon.
If you're interested in adoption, please submit an Adoption Inquiry from our website, www.allaboutequine.org/adopt-a-horse.
Thank you for your support helping horses each and every day!
Your donations, volunteering, adopting, and social media shares & likes allow us to make this work possible!
Give the gift that keeps on giving by sponsoring a horse on behalf of a horse-loving friend or family member!
As a sponsor, your annual or monthly contribution helps support the costs of care for a specific horse.
You can sponsor at any level or any amount you choose. You will receive an electronic "gift letter" with a photo of an AAE horse, acknowledging your gift on behalf of your recipient.
Choose a horse to sponsor today!
Patriotic Mustang T-Shirts
Horse fans will love this shirt!
The Patriotic US Flag/Mustang image on front and Mustang is My Favorite Breed (or Rescue is My Favorite Breed) in white on back. Available in Black, Ash Gray, Navy, and Brown.
Orders may be picked up at the AAE Used Tack Store in Shingle Springs or
shipped for an additional cost.
Stop by the AAE Used Tack Store to find the perfect gift for the horse lover in your life! Don't know what they need? We have gift cards, too!
Here are more ways you can help!
Doing any winter cleaning? Donate your gently used tack to AAE's Used Tack Store in Shingle Springs. We very much appreciate tack donations delivered to the store in sale ready condition (e.g. clean, conditioned, oiled). Please email tack@allaboutequine.org for information about donating or to schedule a delivery.
Proceeds from used tack sales help pay for feed, veterinary expenses, and other operational needs.
Have you considered adopting a rescue horse?
If you are interested in adopting one of our beautiful animals, please take time to complete AAE's