CHASITY'S CHALLENGES: Soaking the Infection: 4-15-20 & 4-20-20
4-15-20
Chasity did not enjoy the soaking of her teats with the hose, so I opted to change my approach to make her more comfortable. Her posture has improved considerably with her postural core strength exercises in the "Hourglass Pattern" and with negotiating some of the obstacles to add coordination. She is now coming to the stall door to be haltered. She's a very quick learner!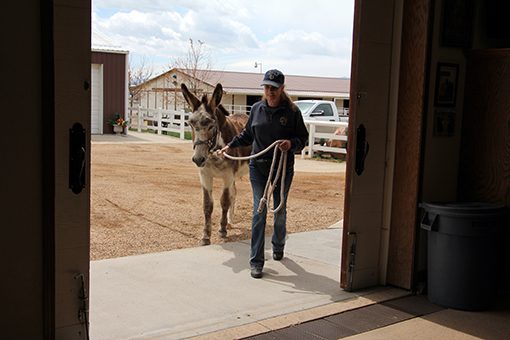 The infection is still draining and that is good. Each soaking, I groom her and scrape the discharge from her hind legs while she stands quietly.
I thought I might be able to make a "diaper" out of an old sheet to hold a wet towel wrapped around a hot pack instead of running a warm water hose underneath. First things first…I politely introduced her to the sheet, then began to wrap it around her!
This would solve two issues for me. She would not be aggravated with the water running down her legs and I wouldn't be wasting water for ten minutes! She stood like a trooper while Chad and I wrapped the sheet into a useable position while Chasity looked on with a certain curiosity. "What  do you think you are doing? Very odd things these people do!"
Once in place with the hot pack held in the sheet, we realized it was heavy and was pulling the sheet down, so I still had to stand there and hold up both sides to bring it up to her udder. At least I didn't have to bend over! Chasity received her oats once again for being a trooper!
After ten minutes of soaking, Chad and I released the "diaper" carefully so as not to startle Chasity. We now knew what we would have to do to modify the "diaper" for future use.
Chasity had her first lesson in neck stretches after her soaking. This would be another aid in shrinking the fat roll over her neck…first to the left…and then to the right.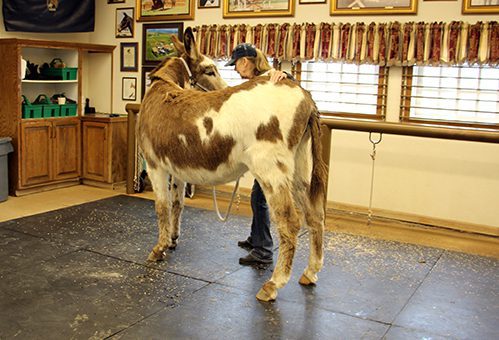 She was hesitant to do another stretch to the left, so I put her up against the hitch rail and tried again. She was still uncomfortable about doing a really good stretch, so I asked her to wrap her head around my waist. She complied and was amply rewarded for her efforts.
4-20-20
The next soaking on 4-20-20, I had the diaper modified and left the job to Steve and Bailey to execute to make sure that Chasity would accept help from everyone and not just me. Steve led her from the barn and cleaned the crust from her eyes.
Bailey began work scraping off the dried pus on her back legs with the shedding blade while Chasity stood quietly.
I had told Bailey that she might try giving Chasity a massage on her neck to see how she would tolerate it. She loved it!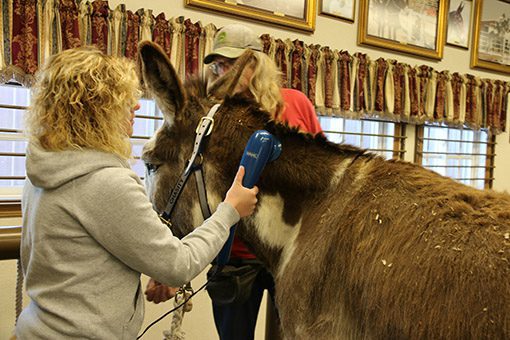 I also asked Bailey to try using the massager on the infected area with only the hot pack (without the wet towel) to see if it would break up the infection in the hardened teats. The new "diaper" design worked like a charm! Unfortunately, the massager really didn't make much of a difference on the hardened teats, so we will just use it on her neck and body going forward.
After the soaking, Greg Farrand, our vet called and told us the lab work was back. Chasity has a bacterial infection and not mastitis. She will be on antibiotics and daily soaking for quite some time. When she is done with the Uniprim, she will go on a second antibiotic regimen. As always, Chasity was generously rewarded for her compliance! She is such a dear donkey!