When No One Else Would, We Did! Blue's Last Hope
The following is from All About Equine Animal Rescue: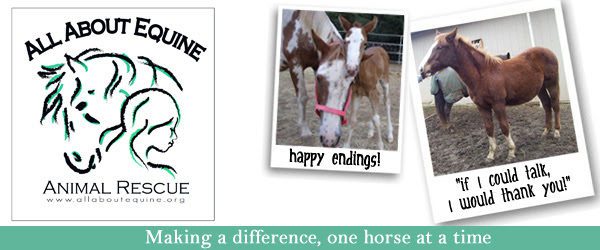 Let's Deck the Stalls with Boughs of Plenty for 2018
3 Days Left, Blue!
Blue is a young mustang gelding out of Nevada who came to AAE at the beginning of the year after being asked for assistance by Virginia Range Wild Horse Sanctuary and Hidden Valley Wild Horse Protection Fund. He had been carrying around a large mass of proud flesh (granulation tissue) over his rear fetlock/pastern area for some time.  He was not halterable when he arrived at AAE, and we knew we had a big job ahead in helping Blue.
Before we could evaluate the mass, he had to be gentled, haltered, and his legs/hooves handleable.  With a straightforward mustang, not a big deal, but Blue had some substantial fear/trust issues.  Initial efforts with befriending and haltering him were lukewarm.  Thanks to Dr. Stolba and Team LBEMC (throughout Blue's journey), we were successful enough to sedate him, radiograph the bony area beneath the mass and collect tissue samples for biopsy.  We wanted to make sure there was not an underlying reason for the mass other than old injury before getting too deep into corrective measures if they would be for naught.  It was not an easy feat.  Even with sedation, he kicked quickly and with purpose.