What's New with Roll? Massage
Roll has had a tough time with his left hind foot first with the White Line Disease last year and now with an abscess in his foot between the bulb of the heel and the hoof wall. Although we have been keeping a poultice on his foot and he seems to be improving, we thought it would be important for him to have a massage with his equine masseuse, Joanne Lang after his chiropractic adjustment with Dave McClain.
We don't wait for obvious injury to occur—preventive massage increases the length of the muscle fibers, taking pressure off the joints.
When the muscles are allowed to contract and expand to their full length, they are able to absorb important nutrients that reduce fatigue.
Massage also increases blood flow, which helps the body flush harmful toxins, such as lactic acid, that build up from normal use. Massage aids in reprogramming the nervous system to break patterns that can cause atrophy or knotted tissue.
Massage is not intended to replace the care of a licensed massage therapist or veterinarian and if you are unsure as to the severity of an injury with your equine, consult your vet!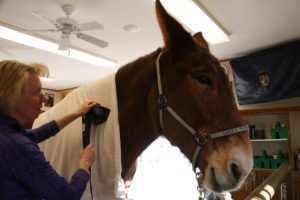 Massage has been an important element in the care and maintenance of all of our equines from the beginning and has increased the longevity of our herd.
Learning to "read" what the equine is telling you is an important part of the massage experience. As you can see, Roll REALLY enjoyed his massage today!