Roll was doing better and then all of a sudden he was very lame in his left hind foot again on February 10th. The only thing we could think of was that he must have twisted it and maybe even caught the boot on something in his pen when he was trying to get up.
He was very warm all over with sweat at his chest, underbelly, around his ears and between his legs. It was an unusually warm day and because it had been so cold and I had not clipped the mules' bridle paths in a very long time. So, to help cool him off, I clipped his bridle path and sure enough, he began to get cooler and dry off.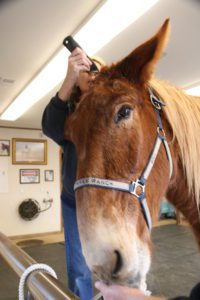 We took his temperature and it was in the normal range.
We took x-rays to make sure there were no fractures and there was nothing but the rotation we had seen before.
After our veterinarian Greg Farrand dug around in the hoof, he did find a spot between the frog and the bulb of the heel that seemed to be sensitive and starting to weep.
He was uneven in his hips and seemed to be affected in both legs although the left was worse than the right. We decided to wrap the foot in a poultice again and left off the easy boot in case it was the culprit.
Then we decided to put him on a regimen of "Bute" and call in the equine chiropractor. All we could do was wrap the poultice onto his left hind foot and wait.
On February 13, Roll was exceptionally sore today when our equine chiropractor Dave McClain came out to check him.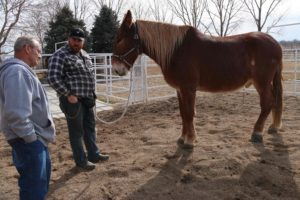 There was no real problem in the hip joint, but his fetlock really cracked when he adjusted it, so he was definitely out in that joint.
Dave adjusted the rest of his body and said there probably was nothing other than the fetlock that was affected in the joint, just in the muscles. He said Roll would probably be sore because it was such a dramatic adjustment.
We checked him again the next day and he does seem to be experiencing some improvement although he is still pretty sore. There is not a lot to do but pray and wait. He is undoubtedly having problems that stem from the first 17 years of his life moving in poor posture and not utilizing his body correctly.