What's New with Roll? Unexpected Lameness
Roll came up lame in his left hind again today, so we called our veterinarian, Greg Farrand to come and check him. He had swelling in the fetlock joint and it appeared to have just begun. I supported his joint with a wrap so is would be easier for him to walk to the Tack Barn work station.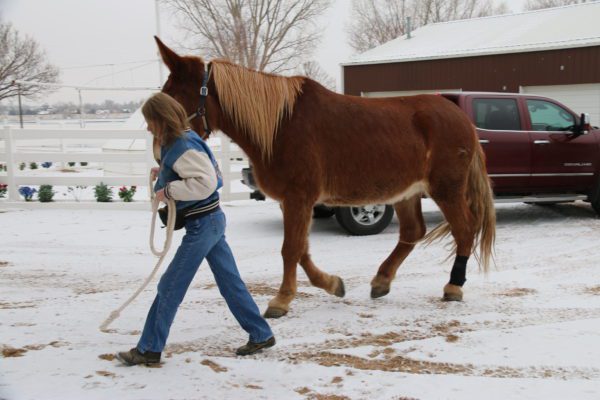 We checked for abscessing, but could not find anything. He did seem to be uncomfortable in the other hind foot as well, but not enough for real concern.
However, it is conceivable that it might not be an abscess, but problems arising from his inability to continue his core muscle strength and balance exercises during the time he was dealing with the White Line Disease.
Taking off a piece of the hoof wall where he tested sensitive seemed to relieve the pressure enough so he did have some improvement in his walk. We checked him all over and I even cut off his overgrown ergots while we were talking.
Greg though perhaps the abscess was just beginning, so we put a poultice on the left hind foot to draw out and escalate any inflammation in hopes of forcing it to weep so we could locate it if it was, in fact, an abscess.
We wrapped the hoof with the poultice and Vet Wrap.
And then put the whole foot in a custom-made easy boot that we had used when he had White Line Disease.
I led him around the room and he seemed to be experiencing some pain relief, so we opted to leave him like this for four days with a change of poultice every other day.
As you can see, our core muscle strengthening and balancing exercises really DO make a drastic difference in the overall shape and movement of the equine.
When dealing with an animal that spent so many years out of good posture, it is almost certain you will be faced with numerous issues from uneven wear and tear on the body over the years, especially as they age like Roll at 24 years. We just hope we can pull Roll through this so he can get back to having some fun with his healthy exercise program.