Time for some good news!
The following is from All About Equine Animal Rescue: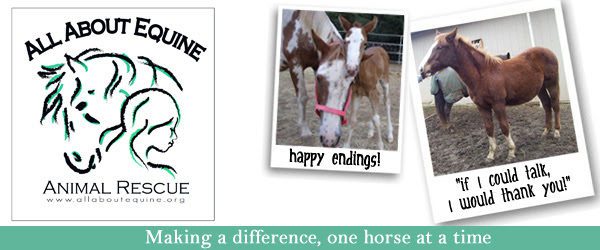 …and every day, I'm grateful for you.
You make it possible to help horses!
It's time for some GOOD news!
Blue Update!
Remember Blue?  Our Virginia Range mustang that came in with a large growth over his hind fetlock?
This week, he finished his last treatment with cautious optimism!
He is healed and only a scar remains.
Blue's a gem!  A tough one, but we've learned
a lot from this guy!
Keep your fingers crossed for this lil' guy.
Blue sends huge thanks for everyone's support in helping him with the growth removal and the long series of treatments and procedures.  It's been a long road, but gratifying in the end to be able to see it through and never give up!
Our most important fundraising event is coming soon.
Tickets On Sale Now! Early Bird Pricing $35!
Price goes up 4/1, don't miss out!
Join All About Equine at the 
as we celebrate 
10 years of Successful Horse Rescue!  
We can't do it without you!  
This is a super fun event that includes 
a BBQ dinner, Live and Silent Auctions, Music and Dancing!
Dinner provided by Blackjack Grill
Entertainment by A & A Music Events
Funds raised at Boots & Bling supports a large portion of AAE's annual budget ensuring we continue saving and serving horses and humans throughout the year.
HUGE thanks to our Sponsors:
We are so excited to be a part of 
North America's Equine Event of the Year!

Thank you for making this event possible!!
If you would like to donate to our live and silent auctions or want more information on donating, please contact
Dani@allaboutequine.org
We can't wait to see you at the event!
LOOKING FOR THEIR PERSON!
Check out our adoptable horses.  Available horses are current with dental and hoof care, vaccines, and deworming.  They have microchips in place, and their DNA has been tested.
Click on the horse's name to link to their page so you can  learn more about each horse!
AAE'S QUARTERLY MEETING
Saturday, April 13, 2019
(tentative date based upon meeting room availability)
El Dorado Hills Fire Department
1050 Wilson Boulevard
El Dorado Hills, CA
AAE's Quarterly All Volunteer Meeting is an opportunity for all volunteers to come together for an update on current happenings, upcoming events, and updated volunteer needs. It's also a good time for anyone interested in getting involved to learn more about AAE. Bring family or bring anyone interested in volunteering or otherwise supporting our cause.
If you'd like to join us, please click her to register.
Please bring either an appetizer or dessert to share at 6:00pm, meeting to begin at 6:30pm.
Everyone is welcome to join us!
Daily Horse Care, especially pm shifts needed now
(Daily 8a-12p or 3p-6p)
Used Tack Store Support, all areas needed now
(Fri – Mon, 12-4p, other days possible)
More opportunities:
Barn/Facility Maintenance
Foster Homes, Long-Term Foster/Sanctuary Homes
Capital Campaign Support
Board Members
Fundraising/Events
Grants – Writing and Research
Volunteer, Project, and Activity Coordinators
Outreach Activities
Youth Programs
Therapy Programs
Veteran Programs
Special Projects
Admin Support
Marketing
Graphics
Social Media
Bloggers
Photographers
Media and/or Photo Librarian
More, more, more
Interested in volunteering or volunteering in other areas?
Employers Match Donations, Does Yours?
Hey volunteers!
Did you know YOU could earn grant money for AAE from your employer just by volunteering?
Many Employers offer money when their employees volunteer.  Here are a few examples:
Intel

provides a $10 grant to a nonprofit per every volunteer hour by an employee, and matches funds dollar for dollar up to $5,000 per employee or retiree.

Microsoft provides a $17 grant to a nonprofit per every hour volunteered by an employee.

Apple provides a $25 grant to a nonprofit per every volunteer hour by an employee, and matches funds dollar for dollar up to $10,000 per employee.

Verizon provides a $750 grant to a nonprofit when an employee volunteers for 50+ hours.

State Farm provides a $500 grant nonprofit when an employee volunteers for+ 40 hours.
Others top 20 matching gift and/or volunteer grant companies include
Starbucks 
CarMax
Home Depot 
JP Morgan
Chevron
Soros Fund Management 
BP (British Petroleum)
Gap Corporation
State Street Corporation 
ExxonMobil
Johnson & Johnson
Boeing
Disney
Google
Merck
Aetna
Dell
Outerwall (CoinStar and RedBox) 
ConocoPhillips
RealNetworks
Time Warner and subsidiaries
AllState
and more
Check with your employer.  You could help purchase our next load of hay!