10-25-18
Roll had a good massage today! He seems to really enjoy the new Equisport massager. You can always tell when your equine enjoys his massage because he will "talk" to you along the way. Notice how Roll is pushing his hip into the massager in the first photo? That means, "Feels so good… go deeper!"
His left hind is often a bit sore from his twisting in the right hind, so he isn't too sure about it at first, but the right hip is a different story and he relaxes. He even slid his hind leg slightly forward to allow Joanne to massage deeper.
It seemed that the left shoulder is a bit sore and he gives her a stern look of "Be careful now."
Joanne spoke back to Roll with "I hear you! So we'll go to the other side and move on to something else." Roll responded with, "Oh, yes, this is a better spot!" as he relaxed his hind foot and leaned into the massager again.
Roll rounded his neck to look back to her and said, "Are you wearing a fanny pack full of oats today?"
Joanne responded with, "Nope, sorry! How about an eyeball massage?"
Roll leaned into the massager and went to town pushing his eye into the massager while Joanne just held it steady. He was in seventh heaven!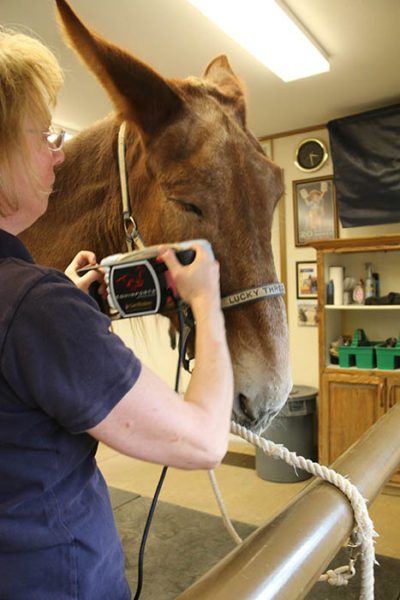 When it came to his ears, Roll went into a trance and enjoyed every minute of his full face massage!
Then she went across his back and over his rear end to finish. Roll looked at her as if to say, "Thanks for a GREAT massage…feels soooo good!"
After Rock's death in 2011, Roll spent the last 7 years in turnout alone with only his two mini donkey friends, Spuds and Augie,  across the fence from him.
The best part of the weekend following his massage was that 26-year-old Roll finally got a friend in turnout! Billy Bad Ass (age 25) came to us a month ago. We thought the two gelding boys would enjoy each other as they are pretty close in age and it proved to be true!
Roll was truly happy to have a brand new buddy!

three