Special Home For A Special Guy?
The following is from All About Equine Animal Rescue: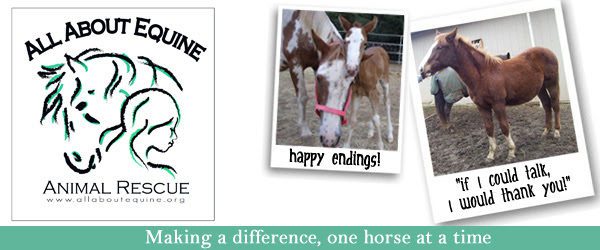 It's AAE story-time!  Horses of 2018: 
Waylon
AAE welcomed Waylon, one of three young geldings, from the DreamCatcher Wild Horse and Burro Sanctuary in June 2017 to support DreamCatcher's recovery and herd reduction efforts after the long illness and passing of their Executive Director, Barbara Clarke in November of 2016.  Waylon was introduced to humans in May 2017 when the boys were separated from the herd and castrated.
Waylon is a 2015-ish captive born mustang gelding.  He had minimal handling, but accepted humans quite readily.  He was a calm, confident, and social guy that quickly took to grooming and hanging with two leggers.  He was sweet, calm, confident, and willing.  He could also be a little pushy at times.
Waylon was adopted in October 2017, then returned to AAE in May 2018 after being diagnosed with EPM.  Waylon was treated with a three month course of Marquis, and he responded very well.
In October, he was re-evaluated by our vet, and he had no signs of neurologic deficits.  Waylon is a super nice, big guy, and he is looking for his forever home.  He is a big, playful, people-loving boy.  He is curious, willing, and very active.  Due to his EPM history, he was cleared for casual/light riding.  He is not considered a prospect for competition, endurance, or hard/heavy riding.
Waylon is about 15.1hh and still growing.  He is current with vaccines, deworming, and hoof and dental care, and he has a microchip in place.
16 days until 2019, YOUR donation means more horses can be helped!  Donate Today!
'Tis the Season, time to join AAE every day this month as we share stories straight from the barn to show how your support has helped horses in 2018.   This year was very special, and there are so many stories to be thankful for!
As we count down to 2019, please help us prepare for another year of helping horses.  Your donations will assure we have ample funding for veterinary care to
help horses in need as we move into a new year.
We want to thank everyone for their love and support!
We hope you enjoy these stories as much as we do!
Have a great holiday season!
ALASKA CRUISE RAFFLE
Win a 10 Day Cruise for 2 to Alaska
(or $5000 credit toward another available itinerary)
Raffle Limited to 200 Tickets! 
$100 each
***$5,000 value***
Daily Horse Care, especially pm shifts needed now
(Daily 8a-12p or 3p-6p)
Used Tack Store Support, all areas needed now
(Fri – Mon, 12-4p, other days possible)
More opportunities:
Barn/Facility Maintenance
Foster Homes, Long-Term Foster/Sanctuary Homes
Capital Campaign Support
Board Members
Fundraising/Events
Grants – Writing and Research
Volunteer, Project, and Activity Coordinators
Outreach Activities
Youth Programs
Therapy Programs
Veteran Programs
Special Projects
Admin Support
Marketing
Graphics
Social Media
Bloggers
Photographers
Media and/or Photo Librarian
More, more, more
Interested in volunteering or volunteering in other areas?
Employers Match Donations, Does Yours?
Hey volunteers!
Did you know YOU could earn grant money for AAE from your employer just by volunteering?
Many Employers offer money when their employees volunteer.  Here are a few examples:
Intel

provides a $10 grant to a nonprofit per every volunteer hour by an employee, and matches funds dollar for dollar up to $5,000 per employee or retiree.

Microsoft provides a $17 grant to a nonprofit per every hour volunteered by an employee.

Apple provides a $25 grant to a nonprofit per every volunteer hour by an employee, and matches funds dollar for dollar up to $10,000 per employee.

Verizon provides a $750 grant to a nonprofit when an employee volunteers for 50+ hours.

State Farm provides a $500 grant nonprofit when an employee volunteers for+ 40 hours.
Others top 20 matching gift and/or volunteer grant companies include
Starbucks 
CarMax
Home Depot 
JP Morgan
Chevron
Soros Fund Management 
BP (British Petroleum)
Gap Corporation
State Street Corporation 
ExxonMobil
Johnson & Johnson
Boeing
Disney
Google
Merck
Aetna
Dell
Outerwall (CoinStar and RedBox) 
ConocoPhillips
RealNetworks
Time Warner and subsidiaries
AllState
and more
Check with your employer.  You could help purchase our next load of hay!