The following is from Save Your Ass Long Ear Rescue:
What Does It Take to Save Your Ass?
It seems as though the hot topic on donkey groups in social media is: "What do I feed my donkey?" We get asked about donkey nutrition a lot so we would like to share a little bit about what it takes to rehab donkeys and mules in need from a rescue's perspective.
As a rule donkeys are very easy keepers because they are browsers, which means they require walking long distances for very little food. A lot of donkeys in the US are overfed, which is just as negligent if not more so than a donkey coming to us underweight. There are a large number of risks when a donkey is overweight; their liver or kidneys could fail, they could become hyperlipemic, they could founder, and/or get laminitis. It is more natural for a donkey to be thin than it is for a donkey, who is desert species, to be fat. Over the years we have had to euthanize animals due to complications from obesity. If you are reading this and thinking "oh my gosh my donkey is a chunky monkey!" don't panic, you're not a terrible donkey owner! We are strong believers in meeting people where they are. We can't be upset with people who simply do not know. That's why we are writing this and constantly trying to educate people on proper donkey welfare.
If you would like more info on getting your donkey to a healthy weight, visit https://www.thedonkeysanctuary.org.uk/what-we-do/knowledge-and-advice/for-owners/feeding-your-donkeys The Donkey Sanctuary is great resource for donkey care!
We do all the major medical and behavioral procedures for the donkeys and mules that come in so when they get adopted they have the best possible start in their new life. When you adopt a donkey or mule from us, all the routine care has been done so the new owner doesn't have to worry about anything besides bonding with and enjoying their new long eared friend/ friends. Secondly we do this so the new owners are aware of what they are getting into ahead of time. This is very important to us as Ann and I are animal owners ourselves, and we understand that one has to be practical when it comes to adopting a large animal into your care! It can be overwhelming for first time owners so we do our best to give them and the adoptee guidance in the right direction.
We have talked a lot about our process of taking in animals so I'll keep it short and sweet. When we take in a new donkey or mule we let them settle in first and foremost. When we feel they are stable enough and not stressed or anxious we have our veterinarian out to give them a health check up. This includes getting their routine vaccinations, dental exam/ dental work, and if any abnormalities are found we have blood work and/or tests done.
Then we call the farrier to have their hooves trimmed and get them on a schedule for every six to eight weeks.
Since a lot of animals come to us in varying conditions, we mimic the environment, and feeding care they have been getting in their previous home, to reduce stress related issues such as colic. Once they are settled in we make a feeding plan for them depending on their condition. Typically this consists of switching them over to a mineral supplement. We use California Trace mineral Supplement, and first cut hay in slow feeder hay nets. Donkeys need to be fed small amounts, frequently.
Since we are a non-profit and are always in need of donations we believe it is important to share with our amazing supporters where your donations are going, transparency is very important to us.
This is what it costs us to take in a pair of standard donkeys from the time they arrive at the rescue until the day they are adopted. This is a generalized tally as it would be totally different for a 1200 lb. 30 year old mostly toothless draft mule! We had quite a few of those those in 2019. A pair of standard donkeys if healthy and trained, stay at the rescue an average of 3-4 months before being adopted. What do you think the total cost of their stay which includes all their routine vet work, vaccinations, dentals, health check ups, health certificates, having their blood sent out for a coggins test, worming, hay, supplements, a salt block, shavings and farrier trims, would be? This does not include emergency vet calls or medications that they may be on. For two standard size donkeys who are here for four months, the cost for us to get all of their routine care done is $1,158.08! If you've seen our adoption fees, you know that we do not make money from adoptions. The adoption fee helps us, yes. Our primary goal is to get the donkeys and mules healthy and happy, and making love matches between long ears and humans; which makes it all worth it.
Raise a glass and toast yourselves, you amazing ass saving supporter!
We thank you all from the bottom of our hearts, and we wish you all a wonderful new year full good health and happy brays.
Sincerely,
Hannah, Ann and the SYA Team
Click here to see our animals for adoption!
Hobie and Walton Update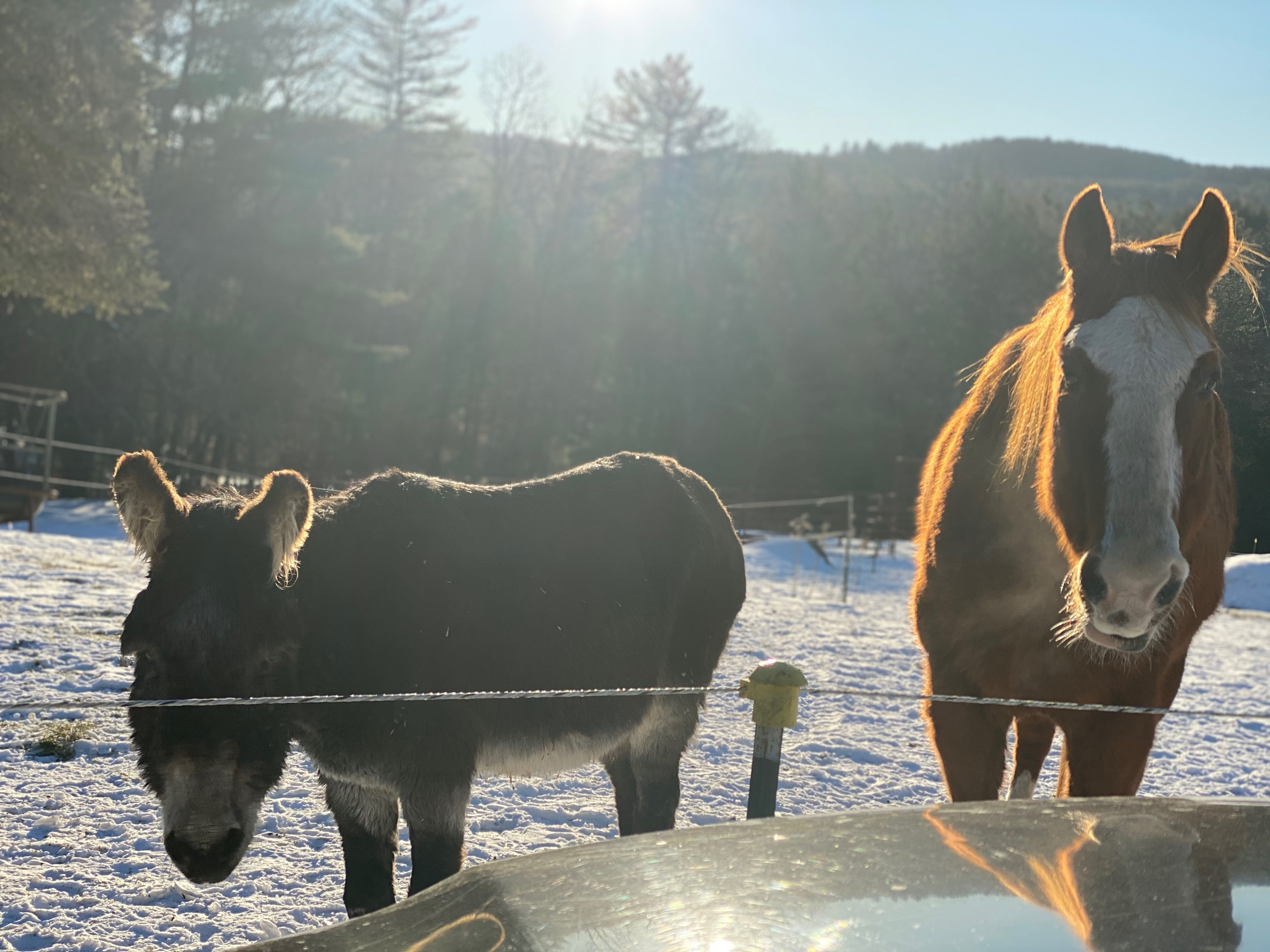 Hobie, the once wobbly little donkey is feeling fierce and full of life as of late. If you are in the pen with him, he is sure to follow you around, right at your heels. His favorite thing to do is to is sun bathe when the sun is just right in his stall overhang, and of course, breakfast.
Walton has also been full of life lately and was allowed access to the big field to play with his next door pasture mate, Vinny. Walton took advantage of all the space and trotted the entire perimeter, and then cantered back to all of his friends. He had a blast! Where Walton once had cuts, and open festering wounds, he now has new healthy skin with little baby hairs growing in. <3
Some of things we are in always in need of to continue their healing process can be found below.
-Chopped Alfalfa
-Vitamin E (Elevate)
-Purina Senior
-Hay nets with 1&1/2 inch holes
-Shavings
-Glucosamine
Thank you all for your kind thoughts for these two amazing equines!
"We should never doubt that a small group of committed people can change the world."
-Ruth Bader Ginsburg