What's New with Roll? Ground Driving
For the first time, Roll was ground driven straight out of the Tack Barn with no warm up.
On the way to the hayfield, we stopped to see the old broodmares and give them a treat!
Although we lacked impulsion getting there, Roll picked up the pace in the hayfield.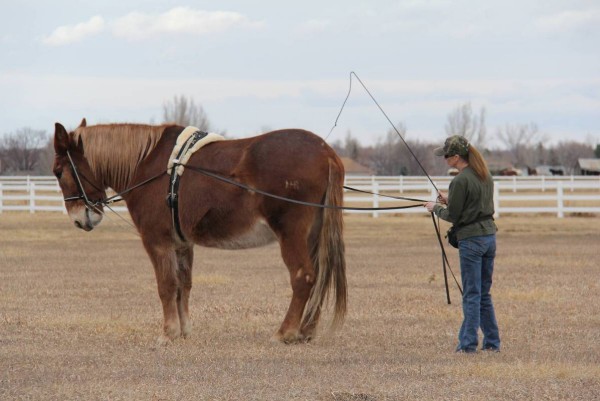 Roll walked immediately into a square halt, keeping his hind quarters well underneath.
Roll stayed well-connected to my hands through all moves for the very first time in four years!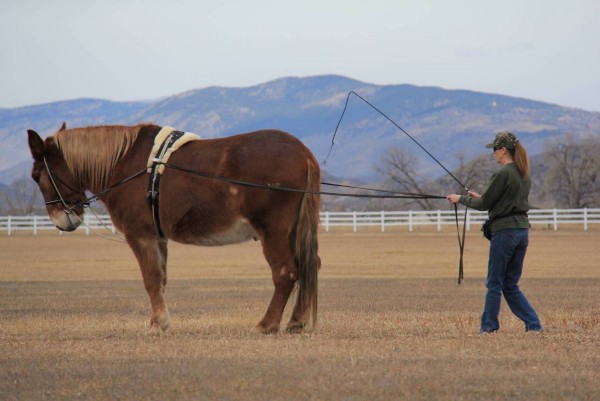 Roll's reinbacks were flawless…light on the lines and straight.
Roll now knows that the whip is a tool used for communication and not for punishment.
Roll understands that I do not want him to eat the grass until he is signaled and free to do so.
Roll receives his reward of crimped oats for paying attention and NOT eating the grass!
Roll finally received permission to eat the grass while I straighten the lines to continue forward.
Upon the command to "Walk on," Roll promptly raises his head and acknowledges my request.
Roll and I stopped to check out the bronze statue of Lucky Three Eclipse.
We stopped to see the Mule Fountain in all of its splendor!
Then we said "Hello" to Lucky Three Mae Bea C.T.'s bronze driving statue.
Roll thought she was beautiful and did a little flirting!
Great lesson! Fun morning for both of us! Now back to the barn…the snowstorm is rolling in!