Remarkable!! These 3 Boys Thank You!
The following is from All About Equine Animal Rescue: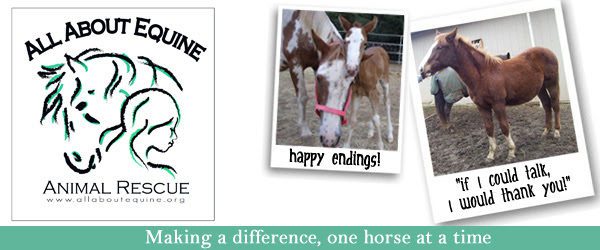 'Tis the Season, time to join AAE every day this month as we share stories straight from the barn to show how your support has helped horses in 2018.   This year was very special, and there are so many stories to be thankful for!
As we count down to 2019, please help us prepare for another year of helping horses.  Your donations will assure we have ample funding for veterinary care to
help horses in need as we move into a new year.
We want to thank everyone for their love and support!
We hope you enjoy these stories as much as we do!
Have a great holiday season!
It's AAE story-time!  Horses of 2018: 
Amigo, Rudy and Gunner
Your support in 2018 probably had the biggest impact in the lives of our next intake group: Amigo, Rudy, and Gunner. These three boys came to AAE in mid-January 2018 from a neglect situation.  Amigo and Rudy were in very poor condition. Fortunately, Gunner was in pretty good condition.  This is a long one, enjoy!
AMIGO
Amigo weighed about 850 pounds upon arrival.  As thin as he looked in photos, he was much thinner.  His coat was thick with dead undercoat that felt like a wool rug draped over his bony skeleton beneath.  He was also covered with hundreds of ticks that took days to remove.
We were told he's 29. We were told he was a riding horse, but bucks after a couple hours (at his age, I'm sure he's saying, enough already!). Other than that, the rest is a mystery.
Thankfully, Amigo's vet check went surprisingly well, and he was started on a slow refeeding program consistent with UC Davis' protocol for rehabilitating starved horses.  After about a week at AAE, he had what turned out to be a minor bout of colic; when he went down, we didn't think he would get up.  This pic is worth 1,000 words.
Fortunately, the docs were heroic that night, and he rallied! He battled through it like the survivor he is, and has been great ever since!
Though emaciated and starving, it was plain as day this ol' guy had a heart of gold.  His journey to recovery was a slow one, but he made steady progress, day after day.
He craved attention and simply enjoyed being in the presence of humans.  He would munch on food with his skinny head peaking out of his stall, bright-eyed with a big ol' smile on his face. "Hey, come gimme some lovin'"
Amigo is such a great reminder of how fragile yet resilient horses are. He holds no grudges for humans, even though he wasn't treated so kind. Once he gained some weight and stabilize, his teeth were floated, hooves were trimmed, and vaccines were updated and he was dewormed.  He was slowly coming back to health.
Amigo has returned to good health, and he's in great condition for 29-something. There could not be a more sweet, kind, lovable old fella!  This guy is an absolute gem, and a volunteer favorite.  We LOVE this ol' guy and everything about him.
Amigo is such an ambassador for horses with new volunteers. He's just a big love! He couldn't be more easy to handle. He is patient, he's kind, and he's one of the most dependable horses at AAE. At 29, this ol' guy can call AAE home, his last stop.
Amigo needs a sponsor.
For more information on sponsoring a horse 
click here
!
RUDY
Rudy has a story, too. Though he wasn't in quite as bad of shape as Amigo, he was in sad shape. We were told he was about 23 years old, and had been ridden quite a bit. He had been used for barrel racing.  Beyond that, little is known about his past.
Rudy weighed only about 875 pounds when he arrived.  He was also covered with ticks, but not as heavily as Amigo.
His teeth were in bad shape, too. His hooves hadn't been cared for in quite some time, and heal had deep heal cracks with open sores in all four. Rudy was simply "empty".
Rudy was started on a slow refeeding program consistent with UC Davis' protocol for rehabilitating starved horses.  His teeth had also been neglected, but he was given time to stabilize and gain a bit of weight.
Though emaciated and starving, Rudy was a really kind guy, but his focus was on his next meal.  He seemed to enjoy attention, but he was indifferent at times, especially if there was food in his proximity.
He's had regular farrier work, but his heel cracks persist. He had much needed dental work, he's been dewormed, and his vaccines were updated.
Rudy has been saddled and ridden lightly. He's soft and willing under saddle, but his hooves are still an issue. They are making slow improvement, but need more time.
This 'ol guy is another sweet 'ol soul and handsome as ever.
GUNNER
Gunner looked pretty much like a normal horses. It was hard to believe he had been living with Amigo and Rudy. We were told Gunner was about 19 years old, and he had been started under saddle, but never finished.
Gunner had some trust issues and it took a bit to earn his trust.  He was evasive for haltering, though led fairly well. This guy needed more confidence; and he seemed so vulnerable with leg and hoof handling, His teeth were floated, hooves trimmed, and vaccines updated.
Gunner, is a shy guy that appears to have been mis-handled at some point in life.  He is halterable, curious, gentle, and willing.  Gunner has made consistent progress, and he's become more much more willing to interact with humans.   He's starting to seek attention. He's softened considerably, and so far, we haven't identified any major issues.
Gunner is temporarily fostered with one of AAE's adopters so we could help a couple more horses this winter.  He has been hanging out with cows, and recently, he showed his gentler, nurturing side when he nuzzled up with a newborn calf.  How sweet is that!
This handsome guy is looking for a home with experience with horses with trust issues.  He's healthy, willing, and seems to have some good years for someone willing to give him the time he needs to trust and flourish. Gunner is up to date with vaccines, deworming, and hoof and dental care.
27 days until 2019, YOUR donation means more horses can be helped!  Donate Today!
ALASKA CRUISE RAFFLE
Win a 10 Day Cruise for 2 to Alaska
(or $5000 credit toward another available itinerary)
Raffle Limited to 200 Tickets! 
$100 each
***$5,000 value***
Daily Horse Care, especially pm shifts needed now
(Daily 8a-12p or 3p-6p)
Used Tack Store Support, all areas needed now
(Fri – Mon, 12-4p, other days possible)
More opportunities:
Barn/Facility Maintenance
Foster Homes, Long-Term Foster/Sanctuary Homes
Capital Campaign Support
Board Members
Fundraising/Events
Grants – Writing and Research
Volunteer, Project, and Activity Coordinators
Outreach Activities
Youth Programs
Therapy Programs
Veteran Programs
Special Projects
Admin Support
Marketing
Graphics
Social Media
Bloggers
Photographers
Media and/or Photo Librarian
More, more, more
Interested in volunteering or volunteering in other areas?
Employers Match Donations, Does Yours?
Hey volunteers!
Did you know YOU could earn grant money for AAE from your employer just by volunteering?
Many Employers offer money when their employees volunteer.  Here are a few examples:
Intel

provides a $10 grant to a nonprofit per every volunteer hour by an employee, and matches funds dollar for dollar up to $5,000 per employee or retiree.

Microsoft provides a $17 grant to a nonprofit per every hour volunteered by an employee.

Apple provides a $25 grant to a nonprofit per every volunteer hour by an employee, and matches funds dollar for dollar up to $10,000 per employee.

Verizon provides a $750 grant to a nonprofit when an employee volunteers for 50+ hours.

State Farm provides a $500 grant nonprofit when an employee volunteers for+ 40 hours.
Others top 20 matching gift and/or volunteer grant companies include
Starbucks 
CarMax
Home Depot 
JP Morgan
Chevron
Soros Fund Management 
BP (British Petroleum)
Gap Corporation
State Street Corporation 
ExxonMobil
Johnson & Johnson
Boeing
Disney
Google
Merck
Aetna
Dell
Outerwall (CoinStar and RedBox) 
ConocoPhillips
RealNetworks
Time Warner and subsidiaries
AllState
and more
Check with your employer.  You could help purchase our next load of hay!