Rascal, A Little Miracle Thanks to You
The following is from All About Equine Animal Rescue: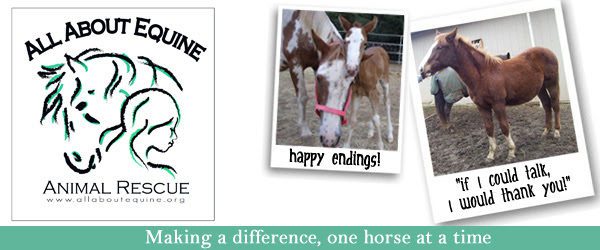 It's AAE story-time!  Horses of 2018: 
Rascal Update!
This little Rascal faced a lot of challenges from her first moments on Earth! AAE's call for help with Rascal came on April 5, 2017.  DreamCatcher Wild Horse and Burro Sanctuary was in transition after the long illness and passing of their Executive Director, Barbara Clarke, in November of 2016.  We are so happy they reached out for this little gal!
She is as special as they come.
Rascal was just hours old when her mom scaled a six foot paddock and left her behind.  She was located over five hours away, so we mobilized and met in the middle in Reno to pick her up.  She was very weak, and couldn't get up on her own, so our first stop was 
Loomis Basin Equine Medical Center
.  She was hospitalized.
The initial outlook was good until her blood values took a dive in the night.  Fortunately, by morning, she was fighting back.
As it turns out, she was fighting a severe selenium deficiency that caused white muscle disease, which also put her kidneys in distress.
This sweet little filly could not stand up on her own for the first 26 days of her life.
She'd wait patiently for a "boost".  (This pic is after 26 days, but this is how she'd wait).
Thanks to your support, the excellent care of the staff at LBEMC for 13 days of her life and 24/7 care of dedicated volunteers at AAE for another 13 days, she Rascal was finally able to STAND on her own.
Rascal had several more hurdles along the way including two bouts with c. diff  bacteria causing nasty diarrhea, a large umbilical hernia surgically repaired (after the c. diff resolved), a massive hoof abscess, and a month after hernia repair surgery, chronic diarrhea that lasted for nearly a year.  A plethora of diagnostics were done to rule out the bad guys (it was not another bout of c. diff ), a variety of feed changes, a variety of supplements, a few changes in housing and locations, and various other efforts didn't resolve the mystery or the runs.  Eventually, pasture life did.
Thanks to her umbilical hernia, she was often confused for a gelding.
This was surgically repaired.
Massive hoof abscess that rattled everyone, but we were all grateful
when it finally exposed it's ugly self.
Chronic diarrhea, blood tests, abdominal ultrasound, and a variety of diagnostics couldn't get to the "bottom" of it.
Looking gorgeous as ever, and still hiding the chronic diarrhea very well.  She had an adoption pending resolution of the diarrhea that never resolved.  Adoption fell through, but adopter fell madly in love with another cutie pie.  Rascal just wasn't ready to leave.
Today, she is healthy and thriving, and most significantly, she passes normal poop.
For Rascal (and all of us), that's reason to celebrate.
That being said, due to her history of white muscle disease, there is potential her muscles were compromised, so she is not considered a prospect for hard work (e.g. endurance, performance work, competition, or anything that might be too demanding on her systems).  Though she is very active in the herd and she runs up and down the sloped pasture at AAE, she is looking for a home where she can learn to become a casual, easy going trail horse or some other lighter activity.
Rascal is a gorgeous gal.  She loves people, is a bit spoiled, and she will need a confident handler to maintain boundaries.  She halters, leads, and is good with her feet, but can be a little impatient with the farrier.  She is ready for her own bff in her forever home.
Click here
 to learn more about selenium deficiency?
6 days until 2019, YOUR donation means more horses can be helped!  Donate Today!
'Tis the Season, time to join AAE every day this month as we share stories straight from the barn to show how your support has helped horses in 2018.   This year was very special, and there are so many stories to be thankful for!
As we count down to 2019, please help us prepare for another year of helping horses.  Your donations will assure we have ample funding for veterinary care to
help horses in need as we move into a new year.
All About Equine Animal Rescue, Inc.
2201 Francisco Drive #140-174
El Dorado Hills, CA  95762
We want to thank everyone for their love and support!
We hope you enjoy these stories as much as we do!
Have a great holiday season!
ALASKA CRUISE RAFFLE
Win a 10 Day Cruise for 2 to Alaska
(or $5000 credit toward another available itinerary)
Raffle Limited to 200 Tickets! 
$100 each
***$5,000 value***
Support AAE when you SHOP!
AmazonSmile donates to All About Equine Animal Rescue, Inc.
AAE'S QUARTERLY MEETING
AAE's Quarterly All Volunteer Meeting is an opportunity for all volunteers to come together for an update on current happenings, upcoming events, and updated volunteer needs. It's also a good time for anyone interested in getting involved to learn more about AAE. Bring family or bring anyone interested in volunteering or otherwise supporting our cause.
Saturday, January 5, 2019
El Dorado Hills Fire Department
1050 Wilson Boulevard
El Dorado Hills, CA
Doors open 6:00p; meeting starts at 6:30p
Please bring either an appetizer or dessert to share at 6:00pm, meeting to begin at 6:30pm.
Everyone is welcome to join us!
Daily Horse Care, especially pm shifts needed now
(Daily 8a-12p or 3p-6p)
Used Tack Store Support, all areas needed now
(Fri – Mon, 12-4p, other days possible)
More opportunities:
Barn/Facility Maintenance
Foster Homes, Long-Term Foster/Sanctuary Homes
Capital Campaign Support
Board Members
Fundraising/Events
Grants – Writing and Research
Volunteer, Project, and Activity Coordinators
Outreach Activities
Youth Programs
Therapy Programs
Veteran Programs
Special Projects
Admin Support
Marketing
Graphics
Social Media
Bloggers
Photographers
Media and/or Photo Librarian
More, more, more
Interested in volunteering or volunteering in other areas?
Employers Match Donations, Does Yours?
Hey volunteers!
Did you know YOU could earn grant money for AAE from your employer just by volunteering?
Many Employers offer money when their employees volunteer.  Here are a few examples:
Intel

provides a $10 grant to a nonprofit per every volunteer hour by an employee, and matches funds dollar for dollar up to $5,000 per employee or retiree.

Microsoft provides a $17 grant to a nonprofit per every hour volunteered by an employee.

Apple provides a $25 grant to a nonprofit per every volunteer hour by an employee, and matches funds dollar for dollar up to $10,000 per employee.

Verizon provides a $750 grant to a nonprofit when an employee volunteers for 50+ hours.

State Farm provides a $500 grant nonprofit when an employee volunteers for+ 40 hours.
Others top 20 matching gift and/or volunteer grant companies include
Starbucks 
CarMax
Home Depot 
JP Morgan
Chevron
Soros Fund Management 
BP (British Petroleum)
Gap Corporation
State Street Corporation 
ExxonMobil
Johnson & Johnson
Boeing
Disney
Google
Merck
Aetna
Dell
Outerwall (CoinStar and RedBox) 
ConocoPhillips
RealNetworks
Time Warner and subsidiaries
AllState
and more
Check with your employer.  You could help purchase our next load of hay!