Our Hearts Are Heavy, Again…and Again
The following is from All About Equine Animal Rescue: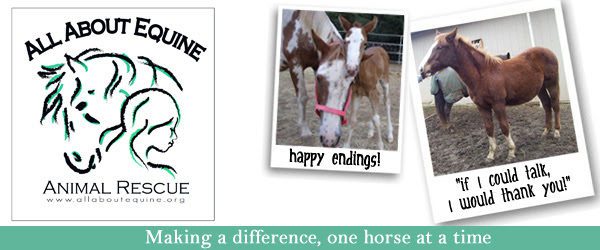 Calico Girl!
"You gain strength, courage, and confidence by every experience in which you really stop to look fear in the face. You must do the thing which you think you cannot do." – Eleanor Roosevelt. Strength, courage, and confidence defined Calico Girl.  This brave filly stood strong one last time after suffering a catastrophic injury late yesterday afternoon. Although we're not sure how it happened, the herd had been frolicking in the pasture, and we're guessing she took an awkward fall on slippery ground.  She fractured the head of her right femur beyond repair.  There were no options for her but to ease her pain.
Calico Girl came to AAE with her mom, Gypsy, in April 2018.  They traveled the road from She was just weeks old. She was an incredibly confident and proud little gal.  Her every move was bold and brave.  Calico Girl protected her mom from the fierce humans at AAE in the cutest way.  She'd stand tall and proud, the half-pint she was, and give a look that said "Stay back Mom, I got this".  Really, it took her a long time to trust humans, even though she met them very early on.  She wanted, but resisted in such a sassy way.
Really, she was a clone of her mom.  She looked, she acted, she oozed of Gypsy.  Ironically, Calico Girl came to AAE DreamCatchers Wild Horse and Burro Sanctuary for safety from the harsh winter elements.  These things aren't supposed to happen here, and not to such a young life. Calico Girl has so much love and life to give.
Only recently was she really letting go and proudly enjoying human interaction.  Today, we'll all grieve for what could have been, an exceptional, athletic, bold and brave life…that will never be.  How?  Why?  We'll never know.  We only know this sweet girl was loved by many and will be missed by more.
Many of you know our horses that arrive without a name are given Country artist inspired names.  Calico Girl's name didn't follow that tradition.  There's a reason.  Cali's mom, Gypsy, was adopted from the Broken Arrow (aka Indian Lakes) holding facility in Fallon, Nevada, in May of 2010 and placed at DreamCatchers to live out her life as a mustang.  Gypsy had lived in Warm Springs Canyon, one of five Herd Management Areas in the Calico Mountains of Nevada, collectivey called the Calico Complex.  In late 2009/early 2019,  BLM captured 1,922 horses in "the Calico Gather".  Because we learned of Gypsy's history (thank you, Maya), and she had to leave DreamCatchers, we wanted baby's name to be special.  Gypsy's adopter, Elyse, decided "her name is "Calico Girl" in honor of, and to help us all/her future people all know and remember the wild horses. She is a proud descendant of hearty, lovely horses."
Run free, bold and beautiful girl. You weren't supposed to leave us so soon!
We'll miss you, Cali Girl.  You will be remembered in our hearts, youngest one.
Another special friend to remember!
Many of you have followed our version of "Where's Waldo?".  Cupcake was AAE's version of where ever you are, there she was.  Cupcake came to AAE back in 2008, before AAE was AAE…before horses…before just about anything else.  She was about 3 or 4, and one of three goats that brought life to a dead pasture and new life to a once shuttered barn.
Cupcake had her castle in "The Farm".  She'd sit upon her throne, with a vision of a tilted crown on her head.  She was royalty around AAE.  She had a sore under her tail that persisted, and back in late 2017, it was biopsied.  Sadly, it was a squamous cell carcinoma.  It was between her rectum and vulva, in an area it could not easily be removed.  It was likely to progress rapidly.  Cupcake was not phased by the big "C".  She was happy, healthy, and had a never ending appetite.  Right about this time, she became an escape artist.  She loved people.  She loved food.  She loved to visit the barn at feeding time and eat everyone's food.  Since her days were numbered, the only thing to do was to name her Queen of the barn and give her authority to do anything and everything she wanted, without limits.
Well, maybe a few. Cupcake quickly became a curiosity.  She was dog-like.  She loved grooming.  She loved people.  She loved people food.  What could it hurt?
You'd think a big belly ache would follow a bucket like that, right?  Funny girl.  She grazed, she tasted, she was satisfied.  Cupcake was as sweet as her name, and she would eat anything, even cupcakes.  Day went by.  Weeks went by.  Months went by.  The "sore" grew, and grew, and time passed.   As the sore grew, the question of the day, often silent and often spoken, was "How is Cupcake today?"  Quality of life was number one.  As long as she was happy, otherwise healthy, with a good appetite….for food and life, all was good.  As long as she visited the at feeding time (am and pm), all was good.
Cupcake was everywhere, and she'd help herself to whatever was served to her….or she looked like it was served for her, good or bad.  In time, she'd wander down to the barn and join a circle of friends as if she was participating in the conversation.  Over the last few months she forged a special friendship with a new volunteer, Marina.  It started with just a "bite", and became a routine, it seemed a daily offering, not only from Marina, but from all the volunteers.  Popcorn, Doritos, Sun Chips….all kinds of human foods, bought specially for Cupcake.  Bags of chips had her name.
This sore became an eyesore.  It was ugly, it was all "C".  Yet, this gal remained unphased for nearly a year.  It grew, as did our love for her, this amazing lil' goat.  She ate, she wandered, she visited the barn regularly.  She never missed a meal.  Sadly, the day came a few weeks ago when she pottied and she strained.  Damn!  A few days later, it happened again.  Quality of life was number one.  The day had come.  The dreaded call was made, and "the" appointment was set with several days for everyone to say good bye to this special girl, with the promise we'd make a special trip to ease any pain.
Cupcake never skipped a beat until that very day.  On her day, she was ready.  She didn't visit the barn.  How blessed could we be that she chose the same day.
Wander and eat to your hearts content, sweetest one.
You're brush is here any time you'd like to visit.
We'll miss you, Cali Girl.  You will be remembered in our hearts, youngest one.
Daily Horse Care, especially pm shifts needed now
(Daily 8a-12p or 3p-6p)
Used Tack Store Support, all areas needed now
(Fri – Mon, 12-4p, other days possible)
More opportunities:
Barn/Facility Maintenance
Foster Homes, Long-Term Foster/Sanctuary Homes
Capital Campaign Support
Board Members
Fundraising/Events
Grants – Writing and Research
Volunteer, Project, and Activity Coordinators
Outreach Activities
Youth Programs
Therapy Programs
Veteran Programs
Special Projects
Admin Support
Marketing
Graphics
Social Media
Bloggers
Photographers
Media and/or Photo Librarian
More, more, more
Interested in volunteering or volunteering in other areas?
Employers Match Donations, Does Yours?
Hey volunteers!
Did you know YOU could earn grant money for AAE from your employer just by volunteering?
Many Employers offer money when their employees volunteer.  Here are a few examples:
Intel

provides a $10 grant to a nonprofit per every volunteer hour by an employee, and matches funds dollar for dollar up to $5,000 per employee or retiree.

Microsoft provides a $17 grant to a nonprofit per every hour volunteered by an employee.

Apple provides a $25 grant to a nonprofit per every volunteer hour by an employee, and matches funds dollar for dollar up to $10,000 per employee.

Verizon provides a $750 grant to a nonprofit when an employee volunteers for 50+ hours.

State Farm provides a $500 grant nonprofit when an employee volunteers for+ 40 hours.
Others top 20 matching gift and/or volunteer grant companies include
Starbucks 
CarMax
Home Depot 
JP Morgan
Chevron
Soros Fund Management 
BP (British Petroleum)
Gap Corporation
State Street Corporation 
ExxonMobil
Johnson & Johnson
Boeing
Disney
Google
Merck
Aetna
Dell
Outerwall (CoinStar and RedBox) 
ConocoPhillips
RealNetworks
Time Warner and subsidiaries
AllState
and more
Check with your employer.  You could help purchase our next load of hay!