Orphan Foal Season Prep at Chilly Pepper-Miracle Mustang
Our friends at Chilly Pepper – Miracle Mustang Equine Rescue are preparing for the orphan foal season. If you've ever wondered what it takes to be a rescue that specializes in critical, injured, neonatal or orphaned foals, read the excerpt from their newsletter and see where your contributions go: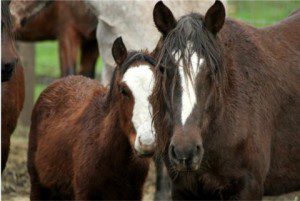 As we prepare for the upcoming orphan foal season, I wanted to share with y'all what is happening. As far as the financials go, here are some of the places your donations are going: (Bless your generous and beautiful hearts)
Monthly board for the 40+ wild horses is $1000.
"Our" portion of the total hay bill is $2100 per month
So the total monthly bill "just for feed and board" is at $3100
The other $4000 being spent on hay is being generously donated by the amazing folks at WIN. She donates the $4000 every single month.
ALL of the wild ones need their hoofers done, and this will be approximately $750 for the use of the facility and the trims.
For shots and worming it will be approximately $50 per horse, which will be $2,000 +