On November 22nd, of 2021, I posted, on my MEREDITH HODGES PUBLIC FIGURE Facebook page, information about how to maintain your tack and equipment, and how to keep a neat and tidy tack room. There were a lot of comments about it and many people indicated that they thought it would be easy if you had the staff that I have.
Just for the record, when it comes to my equines and their tack and equipment, I do most of the work myself. My TWO guys do clean the stalls and runs daily, and the larger dirt pens weekly when the animals are overnighted there, and they do feed in the mornings, midday and evenings. TWO of my girls take care of the inside and external cleaning of the multiple buildings that we have, and they condition the tack and equipment as needed, but mostly every three months because we clean things as we use them.
My THIRD girl assists me in the office checking the website and Social Media connections, making Social Media posts (with the exception of Facebook that I do myself), editing articles, advertising and the newsletter, fulfilling orders and MUCH more. TWO of the girls and I film and take photos of EVERYTHING we do so we have material for our posts, articles, video Training Tips and Documentaries. We put these together with our TWO remote videographers and we have ONE remote graphics artist that also assists with publications. Our JASPER MASCOT also doubles as a website tech person. So, we have a VERY SMALL staff to cover all the work that we do. We are prompt in doing what we do because we want to provide all of you the information that you need to have the same success with your equines that we have with ours. In this post, I will address how I efficiently keep all 17 of my equines clean and healthy.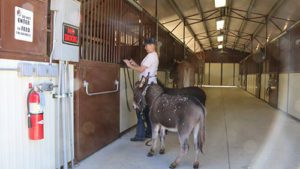 I find that when you have a regular weekly grooming routine along with good environment cleaning practices, the animals do not seem to get as dirty as they would otherwise. Spring is obviously the most intensive time of the year because of mud and shedding, but during other times of the year, grooming can go quickly. During the summer months, they have short hair coats and will only need to have bridle paths trimmed, faces, ears and nostril cleaned, Johnson's Baby oil in the manes and tails, Neosporin for any cuts and scratches, and a quick go-over with the Dandy brush. Since I keep them barefoot with regular trims every 6-8 weeks, they rarely need their feet cleaned. I carry the grooming tools in a bucket and visit them wherever they happen to be, either in their stalls or in turnout. Because they are all taught the same manners, they come to me and line up for their turn wherever they are.
We have had good weather this fall, but with the lack of moisture, they are all pretty dusty. Since we are using my Tack Barn as an art studio and getting the BELLE, JASPER, MOXIE & KYLIE bronzes ready to be cast for their placement in our newest project, the OLDE WESTERN TOWN OF ASSPEN here at the ranch, I opted to vacuum everyone in the alleyway of the barn.
The first thing I did was to have them exit their stalls and be tied in the alleyway. I brought in Augie, Spuds and Billy from their barn and added them to the eight mules from the South Barn. As I retrieve them, I ALWAYS open the door, ask them to come to me, reward them and then put on their halter. They learn to stand quietly and will not exit the stall until I give them permission to do so.
So I can be hands-free with the halter, I will often allow them to eat their reward directly from the fanny pack of crimped oats that I ALWAYS wear around my waist. If they get pushy, I will say, "NO!" and put my hand up like a stop sign and ask them to back off. If that doesn't work, a quick slap to the side of their mouth after they have been asked does work. Consistency in MY behavior is key!
They have all been introduced to the vacuum cleaner and stand quietly while I go from one to the next. If they start picking at each other, I just holler the name of the perpetrator and say "NO!" VERY LOUDLY! They always stop because they know the next thing is a pop on the rump from me!
I am always aware of each animal, but I do not "move over" for them. I ask them to "move over" for ME. Then they are rewarded with crimped oats. Once they learn, for instance, that I need to return the vacuum to its spot, and that they will all get rewarded for standing quietly, they give me my space as I work around them, even during rolling up the extension cords!
Since I have so many animals, I do have to refill the fanny pack often, so I keep a full bucket available in a convenient spot for refills. Once they are all vacuumed, I ten move down the line and wipe everyone's faces. They get their eyes, ears and noses cleaned thoroughly. They quickly learn to accept the process and then I reward them once they are all done. When I do them individually before riding, I will reward each immediately after each task. When they are all together, they will behave better when they have to wait to be rewarded when they are ALL done with each task. Then I go down the line and sprinkle Johnson's baby oil in all their manes and tails and reward their good behavior when that is all done.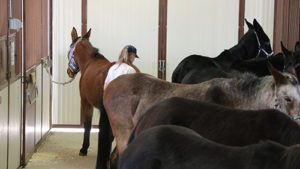 My 28 year old mule, Merlin, poked his eye on a tree branch when he was a yearling. I opted not to have his eye removed, so we have been treating it for 27 years. We keep him in a fly mask all the time to keep the dirt and debris from irritating it. Twice a day face wiping keeps it sanitary and it is easy enough to do at feeding time. We just carry a wet rag with us when we see him.
When they are all done, I lead them back to their stall, send them in while I stay at the door and ask them to turn back to me for their reward. As they chew their reward, I remove the halter and bid them a fond farewell!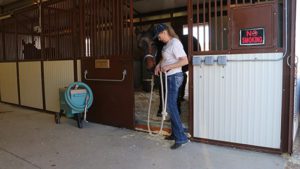 With the 11 mules and mini donkeys finished in the South Barn, I next go to the North Barn to repeat the process with the remaining six animals, two Large Standard Donkeys (Wrangler & Chasity), a miniature mule (Francis), a miniature horse (Mirage) and two saddle mules (Jubilee & Brandy).
Again, I ask them to come to ME, give them their reward and then halter them as the chew. They are all happy to stand still until I tell them they can walk out the door.
I repeat the whole process with the vacuum cleaner and again, they have all been trained to accept it, so they stand quietly and happily. I do believe that they really DO enjoy being cleaned…even if they do go back and roll almost immediately…LOL!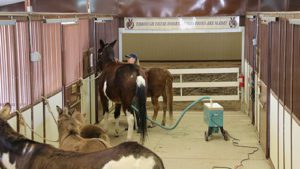 Then comes the face-wiping followed by the Johnson's Baby oil in the manes and tails. I do not cut their bridle paths in the winter. It gets very cold here and I don't want them to lose heat from their bodies.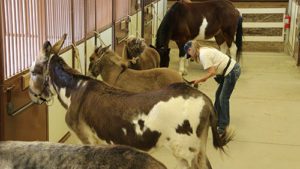 Then it is time for them to be returned to their stalls. I have two rescues (re-trains) in this group and they watch intently as the old troopers enter their stalls and behave impeccably!
When Chasity was returned to her stall, I asked her to walk through the narrow space between my truck and the wall of the barn. My assistant was filming from the bed of the truck and as I said earlier, we do not move over for them! Chasity walked quietly through the narrow space, did not rush or push me, but followed obediently. She was sent into her stall, turned around and got her reward. Then, it was Wrangler's turn.
Francis is a mini mule that I got 10 years ago and to this day, she is still suspicious of humans, but is learning to trust. She can be fully groomed in her stall with no halter, but she can become quite a handful when outside the stall. Her natural reaction is to bolt and run any time she get the chance. When I return her to her stall, I set her up for success by looping the end of her lead rope around the stall bar so if she does bolt, she won't be able to pull the lead rope from my hand and will be forced to turn around and face me. She didn't even try to bolt this time, kept the rope loose and returned to me for her reward. Then I went and got Mirage, our 26-year-old miniature horse, and returned him to his stall. The grooming of all 17 animals only took me 2 hours! Organized practices and teaching good manners makes all the difference!