Forever In Our Hearts, Beau
The following is from All About Equine Animal Rescue: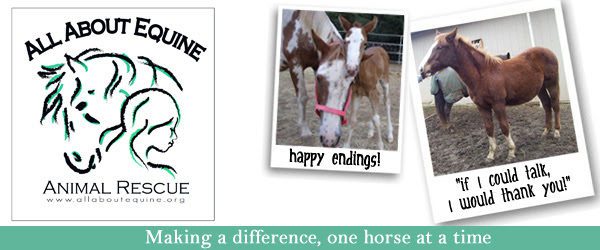 Ol' Beau, Forever in Our Hearts!
Oh, Ol' Beau, you'll be forever in our hearts!  Yesterday, we helped Beau across the Rainbow Bridge after he experienced a very painful colic.  Pain meds were only able to fend of pain for a short period; fortunately, long enough that he was examined and transported to
LBEMC
for further evaluation.  He was diagnosed with a strangulating intestine, likely from a fatty tumor (lipoma) that wrapped around part of his intestine causing a blockage and cutting off the blood supply.
Sadly, due to the pain, surgery was the only option, but it was not a good option for several reasons (e.g. his age, arthritic hips, blood results, stress, etc.).  It is always hard to make "that" decision; but it seems it was the best choice under the circumstances.
Our ol' guy is no longer in pain, running free…
Beau was just shy of his 29th birthday, a beautiful Arab and Arab through and through.He loved attention, but really seemed to expect attention (in a funny way).  Love on him all you want, but don't expect any in return, LOL.  He wasn't the affectionate type, usually.  On occasion, he'd slip and forget life was all about him.  Ok, that's all funny stuff.  With the exception of anxious moments when his neighboring buddy was moved, Beau was one of the more dependable, go to horses around here.  He'd stand quietly when attended to.  He enjoyed being loved on.  That was gift enough, knowing you'd made his day a better one.  Knowing he'd enjoyed your offerings….a brush and hoof pick or just a "Hi Beau".
I know I will miss just that, being able to send him a "Hi Beau-Beau" across the arena.
Though we have so many happy horses and forever home stories, these are the most difficult, yet still important stories to share.  Every horse is important, even the old ones.
They seem to be the most easily forgotten, tossed aside, and left behind.
Thankfully, before coming to AAE, Beau was much loved by his family, but the family situation was changing, and his owner could no longer physically provide his care.
Fortunately, we were able to welcome him at AAE.  Sadly, he wasn't able to find his own person to share his golden years, but fortunately, he found his way into the hearts of so many AAE volunteers, and he found lots of love and adoration.
We'll miss you, Beau.  Don't forget all of your AAE pals, we won't forget you.
Daily Horse Care, especially pm shifts needed now
(Daily 8a-12p or 3p-6p)
Used Tack Store Support, all areas needed now
(Fri – Mon, 12-4p, other days possible)
More opportunities:
Barn/Facility Maintenance
Foster Homes, Long-Term Foster/Sanctuary Homes
Capital Campaign Support
Board Members
Fundraising/Events
Grants – Writing and Research
Volunteer, Project, and Activity Coordinators
Outreach Activities
Youth Programs
Therapy Programs
Veteran Programs
Special Projects
Admin Support
Marketing
Graphics
Social Media
Bloggers
Photographers
Media and/or Photo Librarian
More, more, more
Interested in volunteering or volunteering in other areas?
Employers Match Donations, Does Yours?
Hey volunteers!
Did you know YOU could earn grant money for AAE from your employer just by volunteering?
Many Employers offer money when their employees volunteer.  Here are a few examples:
Intel

provides a $10 grant to a nonprofit per every volunteer hour by an employee, and matches funds dollar for dollar up to $5,000 per employee or retiree.

Microsoft provides a $17 grant to a nonprofit per every hour volunteered by an employee.

Apple provides a $25 grant to a nonprofit per every volunteer hour by an employee, and matches funds dollar for dollar up to $10,000 per employee.

Verizon provides a $750 grant to a nonprofit when an employee volunteers for 50+ hours.

State Farm provides a $500 grant nonprofit when an employee volunteers for+ 40 hours.
Others top 20 matching gift and/or volunteer grant companies include
Starbucks 
CarMax
Home Depot 
JP Morgan
Chevron
Soros Fund Management 
BP (British Petroleum)
Gap Corporation
State Street Corporation 
ExxonMobil
Johnson & Johnson
Boeing
Disney
Google
Merck
Aetna
Dell
Outerwall (CoinStar and RedBox) 
ConocoPhillips
RealNetworks
Time Warner and subsidiaries
AllState
and more
Check with your employer.  You could help purchase our next load of hay!