The following is from All About Equine Animal Rescue:
As we count down to 2021, join us every day this month as we share stories from the barn that show how your support has helped horses in 2020.
With the uncertainties and challenges of this year, we truly appreciate your generosity and support.
BLUE UPDATE
Remember this guy? Blue came to AAE from Nevada in March of 2017 after a request for assistance from the Virginia Range Wild Horse Sanctuary and Hidden Valley Wild Horse Protection Fund. Blue had been carrying around a large mass of proud flesh (granulation tissue) over his left rear fetlock/pastern area for some time. Although he had been haltered and handled some previously, he was not halterable when he arrived at AAE. We knew we had a big job ahead in helping Blue.
Before we could evaluate the mass, he had to be gentled and easily halterable, and his legs/hooves had to be readily handlable for frequent bandage changes after surgery. With a straightforward mustang, not a big deal, but Blue had some substantial fear/trust issues. Initial efforts with befriending and haltering him were lukewarm. Thanks to Dr. Stolba and Team LBEMC (throughout Blue's journey), he had made enough progress that we were able to sedate him, radiograph the bony area beneath the mass, and collect tissue samples for biopsy. We wanted to make sure there was not an underlying reason for the mass before getting too deep into corrective measures if they would be for naught. It was not an easy feat. Even with heavy sedation, he kicked quickly and with purpose.
Radiographs and biopsy detected no obvious issues, so the work continued. Weeks in, Blue seemed to have had a reaction to something and developed a mysterious condition that turned out to be a form of vasculitis. He developed sores/ulcers throughout his entire mouth. The first layer of tissue pulled off with any type of pressure. They were horribly painful. Though his history and symptoms didn't suggest, we had to quarantine him and test him for vesicular stomatitis. Thankfully, it was negative. We scaled back our efforts to reduce his stress and allow him to heal.  But, the mass was growing and oozing, and flies and yellow jackets swarmed the oozy mass.
After several weeks, he improved, and we resumed course. He would take a few steps forward, then a couple steps back. Finally, after many weeks with nominal results, we had a marathon day. We worked until we broke through. Six hours, he accepted handling and touching all over, and we practiced bandaging and removing bandage, over and over. The next day, our learning curve was much shorter, and the next and the next, until finally, we could halter, touch all over, and pick up his left hind and handle it all over. We practiced with big, bulky bandaging materials again, wrapped it up, and he was a gem!
We scheduled surgery, and in late August 2017, he lost nearly seven pounds in a matter of minutes. The mass had a narrow base and truly looked like a big brain. It weighed in at nearly seven pounds. Imagine what that must have felt like with every move. Needless to say, it was done!
However, the mouth lesions returned. There were more, and they were worse this time. They were on his body, around his anus, and on his sheath. Poor guy, these things were awful, and they appeared to be an autoimmune issue. At one point, we questioned his prognosis and quality of life, but before jumping to conclusions, we biopsied the tissue. We ended up with the vasculitis diagnosis. The best thing was, we changed up his meds, and the sores began to heal. The area where the mass was removed was beginning to heal.  In the meantime, the next test came when it was time to change his first bandage. With a bit of sedation, it went fairly smooth, but cleaning the lesion was a little challenging. But, wow, it looked amazing! Such a tremendous improvement. It was like a victory in and of itself, even though not healed.
Healing progressed nicely. After several bandage changes, Blue was getting resentful of the needle for sedation, so we tried without. It went well with cleaning a few times, until he didn't like it when placing the medicated bandage over the lesion. It seems he was healing, and he could feel the area again. He stomped the bandage off, over and over. The stomp was a little intimidating, but really, he was only trying to get the "big white bug" off his leg. He didn't kick out or kick at. His stomp was purposeful in knocking the bandage off his leg. Unfortunately, we couldn't keep the bandage on, so we had to go back to sedation for a bit. Eventually, we could remove the bandage, clean the lesion, and replace the bandage without issue, without sedation, thankfully. Healing continued.
By November 2017, the lesion was almost healed, but there was a small area where the tissue was changing, so it was trimmed by vet. By January 2018, the lesion had nearly healed again.  Blue made tremendous progress.  However, as the months went on, the small area persisted and started to grow again.  We lasered the area and biopsied for a third time, and this time the biopsy revealed a sarcoid. They are persistent little buggers!!!
​We tried some different medication over the months, but nothing resulted in complete healing, and by Fall, we decided to laser again; however, by November 2018, the sarcoid was growing, it was removed, and another course of treatment began with new medications. Blue stood quietly for bandage changes every two to three days.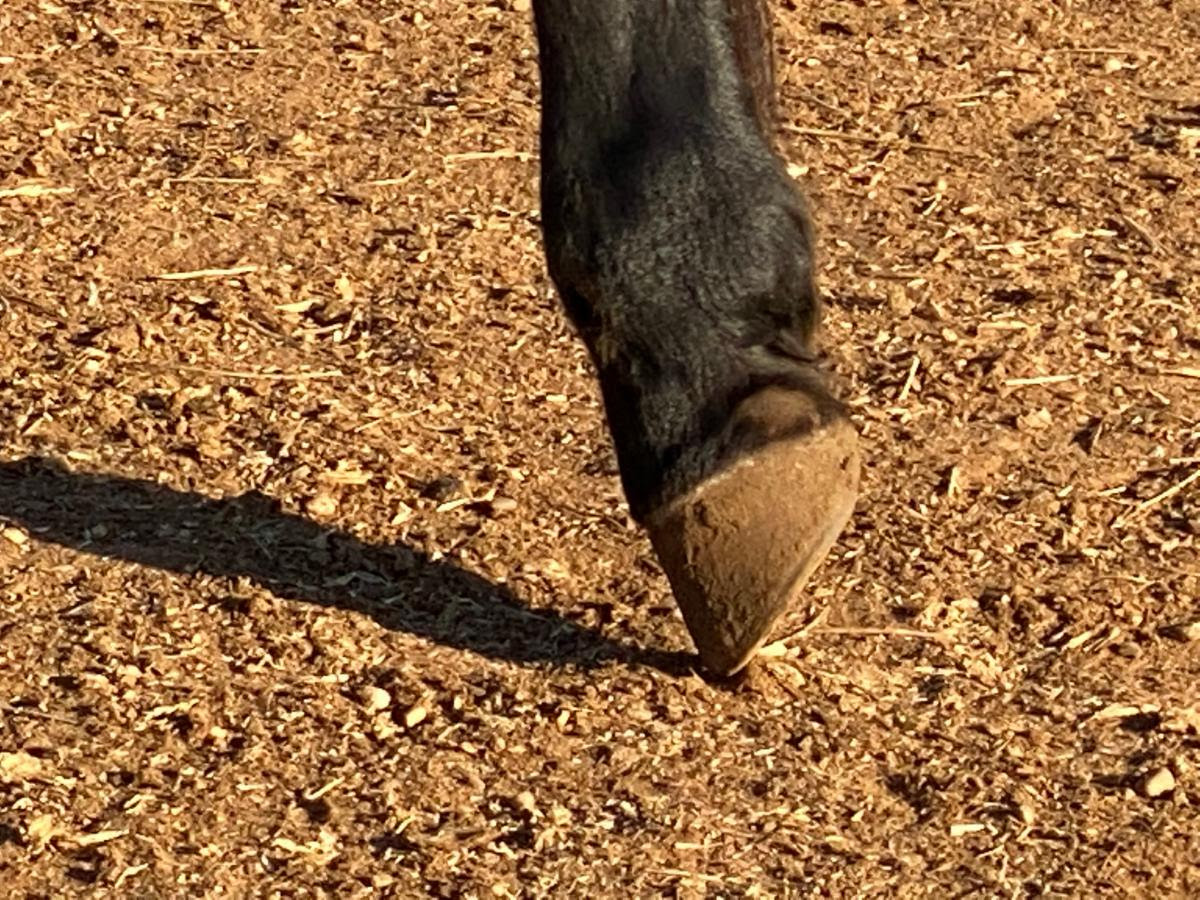 As of mid-February 2019, Blue's lesion appears to have healed, we continued applying an anti-viral cream daily for several weeks, maybe months. So far, so good. The lesion is scarred (about a silver dollar-sized area with no hair growth), and his fetlock remains enlarged from lymphatic scarring. He's sound, just a bit awkward looking above his hoof.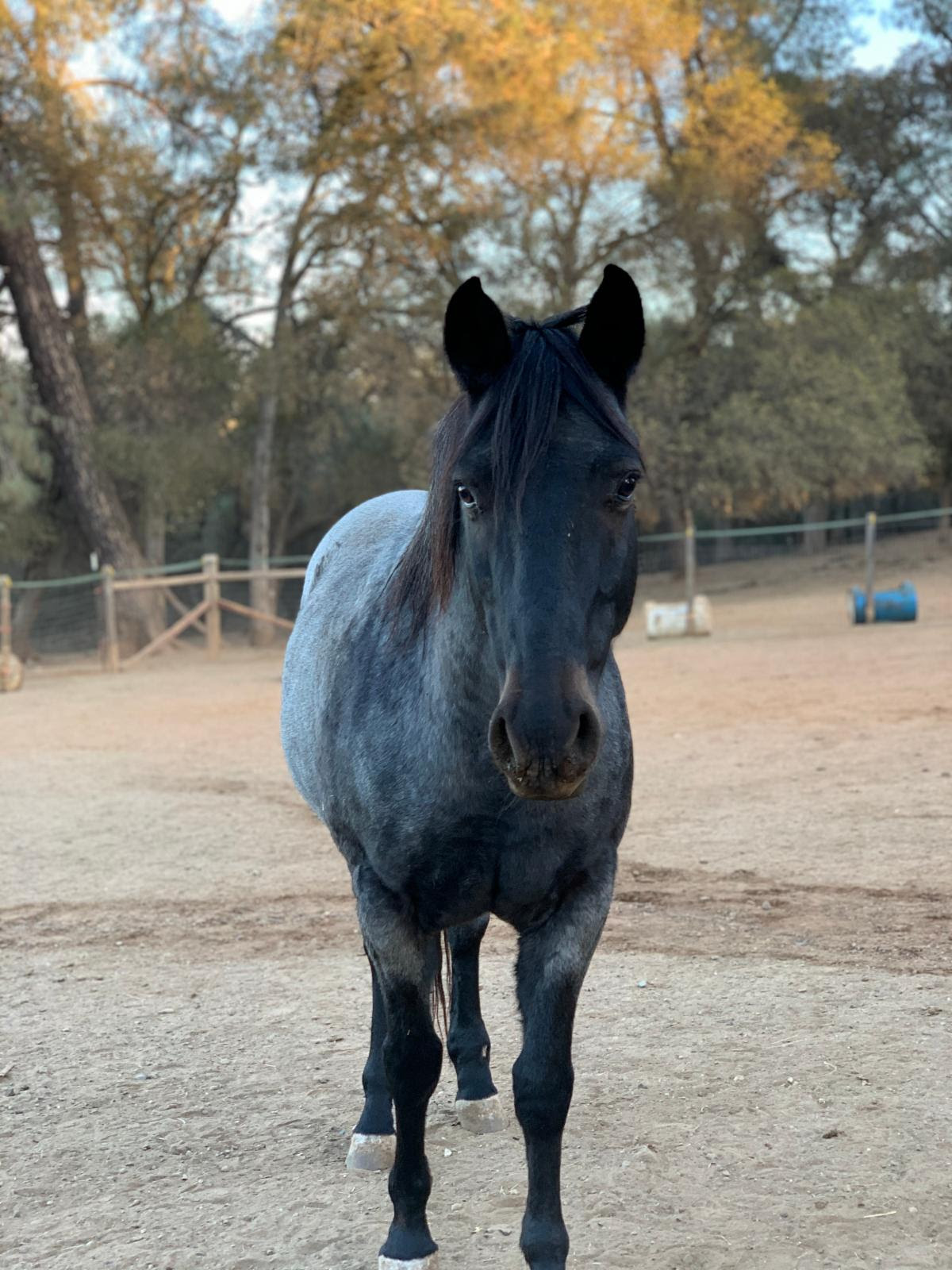 Blue's healthy, happy, and in much better shape than when he arrived. He continues to have challenges with trust, mostly when introducing new things, but he continues to show progress, one baby step at a time. He loves his carrots, and he will respectfully do almost anything for a bite of carrot.  He also enjoys being "Uncle Blue" to the youngsters, a job he does well!
​Like we have said before, Blue's story is not an uncommon story in terms of the hurdles we cross with any intake with special needs. We have unexpected bumps in the road that required more than anticipated. For Blue, it was the bouts of vasculitis and later, the discovery of the sarcoid. For some, it's colic; for others, abscesses, lacerations from tree branches or scuffles with others. We can't plan for these things, but need the resources to handle them when confronted. We are grateful to have had the support of our AAE community to assure we can manage most any unexpected issue along the way.
Blue is available for adoption only to the perfect, forever home. He needs a person that is mustang-experienced, extremely patient, and has no expectations other than companionship and providing a safe, caring home. Keep in mind, he lived on the open range for years, and he does not enjoy confinement. At AAE, he lives in a herd environment on about 10 acres. He comes in every morning and every evening at feeding time. He is somewhat social, but still skeptical of humans. Given the choice, he'd prefer a free-roaming life with occasional visit to two-leggers. Blue gives his feet for cleaning, and he is ok with the farrier when trimmed in a small paddock. Blue has learned very basic groundwork. He is always looking for Plan B, an escape. He can be touched and handled all over, but continues to have a difficult time relaxing and enjoying. He's pretty good with his hooves, but the front right is still an effort. His leg is checked regularly for any recurrence of his sarcoid. Fortunately, we are still sarcoid free, and his scar is about the size of a quarter. Blue needs much more confidence before considering saddle training, and he will likely be a very long term project. Continuity and consistency will be key in building his confidence and advancing his skills. Blue is current with hoof and dental care, vaccines, and deworming. He has a microchip.
Thank you for your support helping horses each and every day!
Your donations, volunteering, adopting, and social media shares & likes allow us to make this work possible!
Give the gift that keeps on giving by sponsoring a horse on behalf of a horse-loving friend or family member!
As a sponsor, your annual or monthly contribution helps support the costs of care for a specific horse.
You can sponsor at any level or any amount you choose. You will receive an electronic "gift letter" with a photo of an AAE horse, acknowledging your gift on behalf of your recipient.
Choose a horse to sponsor today!
Patriotic Mustang T-Shirts
Horse fans will love this shirt!
The Patriotic US Flag/Mustang image on front and Mustang is My Favorite Breed (or Rescue is My Favorite Breed) in white on back. Available in Black, Ash Gray, Navy, and Brown.
Orders may be picked up at the AAE Used Tack Store in Shingle Springs or
shipped for an additional cost.
Stop by the AAE Used Tack Store to find the perfect gift for the horse lover in your life! Don't know what they need? We have gift cards, too!
Here are more ways you can help!
Doing any winter cleaning? Donate your gently used tack to AAE's Used Tack Store in Shingle Springs. We very much appreciate tack donations delivered to the store in sale ready condition (e.g. clean, conditioned, oiled). Please email tack@allaboutequine.org for information about donating or to schedule a delivery.
Proceeds from used tack sales help pay for feed, veterinary expenses, and other operational needs.
Have you considered adopting a rescue horse?
If you are interested in adopting one of our beautiful animals, please take time to complete AAE's