4-14-20
Selecting the right tack for your Longears is essential to success. I rigged a cob-sized English bridle for Chasity with a pony Eggbutt snaffle bit (4 ½-inch), an over-sized Warmblood brow band to accommodate her wider forehead and not pinch her ears, and normal nose band with an "O" ring installed underneath with a lead rope attached. The "Elbow Pull" is the correct length and is put in place over the crown piece of the bridle and wrapped with a halter fleece to prevent rubbing on her poll. She will begin her postural core strength leading exercises to correct her unbalanced posture, her lordosis (sway back) and the enlarged fat roll across her neck.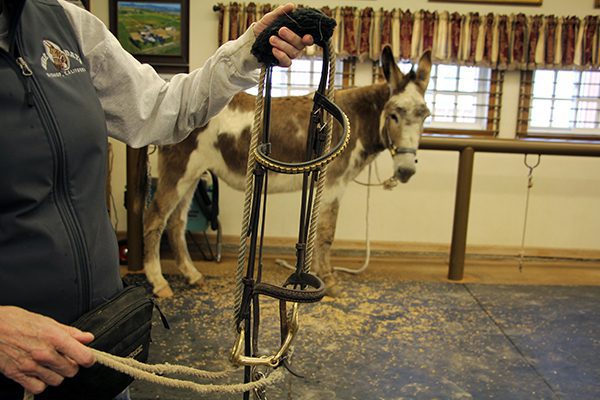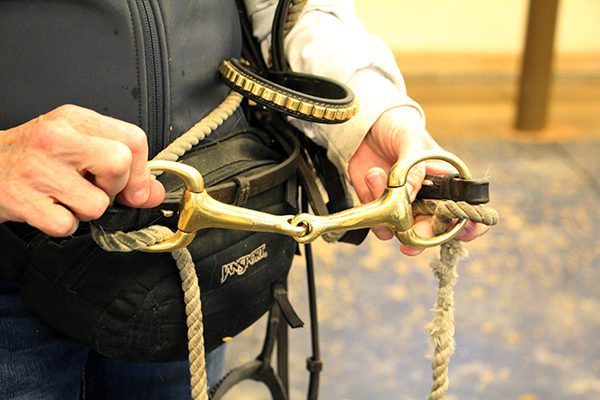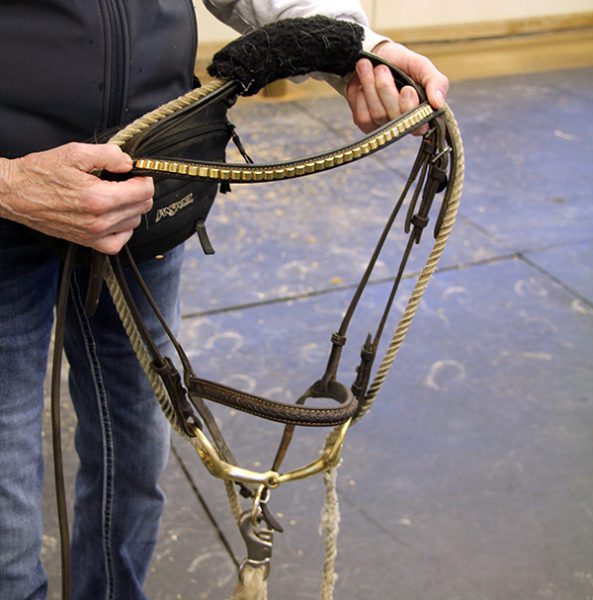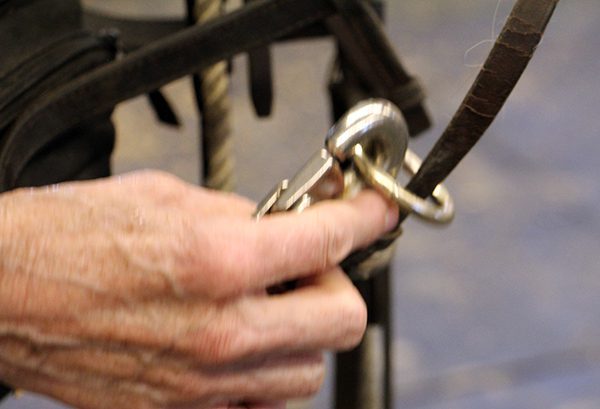 When first putting on the light-weight surcingle, I loosely tighten the girth at first to allow her to get used to the pressure around her middle.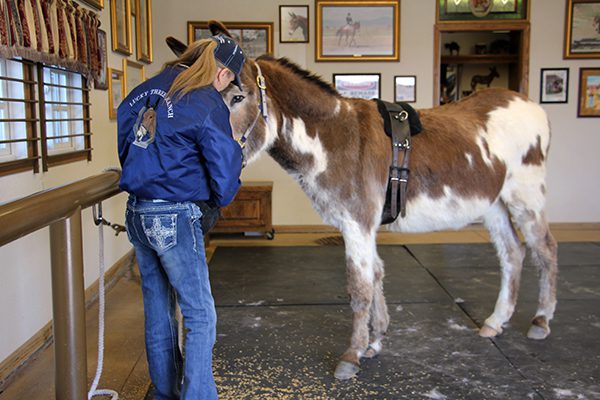 Then, of course, a reward for standing still is in order and very much appreciated. And it's always nice to receive a loving donkey head-hug!
After this appropriate show of affection, I politely ask her if she is ready to accept the bridle. Chasity truly appreciates my consideration for her.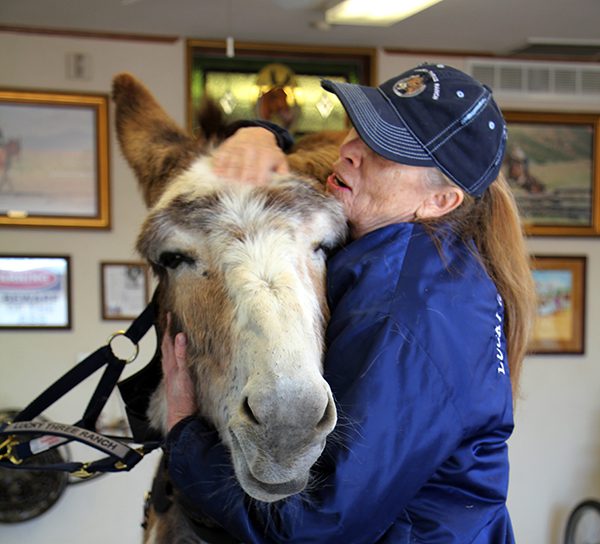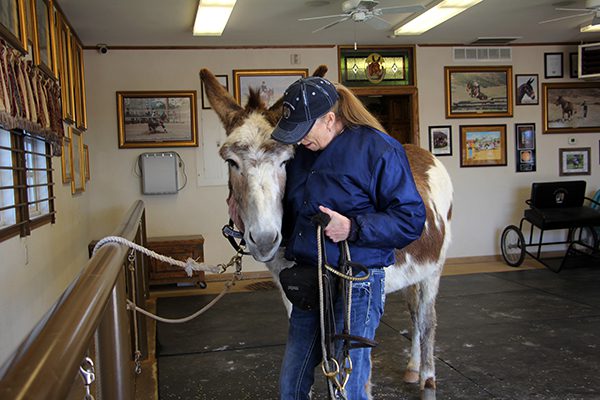 When I put on the bridle, I make sure that her ears are protected as I pull the crown piece over her ears by covering them with the palm of my hand. Then, when it is in place, I just pull my hand away from it's position. I center the "O" ring and lead rope underneath her chin and snugly tighten the nose band.
With Chasity's enlarged neck, I felt it would be beneficial to use a neck sweat to help to shrink the fatty deposits along her crest during her workout. I then took up more slack on the surcingle girth and loosely adjusted the "Elbow Pull" on the right side.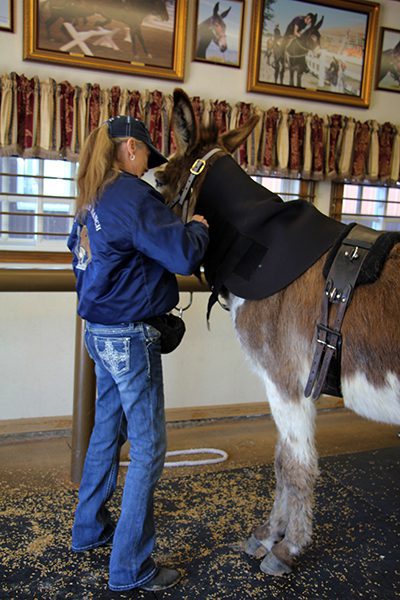 Next, I went around to the left side to adjust the tension on the "Elbow Pull." Next, I went to the front, straightened her head in alignment with her spine, and checked to make sure that she could not raise her head high enough to invert her neck and back. It is tight enough to encourage her to use her abs, and raise her back. This positively affects her sloppy tendency to relax her sway back and will bring it into proper posture.
Now we are prepared to begin work in the Hourglass Pattern in the indoor arena. We begin to walk in sync.
After the workout, we go back to the designated work station to untack. I carefully remove her bridle, sliding it over her ears with one pass, lifting it upward as it goes over the ears. Then I remove the surcingle and neck sweat, and give her a generous reward for her cooperation.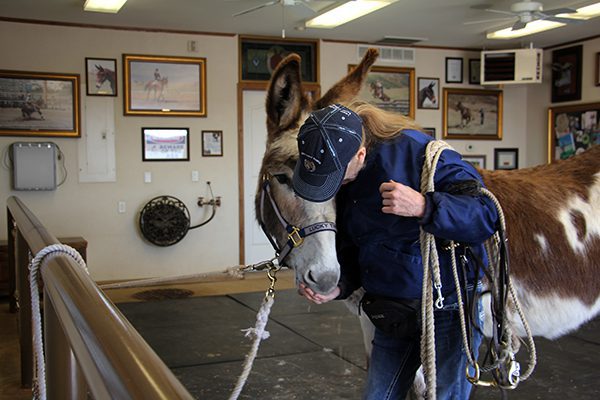 The next step is to take the tack into the tack room, wipe it down and wash the bit before hanging it back up on the wall. Taking care of your tack and equipment in this manner prevents dirt build-up, chafing on the animal and weakened tack and equipment. Then, once a month, we spend time in the tack room going over all of the tack and equipment with Leathernew™  to keep it all in good condition. The cabinets where we store harness is lined with cedar to prevent mold and mildew. Once everything is back in place, I return Chasity to her stall and run. When your tack and equipment fits properly and is appropriate for the activity, it promotes success and enhances your experience together!