Big Day of Giving Starts at Midnight!
The following is from All About Equine Animal Rescue: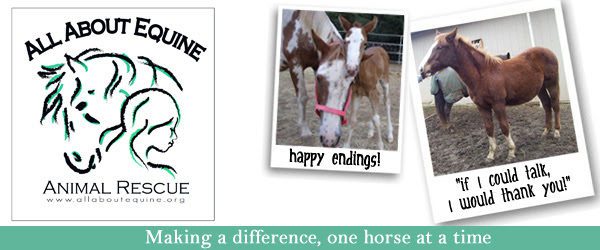 Starting midnight tonight, we are asking you to participate in another huge and historic event for our region, the BIG Day of Giving.  This event starts at midnight and you have 24 hours to join us. Once this starts, All About Equine Animal Rescue, Inc. (AAE) will join with over 600 other nonprofits working to make our region #1 as the most generous community in the country on this national day of giving!
As many of you know, AAE strives to support and further our mission of rescuing, rehabilitating and rehoming abused, neglected and/or abandoned horses and other animals, as well as those in the auction/slaughter pipeline.
This year, our goal is to engage at least 200 donors and raise $10,000 to help us FILL THE BARN to support our feed and care costs! 
Your donation of any amount will help feed a horse or offset the cost of veterinary care, farrier care or dental care. $25 helps to provide feed to a horse for about two weeks , $50 helps provide feed for a horse for about a month, and $100 helps with provide feed and basic care to a horse for about a month.
Help Us Make a Difference!
How you can help:
Schedule a Donation Now (starting as small as $15) to All About Equine Animal Rescue by clicking Donate: Big Day of Giving – AAE
Make a Donation after Midnight to All About Equine Animal Rescue by clicking Donate: Big Day of Giving – AAE
Spread the word. Tell your family and friends, post on Facebook, and tweet about it. This is an opportunity to be part of something really big. Help us get there. #BDOG2018
***Golden 1 Credit Union Members-donations made using yourGolden 1 debit or credit card are eligible for matching funds from Golden 1!
THIS WEEKEND!!
AAE's 5th Annual Boots and Bling happens this Saturday, May 5, 2018!
There are only a handful of tickets remaining, so grab your tickets today!!
Join One of Our Volunteer Teams:
Daily Horse Care, especially pm shifts
Barn/Facility/Maintenance
Fundraising/Events
Grants – Writing and Research
Volunteer Coordinator
Outreach Activities
Youth Programs
Therapy Programs
Veteran Programs
Special Projects
Admin Support
Tack Sales
Marketing
Graphics
Social Media
Media and/or Photo Librarian
More, more, more
Volunteer Shifts at the Barn
Mon – Sat
8a to noon
Sun
9a to 1p
Mon – Sun
3p to 6p
If you've been through orientation,
Interested in helping, but
haven't been through orientation?
for more information.
Employers Match Donations, Does Yours?
Hey volunteers!
Many Employers offer money when their employees volunteer.  Here are a few examples:
Intel

 provides a $10 grant to a nonprofit per every volunteer hour by an employee, and matches funds dollar for dollar up to $5,000 per employee or retiree.

Microsoft provides a $17 grant to a nonprofit per every hour volunteered by an employee.

Apple provides a $25 grant to a nonprofit per every volunteer hour by an employee, and matches funds dollar for dollar up to $10,000 per employee.

Verizon provides a $750 grant to a nonprofit when an employee volunteers for 50+ hours.

State Farm provides a $500 grant nonprofit when an employee volunteers for+ 40 hours.
Others top 20 matching gift and/or volunteer grant companies include
Starbucks 
CarMax
Home Depot 
JP Morgan
Chevron
Soros Fund Management 
BP (British Petroleum)
Gap Corporation
State Street Corporation 
ExxonMobil
Johnson & Johnson
Boeing
Disney
Google
Merck
Aetna
Dell
Outerwall (CoinStar and RedBox) 
ConocoPhillips
RealNetworks
Time Warner and subsidiaries
AllState
and more