Abandonment is not the Answer
The following is from All About Equine Animal Rescue: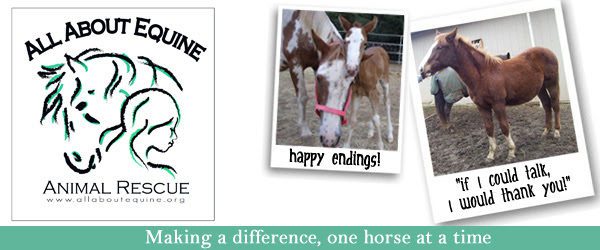 Let's Deck the Stalls with Boughs of Plenty for 2018
6 Days Left, Shelby!
Shelby is one of several horses that has come to AAE after abandonment by an owner or previous owner.  Sadly, too many horse owners feel they have no other option than to abandon a horse and leave them to fend for themselves for food, water, and shelter.  Many end up in shelters in poor condition, while others are injured, or worse, lose their lives to injuries or accidents.
Shelby is a 6-7 year old QH-type mare that came to AAE in April of 2017 when her new owners realized they did not know enough about horses to provide proper care. They had taken her in after she had been abandoned in their neighborhood.  When we arrived to pick her up, it took about 2.5 hours to earn her trust and place a halter on her.  She was fearful and reactive, and acted as if she'd been abused or otherwise mis-handled.  She was in fair condition, but had several abrasions across her body.