A Christmas Story…Thank You for Making It Possible!
The following is from All About Equine Animal Rescue: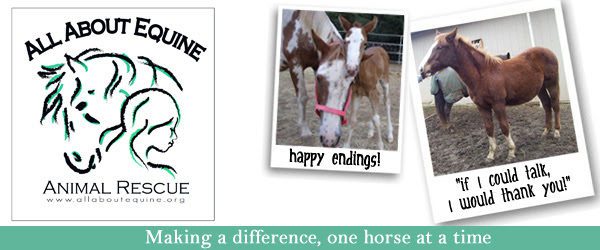 Let's Deck the Stalls with Boughs of Plenty for 2018
 Merry Christmas!
7 Days Left, Sparkie!
What happens when a horse gets old? Do their guardians continue to provide good care and allow them to live out their lives in a beautiful green pasture and run free? More often than not, this is the case – however, there are horses who are not given the dignified retirement they deserve.  It's not uncommon to find senior horses abandoned, neglected or worse, as was the case of Sparkie, a former rodeo barrel racer and cow horse.  Sparkie, a 20+ mare, had given her entire life to her owner.  Then she was thrown out as if her lifetime of service wasn't worthy.  The pasture had dried and gone, and there was nothing more for her to eat.  She wasn't fed, she wasn't supplemented, she was just there.