The following is from Save Your Ass Long Ear Rescue:
 Welcoming Fern
Welcoming our newest member of SYA, Fern.
Fern was bailed from auction by another rescue who kindly quarantined her and gave her a safe haven at their rescue. She unfortunately is completely feral and petrified of people. Giving where she came from I can't blame her one bit, she came from one of the worst kill pens for animal abuse and torture that we know of. She is safe now and will be treated with the kindness and the respect she deserves.
Fern has already realized that she is in a safe place. Her "bubble" when she first arrived last Monday was 20 feet. She would bolt away from any of us and stare back at us with wide eyes. Just one week later thanks to the help of Laura, Lauren and one of our training volunteers, Mike Fern let me sit with her while she ate her dinner on Friday. Creating positive associations right off the bat is so important. She sees people- good things follow. A history of  positive reinforcement and she will be our best friend hopefully soon. The more time I spend with her the more I see that she is just scared but also very curious, you can tell she wants to be helped and loved. It will not be a quick process but we are here for her and we will stick it out with her until we have earned her trust.
Volunteer Mike Dunham sat outside her pen for close to an hour in 90 degree weather last week and Fern just hung out with him. Until she decided to lay down and take a little sun nap in his presence. How sweet is that?
Two other new arrivals at the rescue, Athena and Apollo.
Athena is a very sweet grey mare, and Apollo is a stout little intact jack. After Apollo is gelded and has a behavioral exam he will be available for Adoption. His gelding date is September 24th. Apollo is 4 years old and a very active guy who will need to be adopted out to a home with another donkey gelding who likes to play.
Athena needs to continue to eat her groceries before she will be available for adoption as well. She came to us about 200 lbs. underweight and with a critically low Vitamin E level, which will need to be rechecked in another 60 days.
It's been 5 weeks since their arrival and both have shown to be outstanding citizens, who love to be groomed and loved on. Athena is just a little over 15 hands and is just a baby at 3 years old. She has been learning ground manners while she's been with us and  is an incredibly smart gal, and a quick learner.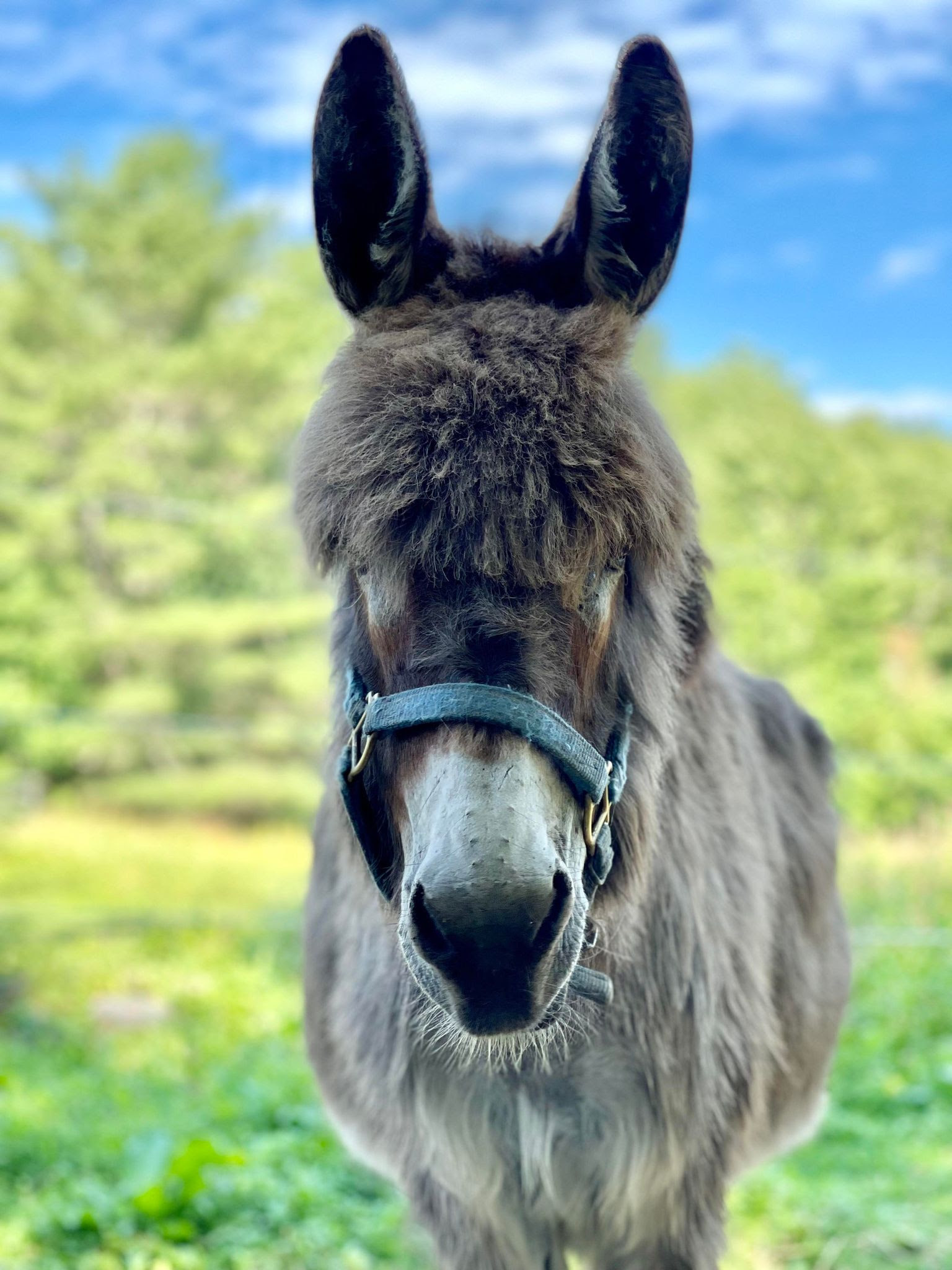 Esme and Hojo are a very sweet miniature pair of donkeys who are here at the rescue with us due to their owner passing away. It's always very sad when this happens but we are happy to be here as a safe haven for people's donkeys, to ensure they continue to get the care they need and deserve. Hojo especially was very depressed when first arriving, we believe due to the loss of his owner. Hojo was also severely underweight due to his lack of grinding surface with his teeth and ability to chew hay. While Esme was dangerously overweight due to eating all of Hojo's meals.
Since being here for over three four weeks now Hojo has gained an appropriate amount of weight, and Esme has lost quite a bit just by running around her dry lot with her friend. Hojo does have Cushings disease and is going to be put on medication to help manage this. His feet are also in rough shape due to the cushings, but we believe will continue to improve over time.
Both Esme and Hojo have had their dental, vaccines and their first hoof trim. Both these two cuties are senior donkeys in their 20's and will be looking for their retirement home to love and dote on them. Both are great with kids and love ear rubs, to be groomed or to just sit and be talked to.
Welcoming Travis and Betsy! These two came from a neglect case in NJ where a sanctuary who was supposed to give them refuge, left them without adequate food or water. They are safe now and will be given the care and attention they have always deserved and needed. Both of them have had their hooves trimmed and will be seen by our vet before the end of the month. Travis, the Appaloosa pony is completely blind as far as we can tell and will most likely need at least one of his eyes removed surgically. Betsy is Travis's seeing eye mule. She is very underweight and was very scared upon arriving, but has settled down very nicely. Betsy needs a dental exam/float, to be dewormed, and needs some serious groceries. We will also have her vitamin E levels checked as well since she's having a hard time gaining weight. We suspect this will improve once her teeth have had some TLC. Once Travis and Betsy get healthy and sound they will be available for adoption. We realize they will probably be here quite a while due to Travis's blindness, so we welcome anyone who would be willing to sponsor their stay with us. 
Donkeys and Mules for Adoption