Two More Together Forever!
The following is from All About Equine Animal Rescue: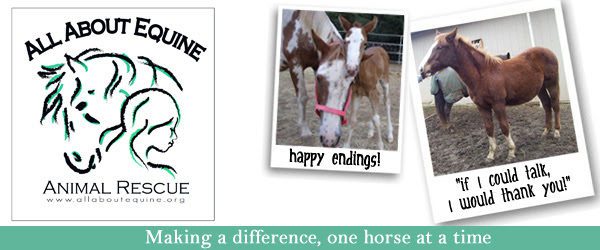 'Tis the Season, time to join AAE every day this month as we share stories straight from the barn to show how your support has helped horses in 2018.   This year was very special, and there are so many stories to be thankful for!
As we count down to 2019, please help us prepare for another year of helping horses.  Your donations will assure we have ample funding for veterinary care to
help horses in need as we move into a new year.
We want to thank everyone for their love and support!
We hope you enjoy these stories as much as we do!
Have a great holiday season!
It's AAE story-time!  Horses of 2018: 
Quinn and Blaze
Quinn & Blaze came to AAE when their family was preparing to downsize. Fortunately, Quinn and Blaze's family were planning ahead, and when space became available, AAE was able to help, which is often not the case.  Quinn and Blaze were in good condition when they arrived.
Quinn was a very fancy 23-year-old half Arab (registered) and half Saddlebred mare. She had a mild injury to her front right leg but, was lightly ridable in the past. Quinn was a sweet ol' girl that tended to be higher energy and a bit impatient. She was trained English and Western in the distant past, and she spent time in the arena and on trails.  However, she had not been ridden for about 5 years.  Back in the day, Quinn was forward on trail and loved to go!  Quinn was a bit more complicated and needed an experienced person.
Not long after arrival, Quinn's teeth were floated and hooves were trimmed.  She was dewormed and vaccines were updated.  She was also evaluated by our vet and okayed for light riding.  Quinn was on the lean side and not gaining weight, and she had some hock sores that were not healing.  Subsequent blood work showed she was positive for Cushing's, and she was started on daily medication.
Blaze was a very handsome 21-ish year old (~1996) Arabian gelding.  Blaze had no formal training, but he was used as an occasional trail horse.  He hadn't been ridden for about 5 years.  Shortly before coming to AAE, he suffered a mild bout of laminitis.
Not long after arrival, Blaze's teeth were also floated, and hooves were trimmed.  He was dewormed, and vaccines were updated.   Blaze's hooves had much improved, and he was doing very well.
Quinn and Blaze had been together for several years, and they were bonded seniors.  Fortunately, the stars aligned, and they were adopted together into their forever home.  Their adopters are a horse experienced home with two young children.  They were looking forward to the companionship of horses again and what a perfect opportunity for these two!
Quinn and Blaze's adoption took them to Paradise, CA.  In November, the Camp Fire devastated the town of Paradise.  Most homes were destroyed and the community has been displaced.  Through the darkness, there is light. We are relieved and happy to report Quinn, Blaze, and their family are safe!
Our hearts goes out to everyone that was impacted.
25 days until 2019, YOUR donation means more horses can be helped!  Donate Today!
ALASKA CRUISE RAFFLE
Win a 10 Day Cruise for 2 to Alaska
(or $5000 credit toward another available itinerary)
Raffle Limited to 200 Tickets! 
$100 each
***$5,000 value***
Daily Horse Care, especially pm shifts needed now
(Daily 8a-12p or 3p-6p)
Used Tack Store Support, all areas needed now
(Fri – Mon, 12-4p, other days possible)
More opportunities:
Barn/Facility Maintenance
Foster Homes, Long-Term Foster/Sanctuary Homes
Capital Campaign Support
Board Members
Fundraising/Events
Grants – Writing and Research
Volunteer, Project, and Activity Coordinators
Outreach Activities
Youth Programs
Therapy Programs
Veteran Programs
Special Projects
Admin Support
Marketing
Graphics
Social Media
Bloggers
Photographers
Media and/or Photo Librarian
More, more, more
Interested in volunteering or volunteering in other areas?
Employers Match Donations, Does Yours?
Hey volunteers!
Did you know YOU could earn grant money for AAE from your employer just by volunteering?
Many Employers offer money when their employees volunteer.  Here are a few examples:
Intel

provides a $10 grant to a nonprofit per every volunteer hour by an employee, and matches funds dollar for dollar up to $5,000 per employee or retiree.

Microsoft provides a $17 grant to a nonprofit per every hour volunteered by an employee.

Apple provides a $25 grant to a nonprofit per every volunteer hour by an employee, and matches funds dollar for dollar up to $10,000 per employee.

Verizon provides a $750 grant to a nonprofit when an employee volunteers for 50+ hours.

State Farm provides a $500 grant nonprofit when an employee volunteers for+ 40 hours.
Others top 20 matching gift and/or volunteer grant companies include
Starbucks 
CarMax
Home Depot 
JP Morgan
Chevron
Soros Fund Management 
BP (British Petroleum)
Gap Corporation
State Street Corporation 
ExxonMobil
Johnson & Johnson
Boeing
Disney
Google
Merck
Aetna
Dell
Outerwall (CoinStar and RedBox) 
ConocoPhillips
RealNetworks
Time Warner and subsidiaries
AllState
and more
Check with your employer.  You could help purchase our next load of hay!